Tuesday, July 22, 2008

my aim is true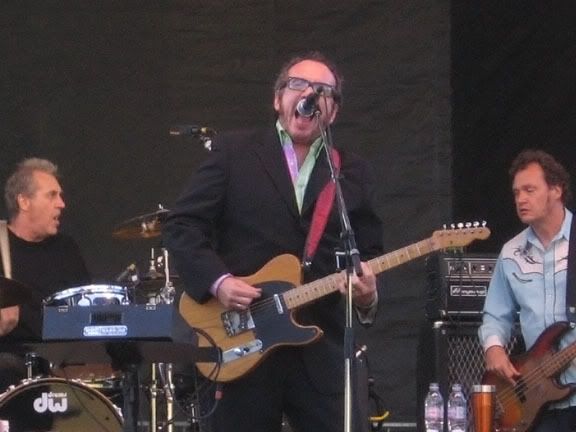 I neglected to mention the Whistler Music Festival for several reasons. For one, I didn't hear about it until almost right before. Two, after that I forgot. And finally, most of the line up sort of sucked anyhow. Although, if I had known that you could get a decent view from outside of the "venue" while relaxing in the grass up one of Blackcomb's slopes, rather than sitting on the scorched earth of the festival grounds for free, I would've said something. Sorry, internet.
Anyhow, I got in for free (thanks Shea), so I went to check out
Broken Social Scene
and
Elvis Costello
.
BSS were womenless like in Calgary, which is always a bit of a downer (I know Feist/Emily Haines/Amy Millan are busy, but is it that hard to find a lady to tour with them?). Also, while they're always pretty loose, they sounded almost sloppy on Sunday. "It's All Gonna Break" is still one of my favourite lives songs by anybody though.
Elvis split his time between old songs and new songs. His new stuff is alright, but, like most people, I'd imagine, I was there for the classics, and he certainly delivered on those. Highlights include a version of "Watching the Detectives" with the overdrive cranked (relatively speaking) and "(I Don't Want to Go To) Chesea," but my favourite part of the set was when "Alison" segued into Smokey Robinson's "Tracks of My Tears" and then "Tears of a Clown."
Plus, my fears of a Diana and Elvis duet thankfully didn't come to fruition.
The
Victory Square Block Party
(aka one of my favourite Vancouver events of the year) line-up is out. As always, some of Vancouver's finest bands will play, but the 2008 edition also features comedy (and not just when the sprinklers turn on accidentally) and DJs between sets. As always, it goes down on Labour Day.
On Friday,
Ghosthouse
is at the Railway with
Vonnegut Dollhouse
and
Jeremy Stewart & the Rest
.
On Saturday,
Shearwater
is doing an in-store at Zulu from 5-6pm.
On August 8th
James Murphy and Pat Mahoney
bring their Special Disco DJ night to Celebs.
Paul Devro
supports.
Chromatics
help
Tyler Fedchuk
and
Expendable Youth
celebrate the 50th epidisode of
Radio Zero
on August 9th at the Sweatshop.
On August 15th,
Better than Loneliness
celebrates it's 1 year anniversary by coming back from the grave for a party at the Sweatshop with special guest Paul Devro.
Animal Names
are having a CD release show on August 20th at the Media Club with
Secret Mommy
,
No Gold
, and
Hermetic
.
Steve Aoki
is at the Celebs with Paul Devro on September 5th for the
Blueprint
11th anniversary.
Digitalism
does a DJ set on 9/11 with Expendable Youth at Caprice.
Goldfrapp
is at the Commodore on September 16th.
The Wedding Present
is at the Media Club on September 26th. (thanks G)
Liam Finn
is at the Biltmore on September 27th.
And waaaaaaaaay in advance,
M83
is at Richard's on November 26th.
Labels: broken social scene, elvis costello, lazy show recaps, show announcements
5 Comments:
Cut Copy is coming to town! October 9th at the Commodore.

(James Murphy, Goldfrapp, and Cut Copy? It's an indian summer of awesomeness!)
By

Aleksandra, at 9:47 a.m.
with the presets!
By

Ariadna, at 11:06 a.m.
Whistler was weird. Barely anyone there on Sunday. Media reports were saying 2000 and 5000 people but it was more like 1000 by our count. Bare bones set up. Shitty surface (dirt, branches, rocks) and not a very deep lineup. We went for BSS and Elvis and BSS were, as you say, loose. Probably tired as they played in New York (Siren Festival) the night before.

Pretty average but still nice to see BSS and Elvis outdoors on a nice day without being pinned in.
By

g, at 3:47 p.m.
Weird I was gonna post about Cut Copy too....must see.
Any way to post the Vic Square lineup for those of us without facebook? Or is this an exclusive festival...? Thx
By

Anonymous, at 4:46 p.m.