Wednesday, December 10, 2008

conduit for sale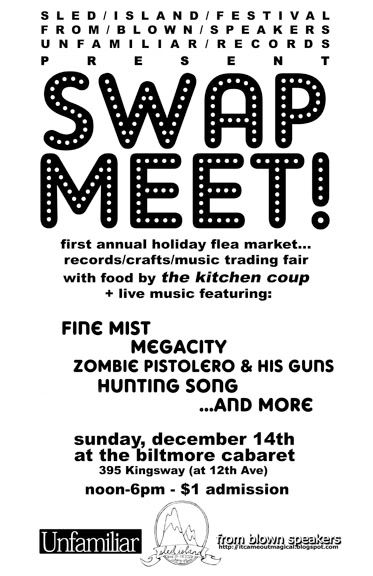 For the first time, I'm helping organize a show. Considering the focus of this blog, I guess that's a long time coming. Needless to say, I'm pretty excited. Plus, this show's a little different than your typical affair.
The whole thing goes down on Sunday, December 14th at the Biltmore from noon-6pm and in addition to bands, there'll be a swap meet featuring some fine local retailers, artists, and craft makers, plus you (well, potentially you) and food (pulled pork sandwiches, burgers, and fries) will be sold by the Kitchen Coup (aka Cohen, formerly of the Clips).
If you have garage-sale type stuff to sell, especially records, cds, tapes, band memorabilia, tshirts, etc. then you don't need to book a table. You can simply come down before noon on Sunday and find a nook or cranny to sell from.
If you are a craft makers, vendor, or Do-It-Yourself-er, wanting a feature table, then please email Edo at edo@areyoufamiliar.com to book one.... for FREE! (till these spots are all filled).
There are a ton of other shows on the horizon, but here's some stuff that's coming up quick (I'll get to the rest later this week):
Tomorrow (Thursday),
Neapolitan
is hosting a benefit for Erin from Shearing Pinx's pet McCaul. Ahna, Gabriel Mindel, Les Beyond, Aerosol Constellations, Mr. Ugly, Dullmoofs, Empty Love, The Holee See, Solars, and Rrkkttss all perform.
Also tomorrow, at Little Mountain Studios, is Tell It On A Mountain, a Christmas pageant that my friend Olivia is helping to organize. In addition to her, Chrismith, Louise Burns, Jody Glenham, Chris-a-rific, Zach Gray, Kerry O'Donovan, Aidan Dee, Steven Donald Robert Nelson, Angela Fama, Cris Derkson, Emmett Hall, and Lise Monique Oakley all perform and Taz and Ryan from the Sunday Service host. Cover is $7, but you can save $2 if you bring a donation for the food bank.
On Friday, the Biltmore hosts "Funderwear." Christer, Dan Mangan, Hannah Georges, and Arctic all perform and attendees are encouraged to bring new underwear and socks that the DTES Women's Centre and the Salvation Army will hand out to Vancouver's less fortunate.
On December 18th, Pompoir and Role Mach play Honey.
And on December 20th, gr8-2000, Aaron Read, and Candles are at Little Mountain.
now playing: Wire - One of Us
Labels: show announcements
0 Comments: