Tuesday, January 06, 2009

no metal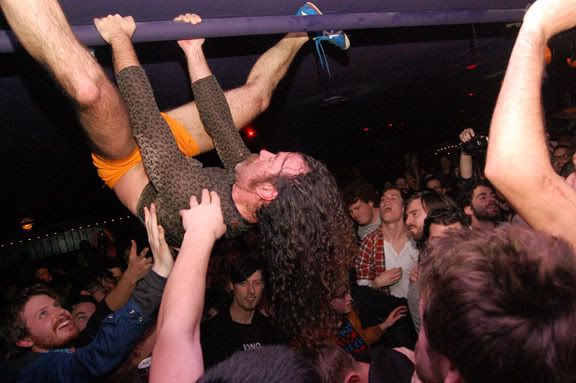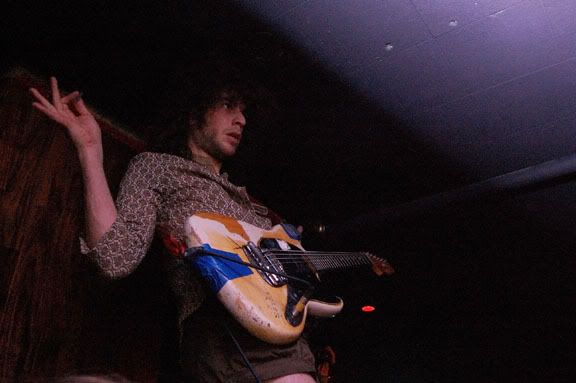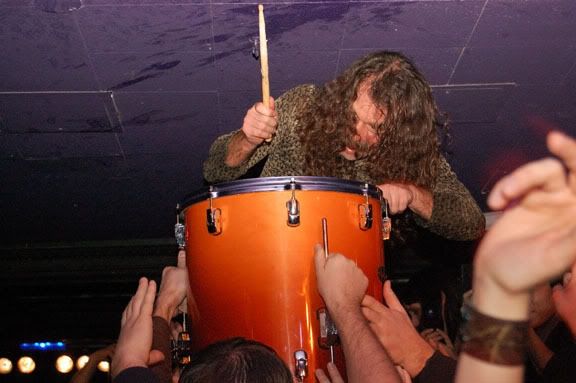 Been a long time. Sorry. My only New Year's resolution is to put a little more time aside for this thing again.
With that in mind, going back to last Tuesday at the Biltmore, there are some photos of
Monotonix
. It was sort of like Girl Talk. Genre-wise, things were obviously really different, but the spectacle was so amazing it sort of pulled your attention away from the music.
And what about the music? Their album certainly indicates that they've got songs--actual songs--but live it seemed like there was a lot of repetitive riffing, a lot of sporadic drumming (between setting up the kit at various places throughout the bar), and a lot of incomprehensible vocals.
Still, when I think about last Tuesday I think about what
Sean
said to me the first time I saw Girl Talk: "it's like Vancouver woke up from it's coma." Never a bad thing.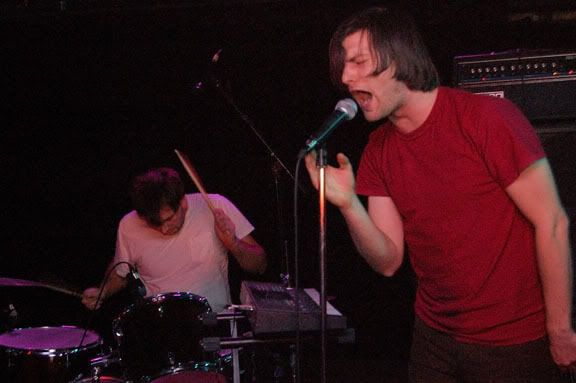 Twin Crystals
and
Gang Violence
took opening duties and were in their usual fine form.
Tomorrow,
Hello Shark
,
Buffalo Swans
,
Chris-a-riffic
, and
Shay Roselip
are at the Peanut Gallery.
On Saturday, the ER re-opens(!) with a show featuring
Twin Crystals
,
Defektors
,
Modern Creatures
,
Nu Sensae
,
Sex Negatives
,
White Owl
, and
No Gold
. Don't call it a comeback.
On January 17th,
Spenking
(sometime Dirty Projector, Spencer Kingman) is playing "the Shed" (815 E. 10th, around the back) with
Ruth, Alice, & Dana
,
the Kidnap Kids
,
Falcao & Monashee
, and
Raw Beast
. If you're so inclined, you can bring a dish for a potluck brunch, because this sucker gets going at 11am.
The Pets
,
Dinosaur + the Missing Link
,
Gape Attack
, and
Timecopz
are at Honey on January 22nd.
Die Rotzz
play the Peanut Gallery on January 23rd with
the Maynards
and
B-Lines
.
The Metronomy show originally scheduled for the Bourbon on the 25th is now at the Biltmore on the 24th (for Glory Days).
Fan Death
opens.
The Mae Shi
are at the Biltmore on January 29th with
Shearing Pinx
,
Certain Breeds
, and Sex Party (good luck googling that band website).
Hercules & Love Affair
drop into Celebs on January 30th to do a DJ set with
LCD Soundsystem
's Pat Mahoney.
Wildbirds & Peacedrums
open the Lykke Li show on February 11th. If you plan on going, make sure you get there in time to catch their opening set.
On February 28th,
Hard Feelings
play the Peanut Gallery with
Defektors
,
B-Lines
, and
the Parallels
.
The Presets
are at the Commodore on April 13th.
If you sign up for the mailing list at
Piper Davis'
website, you'll get a free mp3 every month.
If you head over to Al from
Taxes'
tumblr
, you'll find a whole bunch of new Taxes tunes.
Labels: gang violence, monotonix, show announcements, show recaps, twin crystals
6 Comments:
"Been a long time. Sorry. My only New Year's resolution is to put a little more time aside for this thing again."

Quinn - just admit that you're spending all your time on tumblr. I did, and feel much better for it. Ha!
By

rob, at 10:43 a.m.
www.itcameoutmagical.tumblr.com... COMING SOON!!
By

dustin., at 12:42 p.m.
daniel from nu sensae says saturday's show at the er is the last show there.
so definitely don't call it a comeback.
By

Jonny Chance, at 3:56 p.m.
Monotonix came to Ottawa awhile back and I remember 'em because I was walking back to my place after a small show nearby; suddenly the drummers runs out of the place wailing on his snare. A huge crowd pursues him close behind and the rest of the band comes running out of the venue carrying the rest of his kit. Basically, he did a drum solo on the sidewalk before picking up his shit and running around the block (continuing the drum solo).

... speechless.
Good thing I didn't come here to learn about David Byrne tickets or I'd be shit out of luck. Also, in the choice between a coma and Girl Talk I'm very torn. Does anyone molest me while I'm in the coma? Actually it doesn't matter, Girl Talk is a fate worse than death.
By

Anonymous, at 10:49 p.m.
welcome back.
stay away from new tech.
keep it old school.
keep bloggin'
By

Anonymous, at 12:00 a.m.