Tuesday, January 13, 2009

police and thieves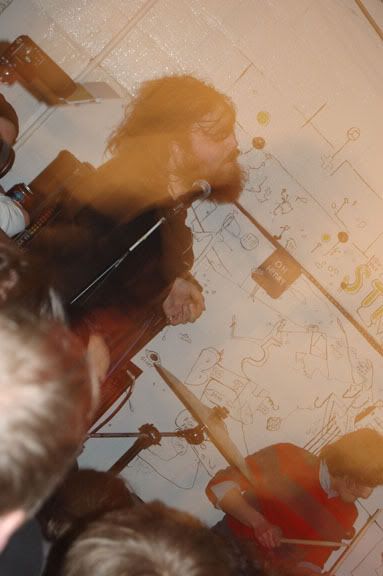 So, as Jonny mentioned in the comments a couple of posts back, the ER show this past Saturday was, in addition to being their 2nd anniversary, also the last show in the space. I was asked not to make a big deal out of that fact, which is why I didn't post it on the main page after he kindly commented about it.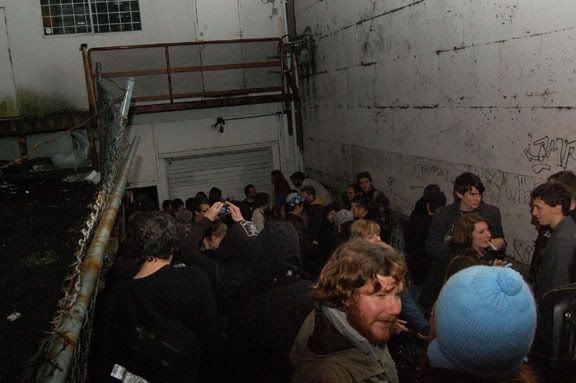 Unfortunately, the cops weren't as pysched about the party as the loads of people who showed up.
I made it down around 11:30pm and had missed
No Gold
, which was a bummer. Although, it wasn't as disappointing as finding out that they announced that it would be their last time performing together. I talked to Liam briefly and he mentioned other projects to come though.
I did catch
White Owl
and
Sex Negatives
before the place got shut down. It was disappointing that so many other great bands didn't get a chance to do their thing there one more time, but it was great that Justin, who took the lead in keeping the place running for the last two years, had one more go behind the kit that night.
A big thank you to him, the bands, and everyone else who made the ER what it was: one of my favourite places to see live music in this city.
Ryan Walter Wagner
has a couple of much nicer pics up on his
flickr
.
Speaking of Ryan, his new band
Tight Solid
, which also features Burnside (ex-
Treacherous Machete
), is playing the Balmoral on the 17th with
the Best Revenge
, and
Elton Bong
.
The same day (from midnight that morning to midnight on the 18th), tune into
CiTR
for
24 Hours of Radio Art
, which is a full day of sound collage, audio experimentation, and noise. For more, check the Facebook event page
here
.
On Sunday, Grace Gallery hosts the release of the book "Fifty One Ways to Make New Friends." In addition to the book release, the evening also features a collaborative performance from
Andy Dixon
and
Basketball
's Luka Rogers. Andy describes it as a cross between Basketball and Secret Mommy. Door and bar proceeds go to the Downtown Eastside Women's Centre.
On January 23rd, Centre A Gallery is home to Up With Hope, featuring
Corbin Murdoch & the Nautical Miles
and Shindig runners-up,
the Sappers
. All the proceeds go to the
Up with Hope Project
.
Low Decibel Festival
goes down at the Shed on January 31st. The evening features over 20 acts doing two songs each without the aid of any electricity, not even batteries, and not even for microphones. Show starts at 7pm, so get there early if you plan on going. Check the full line-up
here
.
Cadence Weapon
is at the Biltmore on February 28th with
Thunderheist
. Seeing as it's a Saturday, I'd imagine it's part of Glory Days.
Bonnie Prince Billy
is at the Vogue on March 25th.
Acid Mother's Temple
is at the Biltmore on April 7th.
And,
Lions in the Street
have a new EP up for download from
their website
for the increasingly popular price point of "whatever you want."
Labels: no gold, sex negatives, show announcements, show recaps, the emergency room, white owl
4 Comments:
any idea when/where the bonnie prince billy tickets will be on sale?
By

Anonymous, at 4:38 p.m.
No idea when, but since it's a Vogue show, ticketmaster for sure, at the very least.
cadence weapon is part of the '2009 cultural olympiad' thing
By

jordan, at 5:59 p.m.
Show, if you would be so kind:

Haunted Beard
Shipyards
Kidnap Kids
Loup Garoux

Hoko's, Friday January 30th.
By

Anonymous, at 8:44 a.m.