Tuesday, March 03, 2009

heart sweats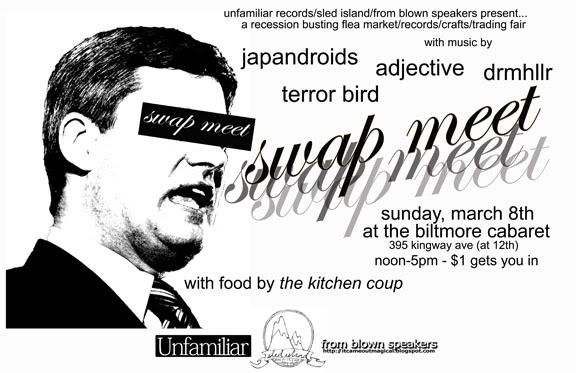 You may have received the
Facebook invite
already, but if not, I'm very pleased to announce the second Sunday afternoon swap meet at the Biltmore.
This time around, personal and
Pitchfork
faves,
Japandroids
are playing, in addition to a fresh-from-their-cd-release-party
Adjective
, the always great
Terror Bird
, and
DRMHLLR
, who I'll actually be hearing for the first time.
The actual swap meet part runs more or less the same as
last time
: there will be local vendors on hand to sell things, the Kitchen Coup will be selling snacks (once again, their rad pulled pork sandwiches), and anyone is invited to come sell garage sale type stuff (though you might want to get there closer to the noon start time if you want a decent spot).
And now, some bad news:
As most of you have heard the cops shut the party down on Saturday and the Peanut Gallery has had to come to an end. Out back got too busy, they came down and wrote Michael up. That's it for the Peanut Gallery.

Thanks for supporting us over the past year and a bit. It was a lot of fun. I would like to collect any photos that were taken down there. If you could send them to info@peanugallerybasement.com I will be putting together a collection of the past year. Even if it only makes in onto the website at least it will all be in one place.
Cheylene.
Not entirely surprising, for obvious reasons, of course. But still a bummer.
On Saturday,
Fanshaw
,
Lost Lovers Brigade
,
Role Mach
,
Sajia Kabir
, and
Sweet Potatoes
are at Little Mountain.
Shipyards
,
Air Castle
,
Stamina Mantis
, and Geographing are at Little Mountain on the 13th.
Women
are at WISE Hall on April 5th with
Nu Sensae
and
Kidnapping
.
The night after that,
White Denim
play the Media Club. Japandroids open up.
Fucked Up
are at the Biltmore on April 14th.
The weekly's gone underground, but
Half Alive
is still throwing the odd special event. They'll bring
Glass Candy
back to town on April 22nd at Richard's. Johnny Jewel does double duty when he opens as Desire and local favourites
Channels 3x4
play a rare show to round things out.
The next night
Mastodon
play the Commodore with
Kylesa
and
Intronaut
. As
PFork
reports, they'll play the forthcoming
Crack the Skye
in it's entirety before delving into their back catalogue. I'm pretty psyched for this.
Labels: show announcements
7 Comments:
kinski is opening the acid mothers temple show
By

Anonymous, at 4:51 p.m.
Hey, sorry- Geographing is putting on the show at little mountain, the last act should be The Nihilist Party.
By

Geographing, at 9:07 a.m.
How'd you get Stephen Harper agree to do the poster?
By

Discorder Editor, at 11:24 a.m.
last minute birth! show at the cobalt this sunday with gr8-2000, stamina mantis and nihilist party
By

nihilist party, at 4:28 p.m.
Glad to hear yr doing the Swap Meet again, Quinn. Last time was a bust for me due to the snowfall that weekend, but I intend on bringing up a nice stack of new and used vinyl, cassettes and CDs to unload. I think I even convinced Josh Rose to split a table with me. I'm not on Facebook, so you'll have to consider this as my RSVP.

thx,

Thee Expressway
By

Mark E. Rich, at 10:19 a.m.
what's the website for the peanut gallery if there is one?
By

Anonymous, at 3:59 p.m.
www.peanutgallerybasement.com