Wednesday, August 19, 2009

brace yourself for the end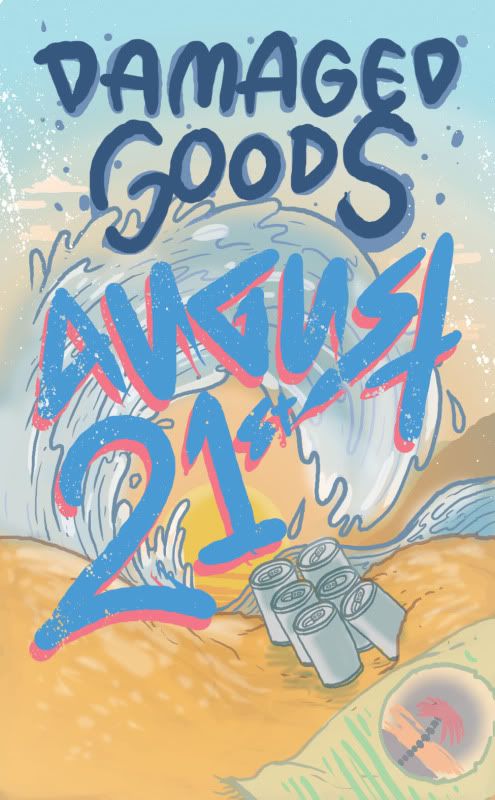 First things first, this week From Blown Speakers (hey, that's me) and Damaged Goods present two bands that I've never heard live before at the Astoria:
Manta Raygun
and
Cat Attack
. The easiest thing to do when two bands have recorded music that piques your interest is to book them to play... and I'm pretty lazy. Seriously though, their studio (or more likely, makeshift studio) stuff sounds great, and Cat Attack features one half of MT-40 (who know how to bring it live), so come down for good times (as per usual) at Damaged Goods.
Speaking of being lazy, this was supposed to go up on Tuesday, but I've been slacking when it comes to internerding. Sorry, Boosh/Sailing.
Speaking of Tuesdays, they're about to get a lot radder in September (and they're pretty good already), because
Shindig
is back soon! And because someone at CiTR is very kind, here's the list of bands to whet your appetite before the schedule is released in a week or so (if I were good at the internet it would say "FROM BLOWN SPEAKERS EXCLUSIVE" and there would be buttons for retweeting or something):
Aunts & Uncles, Bad Fate, Bench/Dawn Optimist, Blank Cinema, Bleating Hearts, Catamaran, Half Chinese, Hidden Towers, Humans, Jody Glenham, Kidnap Kids!, Lengthy List of Lovers, Machu Picchu, Manta Raygun, Modern Lakes, Move on Citizen, MT-40, No Time, Pro Nails, Search Parties, Seven Nines and Tens, The Living Deadbeats,The Receptionists, Thee AHs, Tigerhead, Weathered Pines, Witch Water
It's going to be a good year.
Regulars: August 179th-21stWednesday
Fake Jazz Wednesday
@ the Cobalt:
Eugene Chadbourne
,
Ora Corgan
, and
Yellowthief
The Beehive
@ Honey:
Dead Ghosts
,
Manic Attracts
,
Indian Wars
Gypsy Fade Wednesday
@ the Media Club: back on August 26th.
Thursday
Honey Lung Thursday
@ Honey: back on August 27th
Friday
Damaged Goods
@ the Astoria:
Manta Raygun
and
Cat Attack
Far Away
@ the Media Club: unknown
Phantom Islands
@ Hoko's: back at the end of August
Saturday
Glory Days
@ the Biltmore:
Old Money
Night Shift
@ the Astoria: no Night Shift.
Astoria Soul Club
is on instead.
No More Strangers
@ Funky Winkerbean's:
Greenbelt Collective
,
Witch Water
, and Adam Carter & Teal Booth
now playing: Manta Raygun - Melatonin
Labels: damaged goods, shindig, weekly listings
2 Comments:
MT-40 will win
Have Sun Wizard or World Club entered before? If not, that would be sweet-ass three-band final with MT-40.
By

Chris, at 7:08 p.m.