Tuesday, August 25, 2009

pennies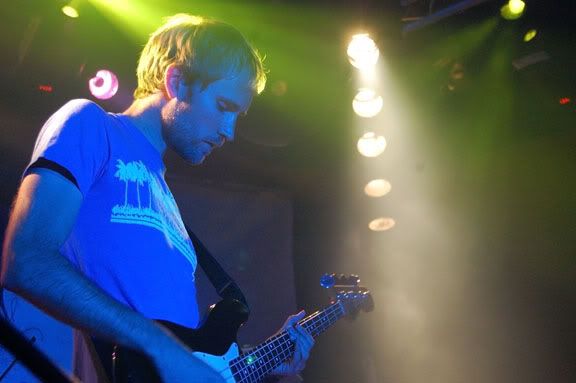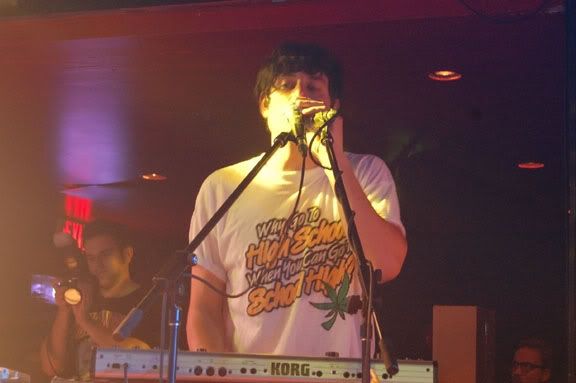 Why don't we start this catch up post with pics (and a video that I didn't take) from the Clips last show at Olio a few weeks back. Hopefully, you made it out to bid adieu to one of Vancouver's finest (though, if you didn't, they'll be back with new songs, and a slightly new line up).
And now a fast forward recap of other notable stuff:
- I caught Walter TV, Makeout Videotape, and Recreation last Thursday. I'd seen Make out Videotape before, but the sound was sort of abysmal at the show I caught. This time around was much better. Walter TV and Recreation were great as well. Apparently this was an all-White Rock (or White Rock-ex-pats) show.
- A big, big thanks to Manta Ray-Gun and Cat Attack who were both awesome on Friday at Damaged Goods. I booked both bands after only hearing their recorded stuff, but was totally blown away by how good they sounded live. It was only Cat Attack's second show, so look for big things from them in the future. I loved Manta Ray-Gun so much, I bought one of their tapes (if you see them, you should too).
- I was at Glory Days on Saturday for a friend's going away party. They don't do in-and-outs now. I can't remember any legal, non-Granville Strip bar doing that in this city.
One Cool Word
is celebrating the release of their latest issue tomorrow at the Biltmore with
World Club
,
Maria in the Shower
, and
Spoon River
.
Justice Rocks
(check the link for the full line-up) takes place on Saturday afternoon for free in Strathcona Park.
Also on Saturday, is
the Bicycle Music Festival
(once again check the link for the line up), which starts at New Brighton Park at 10am before moving throughout the city. The full route and schedule will go up
here
in a few days.
The Rain & the Sidewalk
celebrate the release of their latest CD on September 5th with
Role Mach
and
Collapsing Opposites
.
Katasroyka
,
Girlfriends & Boyfriends
, and
the Ludvico Treatment
play the Media Club the same night.
Hope Sandoval
once again ignores her apparently crippling stage fright to play the Red Room on September 22nd.
Junior Boys
are at Venue on October 8th.
Vic Chesnutt
plays the Red Room on November 26th. He'll be backed by a band that features Guy from Fugazi and members of A Silver Mt. Zion.
Maximo Park, which was originally scheduled for September 7th at Venue, is canceled.
A lot
A handful
A couple of people are really bummed about that one.
And, last, but certainly not least, happy birthday to Megan from Fine Mist and Andy Dixon!
Labels: birthdays, cat attack, damaged goods, lazy show recaps, makeout videotape, manta ray-gun, recreation, show announcements, the clips, walter tv
0 Comments: