Monday, August 15, 2005

a better version of me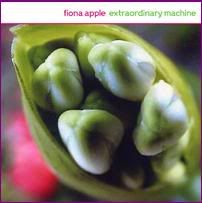 You decide to sleep in and everybody's already talked the day's most exciting piece of musical news to death... but I'm so psyched I'll say it again.
Fiona Apple's
long lost (and then kinda found) album,
Extraordinary Machine
is finally getting a release on October 4th. Reworked from the leaked version from a few months back, this one has Mike Elizondo behind the boards rather than
Jon Brion
. Fiona's last one is one of my favourite records ever, and while the leaked album was quite good, I wasn't feeling it as much as
When the Pawn...
, so here's hoping the re-working... umm.. works.
You can listen to the lone new track, "Parting Gift," and the re-recorded version of "Oh Sailor" at
Fiona's official site
. If you're American, you can win a trip to see her (stupid US-Only contests).
And, so I'm not completely rehashing news that you've probably read already today, here's the first version of "Oh, Sailor" that the world got to hear:
download: Fiona Apple -
Oh, Sailor (Jon Brion Recording)
For those of you keeping score, this means Fiona's record comes out the same day as the now
self-titled
Broken Social Scene
album. Which reminds me, have you downloaded "Shoreline" yet?
What you waiting for?
In other new release news,
Idlewild's
latest,
Warnings/Promises
, finally gets a North American release tomorrow. I'll be honest, this is probably my least favourite record by them, but they could record an album of Neil Diamond covers and I'd still buy it. Take a listen to the radio edit of the last UK single, "I Understand It," and decide for yourself.
download: Idlewild -
I Understand It (Radio Edit)
More Cowbell
has the dates for the
Atmosphere
headlined, "Pour Me Out Another Tour." Catch Slug and Ant at the Commodore on November 6th.
While we're talking November, if I were a betting man (which I can be from time to time), I would bet money that
your other favourite band from Montreal
will visit our fair city after they're done opening for
that other band, I don't like very much.
Details to come, when they're confirmed.
While we're talking unconfirmed shows that will totally slay if they actually happen,
Bell Orchestre's
website has their tour dates with the
Arcade Fire
up. The Vancouver date (October 7th) is listed at the Commodore Ballroom. Considering the Arcade Fire sold out both the Commodore and Mesa Luna last time around with almost zero promotion, I'm a bit skeptical. But this is the first time a venue's actually been listed anywhere semi-official, so it's something. If this turns out to be true, be sure to jump on tickets as soon as they're on sale, it'll sell out fast.
now playing: Idlewild - When I Argue I See Shapes (live at Maida Vale 2005)
0 Comments: