Tuesday, March 28, 2006

bring on the blue skies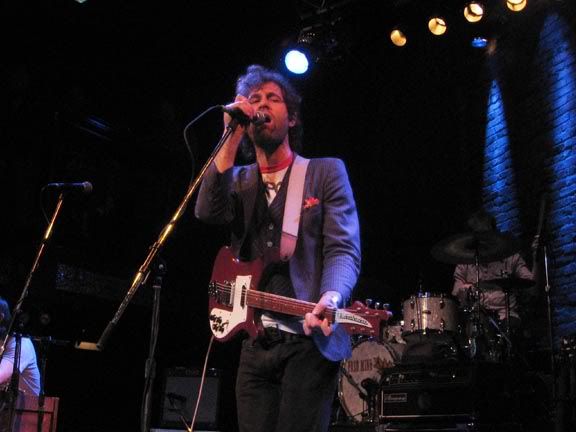 Jason Collett
played his first headlining show in Vancouver in... ever? I'm going to say "ever," unless you count that mostly industry type people affair at the Media Club last summer. The sometimes BSS axe-slinger was in good spirits, despite noticably suffering from a sore throat. And, a bit of hoarseness wasn't enough to keep him from getting through quite a few from last year's
Idols of Exile
(one of my favourites of 2005), one number from
Motor Motel Love Songs
, and 4 or 5 new tunes (including "Not Over You" and "Waiting For The World," which are currently up in video form at
Schedule Two
). The crowd, while a little small (I know it's a Monday, but c'mon Vancouver), was enthusiastic, and at least one member of the audience was "too drunk to notice" that Jason was having vocal issues.
Semi-Related Question #1: is "MORE COWBELL!" the new "FREE BIRD!?" I say yes.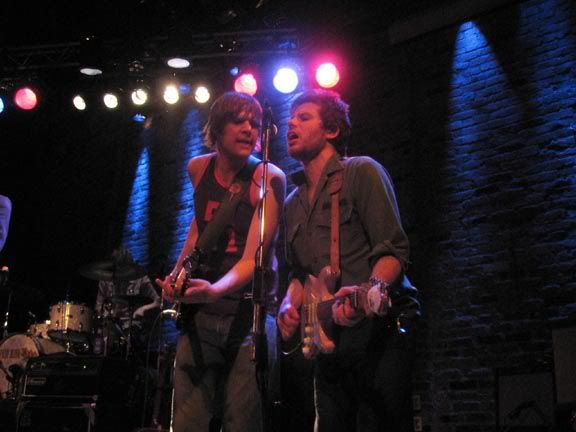 Paso Mino
, Collett's backing band on his last couple of tours, also took opening duties. As a backing band, they're pretty tight... actually, as a band they're a pretty tight group of musicians, but I wasn't really feeling their songs (and not just because I was keeping half an eye on the hockey game). At times when the organ would swell up and the harmonies would kick in, it sounded like it was all about to click, but I was never quite won over.
Semi-Related Question #2: do you ever wonder why shows don't start earlier on weekdays? This one was over at a reasonable hour, but in general, on a weekday, wouldn't you prefer to show up at 7:30, have the first band hit the stage at 8:30 and get out of there by midnight all the time? The bar's open for the same amount of time, and the early ending might even pursuade some people who have to work in the morning to polish off a few more drinks.
now playing: Jason Collett - I'll Bring The Sun
5 Comments:
Architecture In Helsinki - May 26th @ Richard's... Bigger venues every time!
By

Chris, at 12:55 p.m.
Yeah the waiting inbetween sets was also kind of lame...i mean..a half hour??
By

Anonymous, at 1:38 p.m.
Just noticed on the Zulu website they list I Love You But I've Chosen Darkness playing the Media Club on May 27th.
By

Anonymous, at 1:54 p.m.
it's Paso Mino, not Palo Mino, btw.
By

Anonymous, at 7:06 p.m.
ahh... that explains why i couldnt google their website.

thx