Friday, April 21, 2006

i'm tired of walking around with my hand on my gun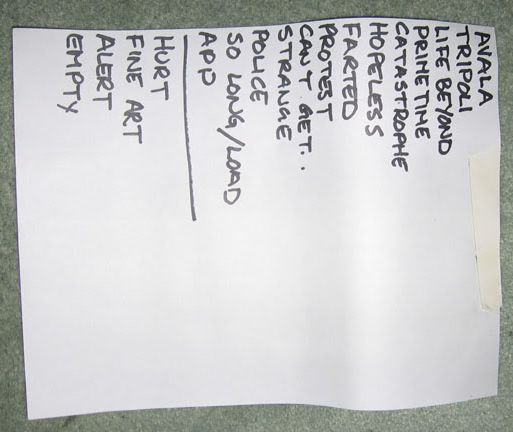 I used to be a very big fan of
Matthew Good's
music around the time of their oversaturation on Canadian rock radio (99-01 or so). I still give
Loser Anthems
and
The Audio of Being
semi-regular spins, but I can't say that I've been all that interested in his post-MGB output. So, it was a bit reluctantly that I purchased a pricey ($40) ticket to see him solo last night (it was a bit of an impulse thing - curse you Student Union Building TicketMaster). That being said, I'm really glad I did.
The first thing that struck me about the evening was that the lighting seemed like it was overkill. And, maybe it was, but it also really added to the the show. It's sort of like how Sigur Ros or Godspeed really utilize screens; the lighting really added to the feel of the music. The second thing that struck me was how much of a great mood Matt was in (despite just getting over Norwalk virus - if anything's gonna put you in a bad mood, you'd think it would be that). I can't remember the last time I've seen him perform and really look and sound like he was enjoying himself the whole time. Maybe that's just my perception, I'm not sure. At any rate, it was quite obvious from the casual way he addressed the crowd that the notoriously ill tempered Matt was nowhere to be found. He was actually really really funny, as well.
Oh... and the music? A lot of the songs sounded loads better stripped down to their basics. I especially enjoyed the numbers that are drenched extra instrumentation on record, as I've always thought a lot of his recorded output, especially
Avalanche
, sounded as though the orchaestras and keyboards were just added as an afterthought (I'm sure that's not the case, but they never quite fit right to my ears). The setlist was a nice mix, stretching back to (almost) the very beginnings of the Matthew Good Band to one new number that was played in the encore (that one and "It's Been Awhile, Since I Was Your Man" replaced "Empty Road" on the pictured setlist). Free from competition with extra instruments, the evening really showcased just how strong he is as a singer, as well. He did the last bit of Apparitions accapella, and it was a strikingly powerful moment.
My only musical complaint of the evening was the cover of "Hurt." Don't get me wrong, it sounded very pretty... but therein lies the problem. Cash's cover of the NIN tune succeeded because it flipped Trent Reznor's tired sounding self-loathing into a song about facing mortality and looking back at your life; so fitting (whether partially based on the legend or not) for the man in black, especially because it came at a time in his life, where even his voice seemed frail. Last night's rendition, with its very pleasant harmonies (provided by opener Melissa McLelland) and wickedly strong vocals, was just too polished and nice sounding. The image of Matt, the very lovely and youthful Melissa, and a dapper looking Luke Doucet (who helped out on lead guitar), all drenched in the aformentioned lighting didn't really fit either; they just looked so... alive... so strong.
Again, that's only negative thing that stuck out for me. The rest of the show was fabulous, and you should consider yourself lucky if you snagged tix to tonight or tomorrow's shows.
now playing: the Stills - Baby Blues
2 Comments:
I agree with you 100% about Hurt. If there are two great versions already, why attempt a third? I was hoping he'd bring Melissa out and was pretty disappointed that her nice voice wasn't lent to one of his songs.
Also, no Empty Road even though it was on the setlist = shitty.
can i ask you to grab me 3 tix to diplo when they go on sale? i'd love you forever. or, alternately, just let me know when/where i need to be
By

mads, at 9:56 a.m.