Tuesday, April 25, 2006

roll, kid, rock your body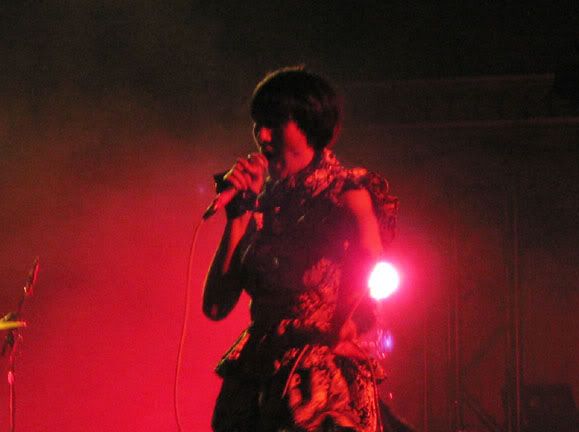 Yeah Yeah Yeahs
made their triumphant return to Vancouver tonight, making the jump from the Commodore to the double-capacity, Orpheum Theatre. In a lot of ways, it was the perfect environment for the band. The way Karen O prances around, it was like she was born for bigger stages. The entire look of the band was perfect: the lights, the smoke, the way they moved. That being said, there is something about the Yeah Yeah Yeahs that begs for the sweaty, cramped, rock show experience that you don't really get in a theatre. Seats get in the way of rock 'n' roll. While I was pretty content with my assigned seats, I kept wishing that people would just crowd past security and push up against the stage, push up against eachother, and really let loose.
Venue aside, the band was in great form. Imaad Wassif was on hand to fill out the sound on newer cuts, all of which were more dynamic than on record. Older cuts still resonated with the ragged energy that propelled the band from the (unfair grouping with the) NYC "garage rock" scene to their own place within modern musical canon. And, the energy level was the same as it always was: high.
I would've liked to hear a few more older cuts... and after three shows, I've still never managed to catch them on a night where they drag "Bang" out, but those are very very small complaints, that didn't taint the overall experience, in the slightest.
now playing: Whiskeytown - Jacksonville Skyline
3 Comments:
they didn't play Bang even when I saw them touring in support of the first EP. i guess it's just one thing they won't play.
They played it on NPR 3 weeks ago....def. something they throw in...just another on the list of songs I wished they played..still a rad show
By

Shea, at 7:27 AM
they're coming to oz in july!
sean may miss out though. :(