Wednesday, May 31, 2006

hail, hail the lucky ones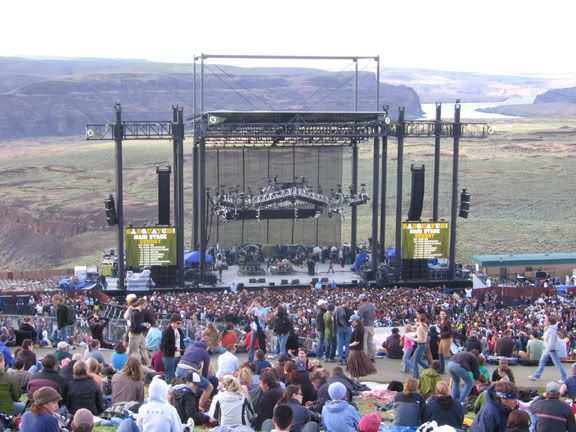 No, Pearl Jam weren't added as surprise guests on the Sasquatch bill, but that's really the only appropriate title... more on that later.
I made my annual trek down to the Gorge for days two and three of the (now) weekend long festival, arriving on site in time to whip up a couple of tents and make it in for most of
Rogue Wave
.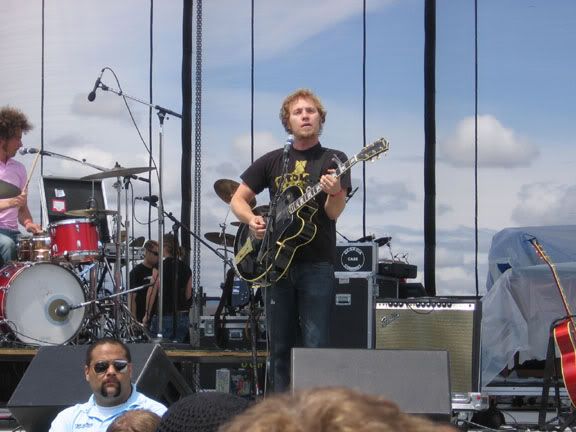 They were certainly good, but nothing to write home about. I know the Shins comparisons are getting a bit tired, but they felt like a warm up to Mercer and Co.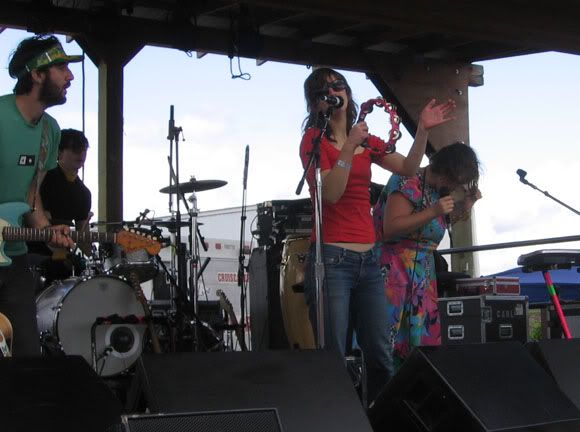 After Rogue Wave I made my way up to the second stage to catch
Architecture In Helsinki
. AiH were fabulous as usual, and were the perfect soundtrack to some early afternoon dancing.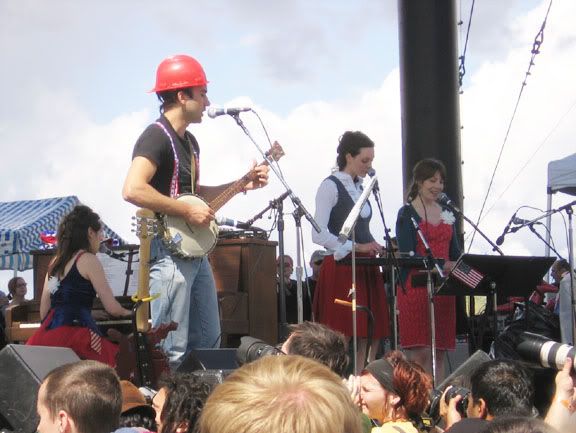 Sufjan
hit the mainstage after that, and I headed down for what would be the first set of the last two days to add a little extra something in the staging department. Sufjan's set, which was great musically, was punctuated by his construction hat, some red, white, and blue, and a small army of inflatable supermen, that were passed out into the crowd.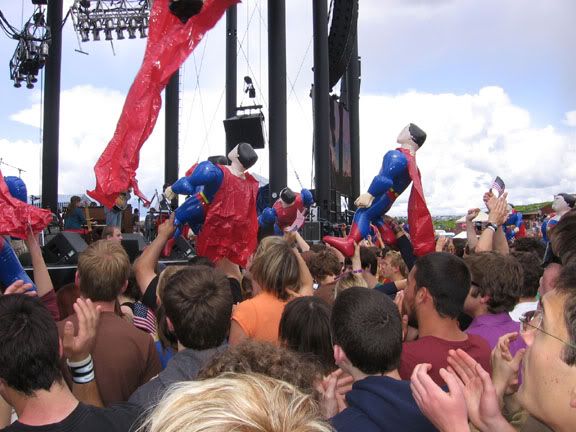 After Sufjan I caught bits of
Iron & Wine
(pretty good) and
Band of Horses
(not good), before heading down to the mainstage to catch
Neko Case
.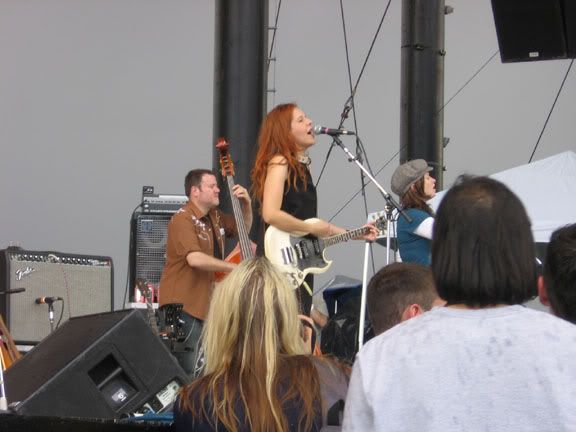 That's when the "fun" really started. Neko was barely through one song when it started to sprinkle a bit of rain. No big deal, right? Right. It was when that rain transformed to hail (like, big ass hail) that things got a little bit insane. Neko braved the elements for one song or so more before the plug was pulled on her set and most people started to run for cover. I don't think I can adequately describe just how crazy the hail storm was. It was coming down so hard it was almost comical, were it not for the fact that 1) it kinda hurt, and 2) everything and everyone was getting soaked. After unsuccessfully seeking shelter under a tree (in retrospect, a dumb idea due to the lightning), I found refuge when some kind soul invited me to share, nothing other than, a port-a-potty with me. If you're ever caught in a massive storm, I recommend it wholeheartedly. We actually ended up being joined by two other people who preferred hanging out in a toilet to braving the elements. Good times.
The hail storm caused the first cancellations due to weather
ever
in the Gorge's 20 year history, with both side stages being shut down, and some sets also had to be shortened after the weather cleared up. It certainly made this year's festival memorable, though.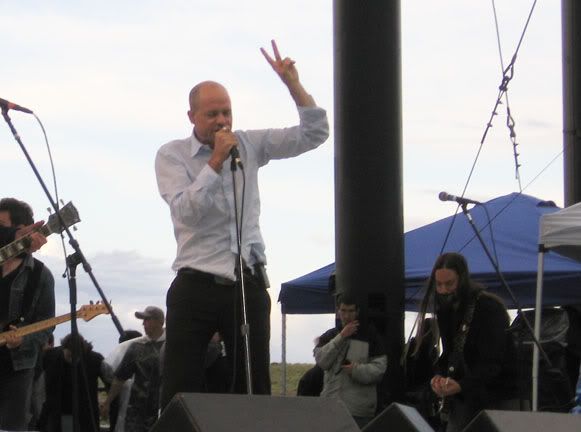 That meant that
the Hip
played a little less than scheduled, but they were still met with enthusiasm by the soggy (mostly) Canadians who shivered along as the band tore into "Grace, Too." I would've loved for them to play longer, but even at 40 minutes or so, they were one of the highlights of the first day.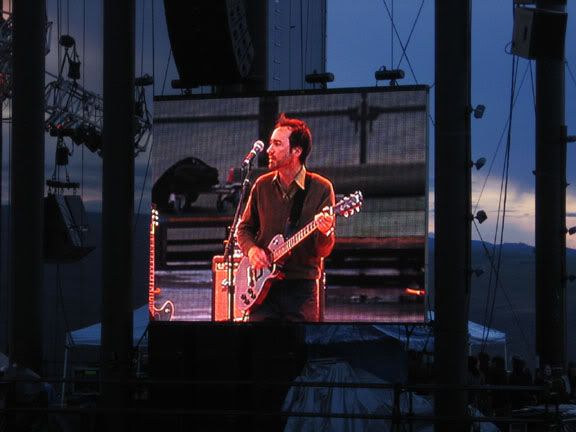 The Shins
were on after the Hip. I've heard some people say that they were pretty pedestrian live, and I suppose that's true. And, while they don't really do anything but play the songs, when the songs are this good, and the band is that tight, do you really need any side show?
After the Shins, I ended up shaking my way back to camp. Ben Harper, who I'm not to fond of, ended up rescheduled
before
the Flaming Lips, so I took it as an opportunity to go change. Well, that was my plan. I ended up falling asleep in the car, and missing the Lips. A mistake, I'm sure, although I've seen them quite a few times before. Some friends of mine actually ended up as part of their on-stage dance troupe, so I am a bit sad that I missed that.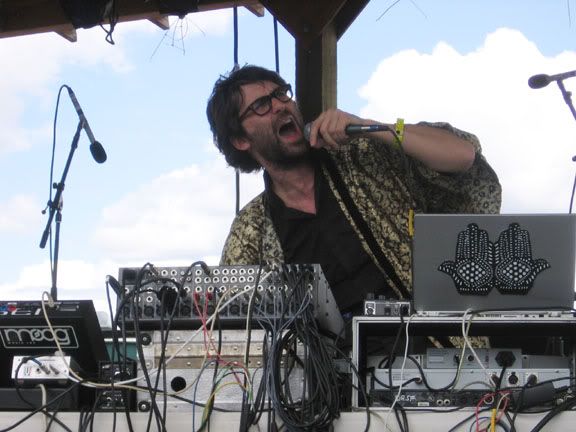 After waking up a little disoriented and more than a little hungover in my car, campsites were packed and I made it back in the festival in time for
Jamie Lidell
. The blue-eyed soulsmith was in fine form, especially considering his early time slot. Lidell's music is mostly sample and loop based, but that didn't mean he was content to press play on a laptop. He did an amazing job of reworking the songs from
Multiply
, building each one up with a combination of pre-recorded loops, and loops built on the fly, some differing significantly from the album versions. Who says an electronic artist can't improvise?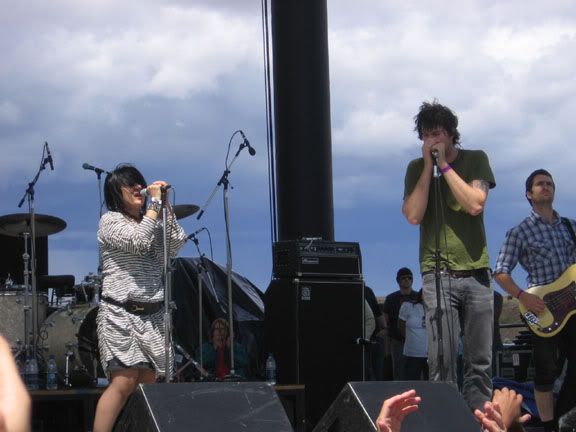 I wasn't very enamoured with the newest
Pretty Girls Make Graves
record, and their mid-afternoon performance (that completely ignored their first album) didn't really change my mind. A couple of songs rose to the occassion, but for the most part they sounded really flat. The band did bring out a small girl to skip rope during one song, which was pretty cute.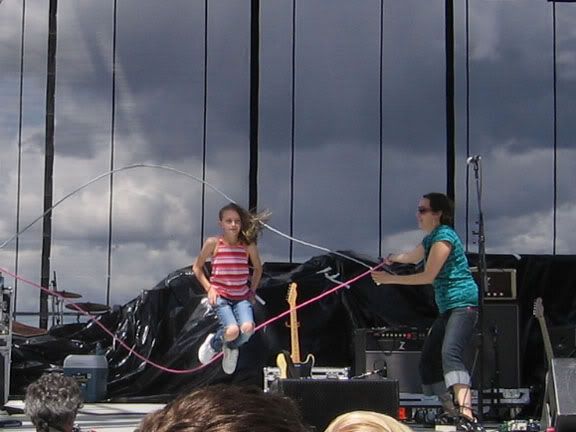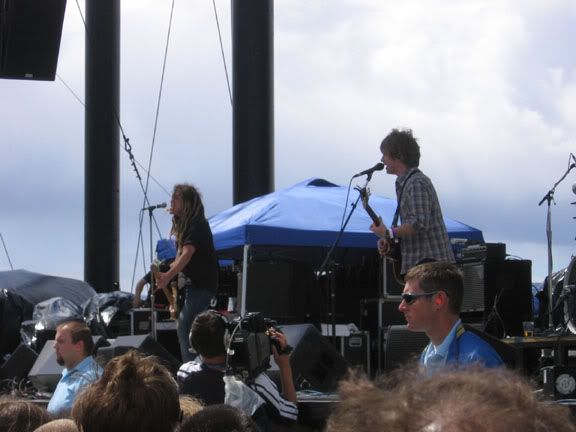 Nada Surf
was up next on the mainstage, and we stuck around to get a good spot for the next couple of acts. They played "Popular" first. I guess it was like when Radiohead used to play "Creep" really early in the set so nobody would obnoxiously yell for it. After their only "hit" things went downhill, and I can't say I'm even that into "Popular."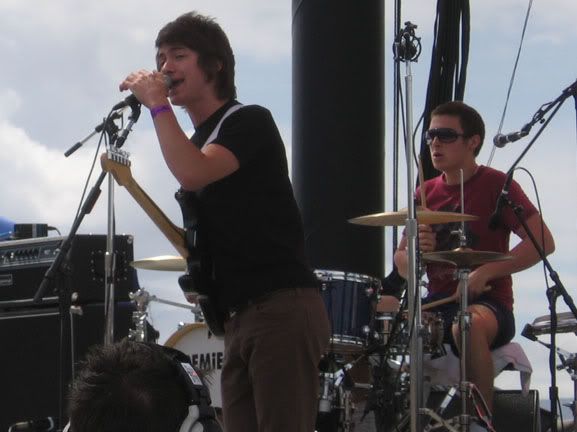 Arctic Monkeys
were up next on the mainstage. I thought their demos were pretty great (for demos), and the full length is quite good, as well, but the hype was way over done. There are plenty of better upbeat indie records out this year. That being said, while they didn't live up to the massive hype (which is probably impossible), they were goddamn great live. "When the Sun Goes Down" was one of the single funnest moments of the show for me.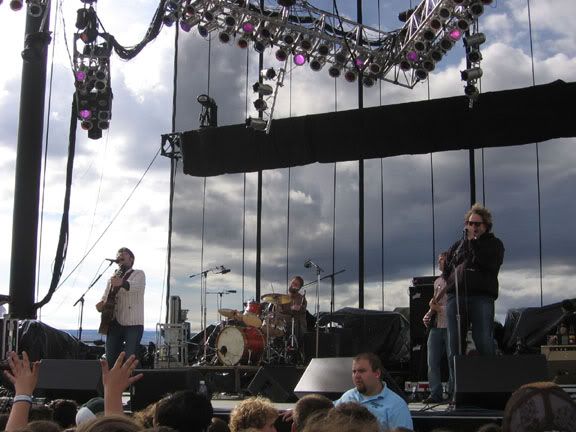 The Decemberists
had the task of following the new British invasion on the mainstage, and ended up doing a pretty fine job. They stuck mainly to upbeat material, and were even joined onstage by the guy from Harvey Danger (I think) for "16 Military Wives."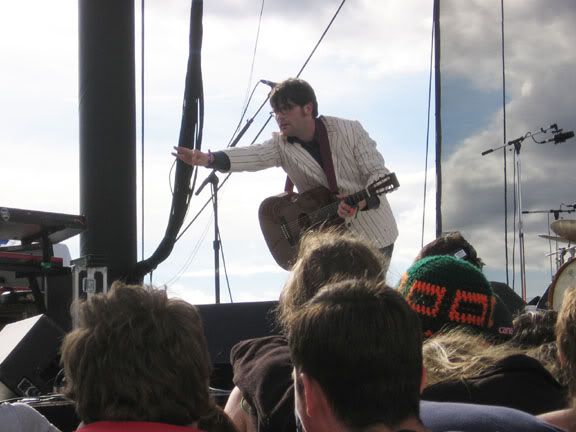 Colin even got the entire front of the stage to crouch down during one number.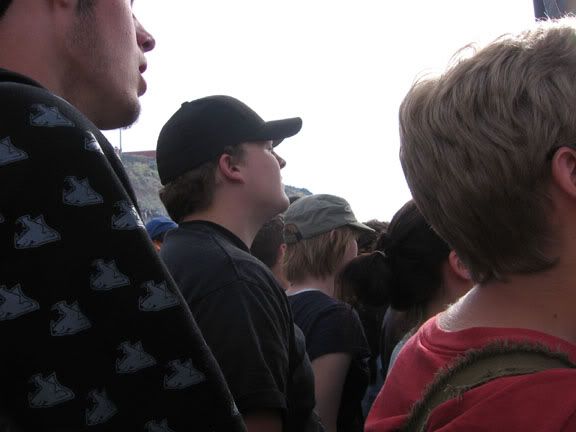 As an aside, if you are this guy in the black hat, it wasn't funny to yell "free bird!" everytime there was a quiet part in the set. 1982 called, it wants it's joke back, jackass.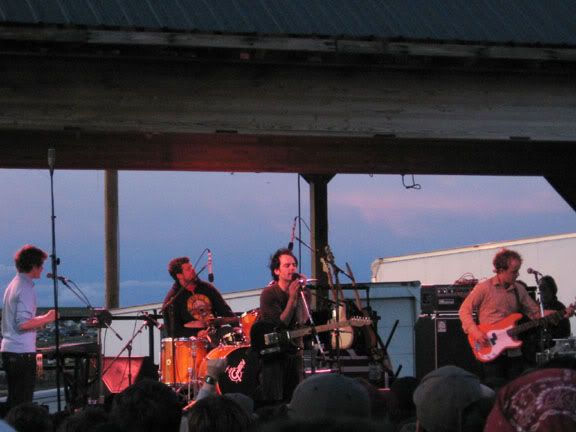 After the Decemberists, I was content to relax for awhile, visiting with various friends I'd run into over the course of the weekend, and taking in Queens of the Stoneage from way up on the lawn. I did, however, make it over to the second stage to catch
Clap Your Hands Say Yeah.
If you were at their show at Sonar last year, you know that they were "clap you hands say terribly boring" live. Well, I'm happy to say that they were awesome at Sasquatch. High energy, and surprisingly good sounding (considering the shitty sound at that stage). A performance of "Clap Your Hands" at the beginning of the encore was particularly great, with the crowd happily screaming back the responses to Alec Ounsworth's calls of the track's title.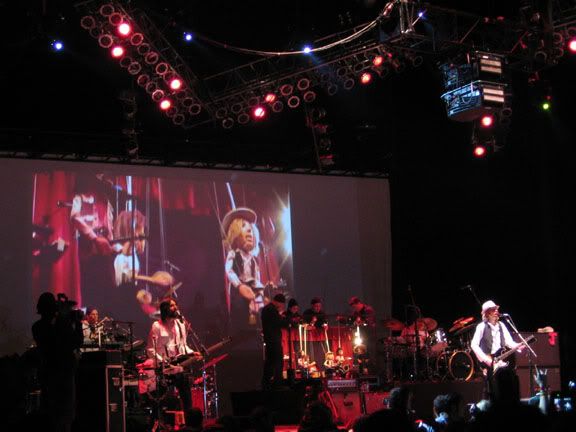 I did some more wandering around during Death Cab, before meeting up with one of the people from my car and getting a spot for
Beck
. My favourite scientologist came out swinging, opening his set with "Devil's Haircut," and never letting up. I wasn't that huge on
Guero
, but the album's tracks get a huge boost live. He also tossed in a good helping of old favourites.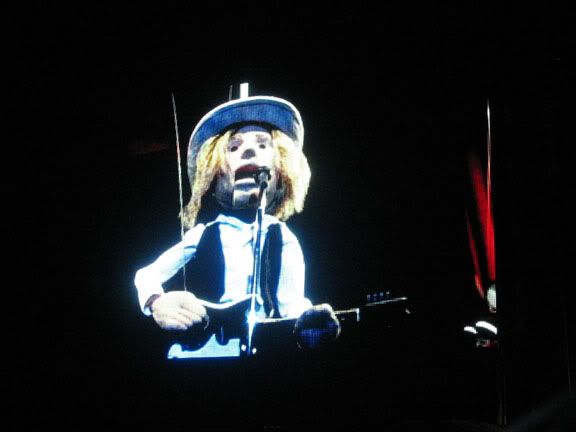 Not about to be outdone by anyone else's stage show (or at least, not about to go down without a fight), Beck's stage setup featured a miniature stage right in the middle. The mini stage featured puppeteers who recreated the set as it was played with meticulous detail, with the entire thing being projected behind the band. There was also a puppet camera man (with a working camera) and puppet stage crew. No joke. The "solo" portion of his set was also punctuated by the band taking a break to eat at a dinner table near the back of the stage, that then doubled as percussion.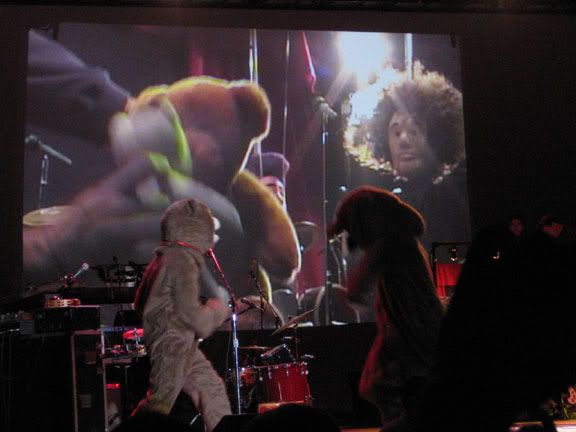 The encore began with only the puppets synching their way along to the recorded version of "Loser," before the band reemerged with Beck and his breakdancer dressed in bear suits (one grizzly, one teddy).
All in all, it was a great weekend. Huge props to the organizers, for running what was, by in large, a really great event... although I do have to ask...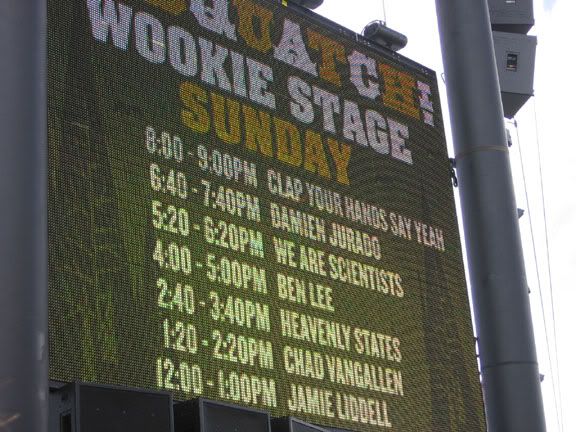 Who managed to spell "Jamie Lidell" and "Chad VanGaalen" wrong on the big screen?
Get your tickets early next year, this year Sat/Sun ended up selling out.
now playing: Thom Yorke - Black Swan
9 Comments:
good review. i was very surprised by how great the Shins were, and i'm in full agreement that The Hip were fucking amazing.
By

josh, at 2:46 p.m.
Nice photos! I laughed out loud when you wrote about free bird dude.

My friend was talking about how the hailstones were filling the cracks in their shoes. Biblical!
By

jackie, at 7:36 p.m.
It's cool you were up front(at least on the floor) for many of the acts. Great photos! I was there with my brother but we only managed to go down to the floor for only a few acts(Neko, Death Cab, Flaming Lips). Otherwise, we were content to relax up on the lawn and soak in the scenery. Glad you had a great Sasquatch Festival!
Sounds like a great weekend!

But come on, you missed sharing a bed with me. Admit it.
By

Sean, at 12:14 a.m.
Great shots! Did you miss The Flaming Lips? They were absolutely incredible. I was up front and center for that Jamie Lidell show... he was great. Glad to see your shots of the event.
By

Zach, at 12:29 a.m.
i did miss the Lips, and heard about it allllll weekend.

well Sean, it was a void to fill, really. although my friend Kat might be prettier than you... just a little, big guy.
By

Quinn, at 12:47 a.m.
Oh how I envy you. They would never have such a kickass rock festival in Massachusetts. I gotta move to the northwest.
There are some nice pics here. well done.

That was one fantastic weekend, I really can't stop thinking about it. Thanks for driving!
By

Anonymous, at 1:55 p.m.
that was me.

-kat
By

Anonymous, at 1:55 p.m.