Sunday, May 07, 2006

my favourite moment of our dead century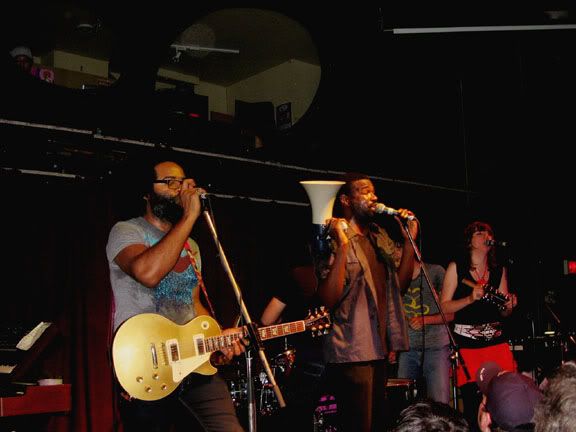 If you didn't make it out to something this weekend (and you still have a chance tonight with Sunset Rubdown/Frog Eyes and Rainer Maria), you have no right to complain that nothing comes to this city. There were a billion and a half things going on for those of you who enjoy live music (and if you don't, you probably stopped reading already). Yesterday I managed to make it out to three of them.
A sealed off venue didn't stop
TV on the Radio
from migrating from Richard's to the Plaza to put in an evening's work. The band were definitely "on" last night, starting off with an amped up version of "The Wrong Way" and - even on slower numbers - never really letting up afterward. Last time I saw the Walkmen they opened with "the Rat" and blew everyone's heads off, but couldn't really keep up the intensity. TVotR had no such difficulties. Speaking of "the Rat," "Playhouses" (out on their forthcoming disc) has that same sort of frantic energy. Yesterday it was driving and ferocious, and I'd be shocked if it doesn't become a live favourite. The various members of openers, Celebration (who were great - more on them further down) helped out the boys throughout their set, adding a bit of a communal feel to the evening.
Constrained by a curfew, they were only on for an hour or so, but managed to run through quite a few old favourites, while previewing a fair chunk of the forthcoming LP, as well. The encore was a perfect ending: a lively version of "Staring at the Sun" that was followed by the now requisite rendering of "Ambulance" featuring David Sitek dropping his axe in favour of a microphone, so he could beatbox.
As a closing note on TVotR, I think it was my friend
Graham
who once noted something along the lines of it being "unfair that most bands can't find one vocalist of the calibre of Kyp Malone or Tunde Adibempe, while they have both." Point taken. (He's totally going to come here and correct that misquote now)
Celebration
opened, and while I'd love to see them somewhere where the sound is a little cleaner, they did manage to get across the fact that they've got some talent. Vocalist Katrina Ford, who certainly knows how to work a crowd - and can sing to match her visual flair - is the obvious focal point, but its multi-instrumentalist Sean Antanaitis who's the overshadowed star. At one point he was fretting his guitar with his left hand, playing keys with his right, and playing bass via a set of Moog synth pedals with his feet. If you've ever been learning to play guitar and attempted to sing and strum for the first time, you'll realize how amazing that is. They're most definitely worth another look if/when they come through town again. You can check out one song (and the video for "War") at their
MySpace
, though the recording, while good, fails to capture their live energy.
The show at the Plaza ended at 10:30ish, which was plenty of time to march down to gastown to catch
Ladyhawk
at Goonpack. The boys played a short set, foregoing any of their slower numbers for a half hour or so of four-to-the-floor rock 'n' roll. It was cramped and sweaty. Fists were pumped, and songs were sung along to. The band lurched into the crowd, the crowd bled onto the "stage," some even helping Duffy out on "the Dugout's" chorus. It was great.
It's going to be awesome when the guys get big (like in that Black Mountain way... I know they're not going to be filling stadiums or anything), but there is something about them being able to play emptied out galleries filled with a couple hundred people, that I'll miss. Go see them in tiny places while you can, Vancouver.
I capped off the night (like the majority of people at Ladyhawk, it seemed), with a short jaunt down to the Columbia for cheap beers, dancing, and
Low Budget
. To be completely honest, he's a super tight DJ, and to be fair, he was doing it (with Diplo) first, but there are a ton of guys spinning the same sorts of records (basically anything if you can party to it). MSTRKRFT last weekend was way more interesting from a musical perspective. At any rate, when you're crammed onto the Columbia dance floor, it's not really time to reflect too much on the music anyhow. It's a guarantee that no matter who's spinning you can shake your ass to it, and that's the key.
Props to Malcolm and everyone over at
SWAK
for finding an alternate venue for TVotR on such short notice, and to
My!Gay!Husband!
and his deejay buddies for putting on not one, but two rad parties.
Speaking of M!G!H!, you can now abandon Celebs on Tuesdays and hit Shine, where he'll be spinning with Paul Devro, starting on May 16th. Hiballs are still $2, and they'll be selling 40oz of Old E for ten and a quarter... I dunno if that's terrible or awesome; probably both.
now playing: Outkast - Jazzy Bells
1 Comments:
ha, random shoutout!

I completely forgot I said anything like that but I probably did. i'm pissed though that I'm still out east right now still writing papers when I should be back home crawling around town to shows like this night.

and, the 40s at shine? fucking brilliant. i'd like to say that i haven't resorted to malt liquor in awhile but that'd be a lie.