Tuesday, May 02, 2006

living proof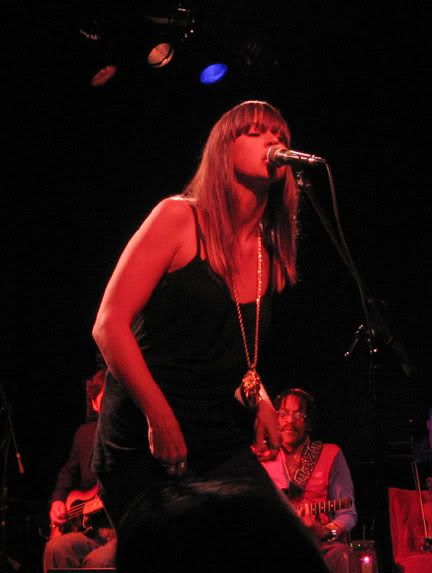 I made the trek down to Seattle last night to see
Cat Power
at the Showbox. As anyone who has seen her knows, a Cat Power live experience is a crapshoot at best, and after this show was initially cancelled (it was originally scheduled for January), I was just happy that it was still on. Chan's usually a little more reliable on stage with a band, but even those shows have ended with her storming off stage, or the band storming off stage, on occassion. Last night, however, was different.
Chan was backed by an 11 piece band that included horns, keys, a pair of background singers, and three members of the Seattle symphony on strings, in addition to the requisite guitar, bass, and drums. The evening began with a very soulful instrumental before someone came up from off-stage to announce "let's get ready to rumble... ladies and gentlemen, Cat Power!" The band jumped into the opening chords of "The Greatest" and Chan bounded on stage, with a big smile plastered across her face, staying in the shadows until the verse started, and gliding over to the microphone, right on cue. And, for the duration of the main set, that was more or less the story. Her movements were a little eccentric, and in between songs she would retreat from the spotlights and quietly applaud in the band's direction, but there was no crying, nor aborted songs, nor between song requests for more or less reverb; just gorgeous, gorgeous music. The main set closed with "Where Is My Love," and Chan finished the final chorus and said a quiet "thank you. goodnight" before leaving the stage, as each of her back up singers took a whirl at the chorus before singing again in unison, and introducing each of the band members. Chan then returned to the stage, having made a costume change to give one last croon of the track's title, before the band left.
As she sat down behind the piano, I figured this was where things would turn into a "typical" Cat Power show. She started with a cover I didn't recognize, before jumping into a series of chords, then stopping and restarting in a different key.
"I've just got to find this song..."
That kind of thing usually means an aborted tune, but after a few more seconds, she looked up with a smile, noting "there it is," before playing a significantly more upbeat version of Nina Simone's "Wild is the Wind" (which graced 2000's
The Covers Record
), bleeding it into a cover of the Everly Brothers' "Dreams." She switched to guitar and ran through "Hate," "House of the Rising Sun," and a medley of the White Stripes' "It's True That We Love One Another" and "Hit the Road Jack," finishing off the solo portion of the evening. "Hate" was notable for the pair of lyric changes, "I
don't
hate myself, and I
don't
want to die."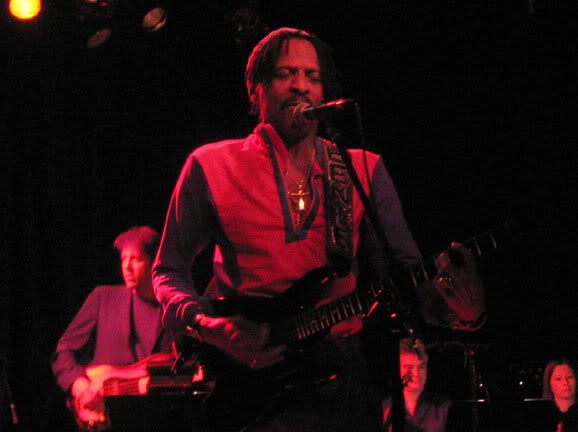 The Memphis Rhythm band then returned to the stage, and Chan stepped back as (former Al Green guitarist) Teenie Hodges led the band through a number, taking lead vocals, before Chan jumped back behind the microhphone and they then ran through one more with her singing (whatever they hadn't played from
The Greatest
yet, I can't recall exactly, but they played everything from the album, I think).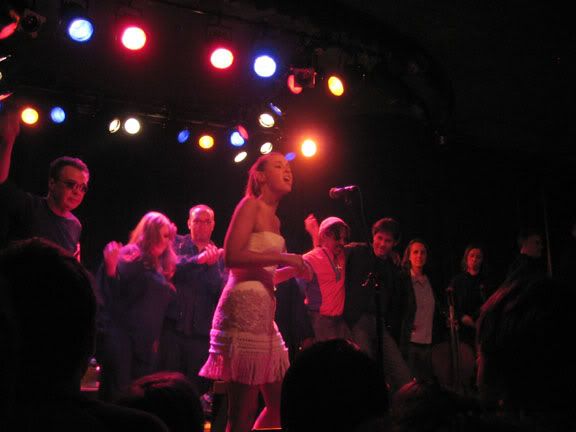 The band came to the front of the stage and everyone was arm in arm for a bow, before backing Chan with some finger snaps, while she ran through a cover (that I didn't recognize) accapella, before everyone left the stage together. The crowd, who were enraptured during the entire set, managed to get her back out on stage, and - in what is becoming a typical part of her live show - Chan lipsynched and swayed around a bit to the PA music, before again saying goodnight.
now playing: Cat Power - The Greatest
3 Comments:
Wow! Sounds like a great show.
good review
Ohh I'm so jealous; I considered heading down for the show but plans didn't work out. I'm in love with Chan.
By

Zander, at 3:38 a.m.