Thursday, April 27, 2006

making angels out of ash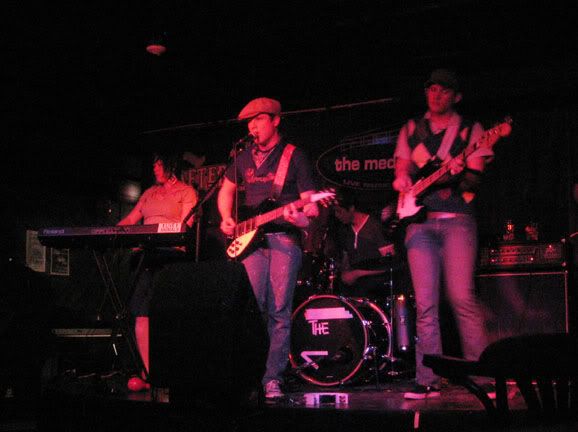 Caught
the Paper Cranes
last night at the Media Club. It was a NMW show, but hopefully doesn't speak to the business NMW is doing, because there were only about 25 people there. And don't tell me you were at the Stills/Diableros show either, cause may secret agents tell me that one was half empty too.
At any rate, the Cranes did their best to ignore the fact that nobody bothered to show up, and delivered a little under an hour of rock for all two dozen of us. The obvious comparison for Ryan McCullagh's voice is the Cure's Robert Smith. I've never shyed away from saying the obvious, so I'll go with that. The music is more of a split affair. It seems like half the songs, like their first attention getter, "Deus Ex Machine Gun," have a driving 4/4, minor key, new wave sound, while the other half of the catalogue boasts the sunshiney, piano-driven bounce of the stellar, "I'll Love You Until My Veins Explode." I was ready to proclaim that the latter was far far more impressive, but their set closer was a 4/4, minor key, new wave affair, drenched in washes of feedback, and was glorious.
If you're not at Sasquatch or Arctic Monkeys, make sure you head down to Pat's on May 27th to show them some love.
You can download "I'll Love You Until My Veins Explode," and stream a couple of other songs on their
MySpace
.
Speaking of New Music West... there's a
Boompa
showcase at the Penthouse tomorrow night. (in descending order) The Salteens, Catlow, Run Chico Run, and My Project: Blue are all doing sets. Whenever I go to the Penthouse for NMW I forget that it's usually peeler bar, order a beer, and am then reminded that I'm in a strip club when the waitress asks for what should be too much money for a single beverage
The Concretes
show, originally scheduled for May 17th at Richard's, has been cancelled due to "overseas committments." If by "overseas committments" they meant "ruining my day," they are correct.
The Charlatans
are at the Commodore on June 3rd. They have a new record out (their first proper release since 2001's
Wonderland
), but I'd still be shocked if they could fill the Ballroom.
Three Inches of Blood
are doing a show at Bloodstone Press tomorrow night with
A Javelin Reign
. That's more metal than you'll find inside Paul Wall's mouth. The boys from Ladyhawk also insist you "get there early for a surprise!" Even if the surprise sucks, you can indulge in the cheap beer until the bands start at 10pm or so.
now playing: the Smiths - I Started Something I Couldn't Finish
8 Comments:
Too bad no one was at the show...but at least when Paper Cranes are huge, you'll be able to say you saw them when..., right?
i was told that The Stills show was really well attended.
i saw TPC at The Pic a month or so ago, and thought they were terrible. A tight band, sure, but the whole post-post-punk (or whatever) sound doesn't do it for me.
How did you like my buddies Counting Heartbeats?
I didn't make it in time to see them... my friend's band was doing a little set in a cafe, so I stopped by for that.

What do they sound like?
I don't really know how to describe it. Nor do they. They cover a wide spectrum. They just finished up their first full length, and are touring BC/AB soon in support. They're coming to Vancouver soon.

You can hear a couple of the songs from the CD on their Myspace. none of their really up-beat stuff (yet), but "Tiny Yellow Bombs" is such a killer track.

http://www.myspace.com/countingheartbeats

as well, they're updateing it with new ones every week or so. You should check them out if you're not doing anything else on the 11th.
Richards is a room that looks a lot more full than it actually is...there were about 400 there with a cap. of 600
By

Anonymous, at 5:47 p.m.
counting heartbeats are great! so are the cranes! thanks for touching on some island music!
By

Lauren from Victoria, at 1:07 a.m.
if it's good, it's good... doesn't matter where it's from. but there's another Vic artist today for you.
By

Quinn, at 11:55 a.m.