Monday, June 05, 2006

first day of my life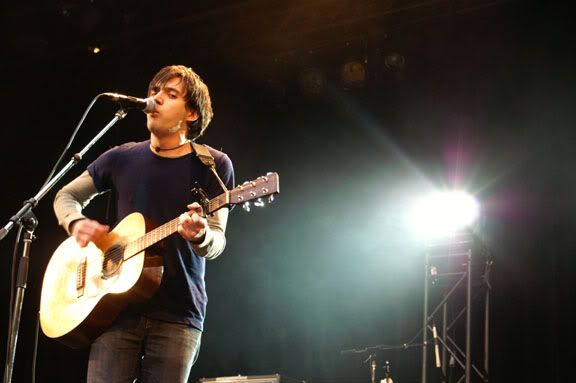 I made it down to Malkin Bowl for
Bright Eyes
today just in time to catch the end of Gruff Rhys' opening set, while running around trying to find someone to give my extra tickets to. He sounded pretty good, but I can't say that I heard enough to pass judgement.
Conor and co. hit the stage around 8:15 and played a somewhat brief hour and twenty minute set.
I've mentioned it before
, but I'll say it again: I'm not a very big fan of old Bright Eyes. With that in mind, the older material sounded great, with most of the arrangements receiving a
I'm Wide Awake
-like coat of paint. I was a little disappointed that they didn't play "Landlocked Blues," but the solo rendition of "First Day of My Life" was great.
I'm about to head to bed, so I'll leave it at that.
If anyone can tell me the second song he played solo (it was just two chords, and a twangy little riff), I'd be much obliged.
That excellent picture up there was taken by my friend Kimberley Day from the photo pit, but here is what it looked like from where us masses were watching.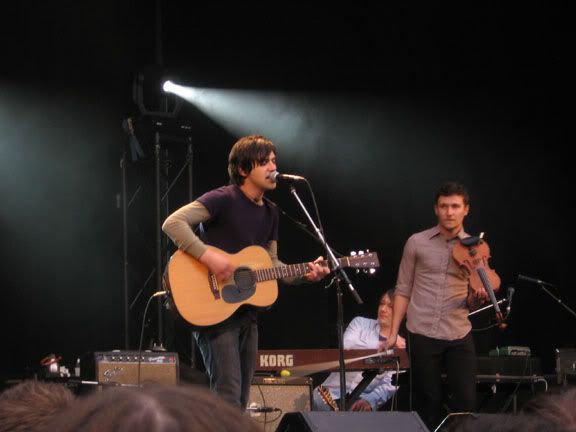 In non-Conor related news, although I enjoy both the musical stylings of Miss Sarah Harmer, and also shows at Malkin Bowl, I'm extremely glad I didn't buy tickets yet. Why? Because
Wolf Parade
is playing with
Frog Eyes
on August 20th as well. While the confines of 156 W. Hastings were great in all their swelteringly hot glory last time I saw them, I'm quite excited to see the creators of my favourite album of last year rock the Ballroom. (thanks Shea)
Check out this very amusing video of the latest
Broken Social Scene
single, "Fire-Eyed Boy." (thanks Jen)
Regular size:
clicky
84mb super high quality version:
clicky
Finally, I did the Music Picks for the Tyee this week: a little tribute to the lesser known works of
Mr. Elliott Smith
.
Psych! Ok, finally, for real... My friend Kat just sent me the link to this Sony Commercial that features Jose Gonzalez's cover of "Heartbeats." I'm sure everyone has seen it already, but I tend to avoid commercials. This, however,
is great.
now playing: Jose Gonzalez - Hand On Your Heart (Kylie Cover)
9 Comments:
Oh man...that BSS video.

-100 points for including Geddy Lee

BUT

+200 points for the 2 Do Make Say Think guys asking "can't we just make it instrumental?"

Brilliant.
I can't help with the song, I want to say Poison Oak because it was the second song, but it wasn't completely a solo... BUT how does one come across the Wolfparade information. Neither the sub-pop or commodore sites have this up yet? Any info on sale dates?
sorry.. not second song of the set...
just second song with conor all by his lonesome... so first song of the encore maybe(?)... i remember he played "First Day.." solo earlier in the set.

the wolfparade info is up here:
http://www.sealedwithakisspresents.com/index.php
tix are on sale on friday the 16th.
the full version of the ad (high-res = win) is available at www.bravia-advert.com, and there's a spoof for some sort of fruit drink here: http://www.swansea-res.org.uk/tv_advert.html
The second solo song was "June On the West Coast". Off "Letting Off the Happiness".
By

Anonymous, at 4:24 PM
so you didn't see the full-blown fist fight between a couple girls at the bright eyes show then?
for video of Connor's new song go to
doublemedoubleyou.blogspot.com
its pretty shitty quality, but still pretty neato.
fist fight???

thanks for the vid link
oh yeah. right in front of the stage, between the first and second song (or the second or third song), this drunk chick tried to push her way up front. this other chick would have none of it, and grabbed the drunk chick and threw her to the ground. then they started thrown punches, and eventually wrestled each other onto the ground. some guys tried to break it up, but when the guys let go, they would go at it again. that happened a couple times until security guards came around and broke them up for good. but yeah, it was insane. a full blown fist fight (with several punches landing on each side) between two girls at a /bright eyes/ show. wtf!?!