Friday, October 06, 2006

my mind's not right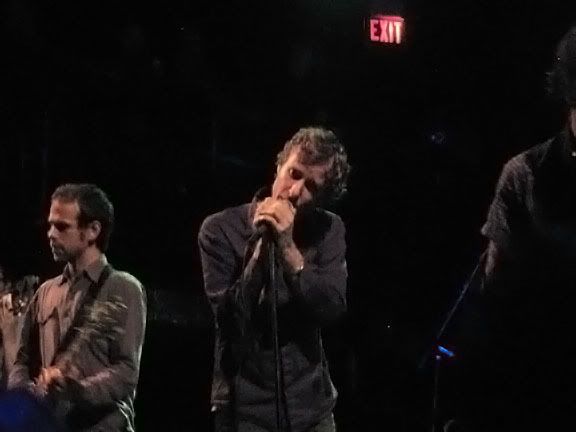 The National
didn't exactly blow me away the first time I heard
Alligator
. Actually, let me rephrase that: nothing but "Mr. November" blew me away the first time I heard
Alligator
. The record, as a whole, took awhile to grow on me, but eventually became one of my favourite releases of 2005. In the same way, I doubt that they'll ever really blow my mind live. They just aren't a grab-you-by-the-throat kind of band, although that's not necessarily a bad thing. They're not the Arcade Fire or ...Trail of Dead in the flesh, but they're still very very good. If fortune should shine on them, and they ever get big enough to play theatres or maybe even a church - somewhere seated, anyhow - it might be more suitable than a mostly standing room bar, as well.
The band played most of
Alligator
, a handful of older songs, and two new tunes. The highlights were dominated by the tunes that turn up the intensity a bit ("Abel," "Lit Up" and "Mr. November), but slower songs like "Daughters of the Soho Riots" were also great, getting some added intensity live. If the final number - a new song - is any indication, we're in for another album of beautifully understated music when the band gets another LP out. Speaking of intensity, I think I mentioned it last time they came through Vancouver, but Matt Berninger is one of the most intense lead singers I've ever seen. Like the band in its entirety, he's not overly showy, but the look on his face... You'll never question the sincerity of some of the darker lyrics, that's for sure.
In what was a very odd pairing,
the Fall Collection
opened. They sounded a bit like the Killers, but not as good (think about that). Their singer needs to decide if he's going to yell (in which case, just give'r, dude) or actually try to sing (in which case, tone it down), because the halfway in between drill seargant style shouting was a touch grating, and certainly didn't take away from the rather uninteresting (albeit, not unpleasant) new-new wave instrumentation. On their last song the drummer sang most of the vocals, and ironically, sounded pretty damn good.
now playing: Blondie - Kung-Fu Girls
13 Comments:
I couldn't bear watching the fall collection, I had to leave 2 songs in. they kinda reminded me more of a crappy hot hot heat. odd pairing indeed.

did you realise that it was ian browne on drums?

btw, link for them is wrong. thats a different fall collection. myspace.com/xxthefallcollectionxx
By

jordan, at 2:29 p.m.
like from the Stone Roses???

also, thanks for the proper link
hahah, like from MGB!
By

jordan, at 6:08 p.m.
ohhhh... that was him singing then... that explains why he actually sounded decent.
The National were amazing. I've never seen someone so intense singing. When he sang Abel's chorus, i thought he was going to have a fit. It was crazy. One of my personal favorite shows.
The first band was ok. But the only thing i could think about was wow, the lead singer should really pull up his pant. His belly was hanging out. Also, i thought he was trying to impersonate someone with his dancing.
Anyone else like the balcony the best at Richards???? And i ask this question to the music or tour manager gods, Will i ever be able to get a damn set list!!!!!!!!!!!!!!!!!!!! Please just once! once!
By

Jessica, at 2:07 a.m.
i know i've seen the fall collection somewhere else... but opening for whom?? hopelessly generic, they sound like a band who listened to too much killers/interpol/stellastarr*/etc and thought, hey, i want to start a band!

as for the national, i was too tired to really enjoy them as much as i did last time. i was pleasantly surprised to find that richard's was almost full for the show though. good on you, vancouver!
By

Hanson, at 11:39 a.m.
Just to let you know, Gomez are actually on the 21st, not the 18th! Thanks.
By

Cy, at 8:31 p.m.
The National only reminded me of a shy and "indie" Tragically Hip. Maybe it was the gyrations. The third song was indeed actually amazing, but of every other song I heard was kind of the same thing, only not amazing at all. And maybe it was an off night, but the singer wasn't so much singing, just kind of phoning it in. Truth be told seven of us left ten songs in, but had stopped listening after six, which is saying something. The violinist and the drummer were killer, though. Sonically I don't really get it, maybe I should hear a record. Lots of people in the crowd were saying that this was one of their favourite bands. Beats me.

And as far as the Fall Collection go, you've got to give them a little bit of credit. They did alright, for what they were doing, considering a really eraly start and completely unreceptive audience. Blogs like to take things out of context, as if scaling every review to a Pitchfork-led standard that changes weekly. They are a pop band. And they do that pretty well. We'll probably hear a lot more of them. And the guitarist was great. I agree with the comment about the drummer singing, 'cause that was indeed nice.

Good way to spend a weeknight, I guess.
By

Anonymous, at 5:00 a.m.
Nothing to do with an early start or an unreceptive audience nor even Pitchfork-like standards...listen to their songs on myspace. They're doing something the should've done 4 years ago and a lot better. You went to see The National and liked The Fall Collection better? Something's up with that. Either you're friends with the band or you should start listening to better records.
By

Anonymous, at 7:45 a.m.
If I were rating things on PFork standards, there would be mostly meandering tangental stories with abitrary numbers attached...

The Fall Collection are a pop band, but they're just not very good... and there are plenty of great pop bands in this city (not to mention elsewhere). How exactly was my take on them out of context? They played, and as noted, they were a bit of a strange fit with the headliners. and with that in mind, they we're still mediocre.
By

Quinn, at 12:54 p.m.
That was Ian Browne? Criminy! I thought he looked familiar.

I was also too sleep/cuddled to enjoy the show properly, but I think that the sound at Richard's kind of beat down the subtlety that makes The National so great... I agree that they should play in a church. Especially since the lead singer really does rock the fuck out at every possible opportunity in the most introspective way possible, which I love.
By

Jackie, at 10:24 p.m.
I guess the point is: Music is music. The Fall Collection would have been given more credit if they didn't open for The National and were seen someplace else. I don't listen to The Fall Collection. But I also don't listen to The National. If I had to choose, I'd choose neither. Just because short girls and dudes with glasses and your basic Macintosh ads had hard ons for the latter, doesn't mean that the former weren't giving it their all and doing what readers and writers of blogs typically aren't; being in a band. Try it.
By

Anonymous, at 3:27 a.m.
Sweet, the any criticism is invalidated if you don't actually do something yourself argument. How refreshing and original.

Actually I have been in a band... several... none of them were very good. We tried very hard... "gave it are all." But, I'm sure a lot of people didn't like us, which doesn't really bother me. Because as hard as we tried, I would feel a bit weird if we had been given the benefit of the doubt for trying. It's not very hard to start a crappy band, that's why there's so many of them.

RocknRoll isn't Participaction.

I'm sure Nickelback tries extremely hard too. Most bands probably do. Good on them.

It's not like I said they should stop making music, just that I thought they were a bit shitty. And it wasn't the combination of the two bands either. While I think the National released I pretty great record last year, I haven't been compelled to get any of their other albums, but I certainly don't have a "hard on" for them. They're a good band, theyre quite good at playing their songs live, and those songs will never grab anyone by the balls with some sort of immediacy.

If theyd opened for a band that was more new-wavey, it probably would've been worse, because that band would be doing the same thing they're doing much much better.

They're singer couldn't really hold a tune for chrissakes. If he's on some Leonard Cohen calibre vibe lyrically, then he could probably get away with it, but otherwise, if you're trying to be a pop band you probably hope you have a knack for catchy melodies or decent vocals.