Wednesday, October 04, 2006

my mind has changed my body's frame, but god i like it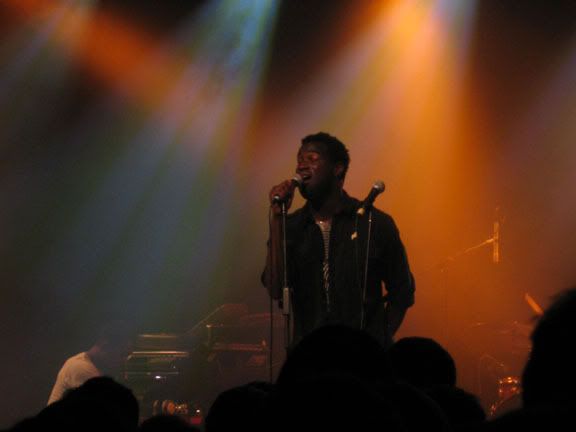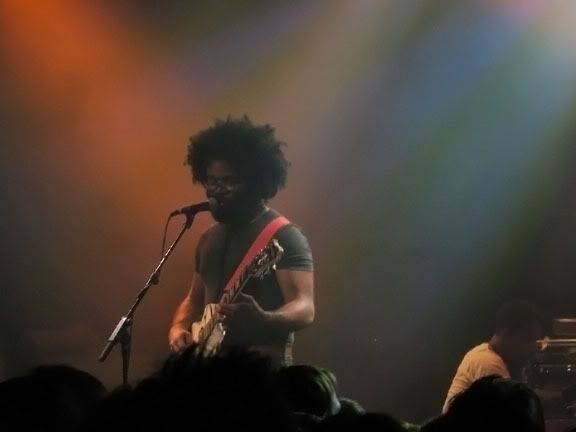 The only minor disappointment from last night's
TV on the Radio
show was the fact that they didn't play "Ambulance." But that's just me being a whiner. The show was pretty tremendous (maybe not as good as their appearance at the plaza earlier this year - but let's not split hairs). They played songs old and new, were faithful to the recordings on some and changed it up on others, and were, as per usual, intense and energetic. I think I mentioned it when they were here in May, but the live, driving, amped up version of "Wrong Way" is spectacular. It was so good, in fact, that it was only overshadowed by "Wolf Like Me," which just might be song of the year.
Someone sell me on
Grizzly Bear
. All those well respected internerd publications seem to be into them, but I haven't really been grabbed by their latest recording. Ditto for the live show. Granted, I showed up about halfway through their set (there were free drinks down the street), but it just felt like there was a little something missing to send them over the line from pleasant to transcendent.
now playing: the Clash - Police and Thieves
11 Comments:
anticon site says Why? is playing with Yo La Tengo, yesssss.
Did TVOTR play "A Method"?
By

Anonymous, at 2:23 p.m.
i guess if you have given "yellow house" a proper listen and don't love it already, no amount of random internettians "selling" You on them will help.

seems you've made up your mind.
In my humble opinion, they are so great live, but even better on record


and Tv well, is well TV
By

Anonymous, at 3:41 p.m.
What? Huh? Free drinks? Was this someone paying back a debt to you in drinks or was it an establishment actually giving away free drinks? I must know.
By

Anonymous, at 4:57 p.m.
Agreed. Grizzly Bear = zzzzzzz.
on Grizzly Bear: I just sort of feel like when I listen to them I'm in the wrong mood or something. It's a bit hard to explain... I listen and I think I should be enjoying it more than I am.

on free drinks: at the Republic, which was a place that I never would've gone in otherwise, for some thing sponsored by absolut. Cosmo Baker was spinning.
dunno. it's just really good to me. graham clearly likes dabrye and the like.

nuff said.

anyhow, like I said, if you are anti now, you will remain anti. that's the nature of snap judgements in the blogging world.
By

Anonymous, at 11:07 p.m.
I was there for all of G-bear's set and felt that they fit sort of into that same category as Sigur Ros: though I'm a fan of their musicianship, I wouldn't play it while driving late at night, nor would I want to be standing up at a show watching them for two hours. I'd want to curl up and take a nap--which I did in fact do at a Sigur Ros show a few years ago at the Orpheum (I think; may have been the Vogue). People were getting up and leaving and I woke up like, "wha? Over? That was a nice sleep."

In other words, they were the kind of band you put on to chill out to or sleep to. Vaguely Floyd-ian, vaguely Icelandic, vaguely background noise. Nothing too special but nothing terrible.

Them's my two cents.
By

Kaitlin, at 11:10 a.m.
snap judgement?

wouldn't a snap blogger judgement be, "i listened to the record once when i was doing laundry and it's sure not Clap Your Hands Say Yeah! Ill tell you that!"

i've listened to the album multiple times, and im going to listen to it again in a variety of situations before/if i give up on it. it's certainly not something that i listened to and could tell i wasn't going to like right away.
By

Quinn, at 11:25 a.m.
fair enough.

I love it
you aren't there yet


kaitlin wants to curl up and take a nap
By

Anonymous, at 3:18 a.m.
for me grizzly bear is far more dynamic and interesting live than TV on the radio's steady barrage of power chords.