Sunday, November 26, 2006

shake shake shake shake shake shake shake shake
Kayleigh Shaw (who hails all the way from SoCal) wins
the Rapture's
latest CD,
Pieces of People We Love
. Here's the photo she sent of herself dancing at a house party (she's the one in blue):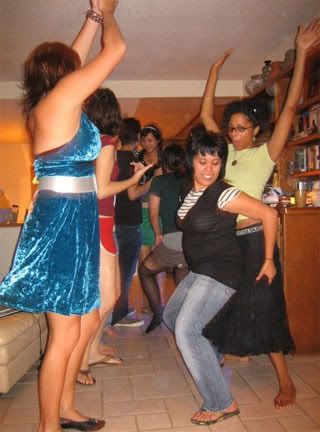 With all due respect to Kayleigh, I do have to mention that my friend Martin sent in the best photo by far. Unfortunately for Martin, I chose the winner at random. When he's not dressed as "an effeminate pirate," you might find him
behind the ones and twos
.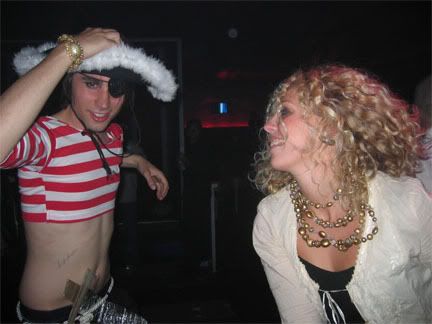 Julie Doiron
is set to release one of my most anticipated records of next year on January 23rd. The fine people at
Jagjaguwar
have an mp3 from
Woke Myself Up
available right now though.
download: Julie Doiron -
No More
You can also grab "Me and My Friend" from Julie's
MySpace
.
Weekend recap:
I made it down to the first of
Leeroy Stagger's
two shows at the Railway on Friday, making it in just in time to catch
Patrick Brealey
. Backed by a band that contained most of
Salteens
and the drummer from
Bontempi
, he played some rather pleasant country tinged numbers, including a piano driven cover of Neko Case's "Margaret vs. Pauline." To be perfectly honest, it was pretty noisy in there, and I wasn't giving him my full attention, but I definitely wouldn't complain if I saw him again.
Leeroy was, as per usual, backed by the rotating cast that he's dubbed the Sinking Hearts, who featured producer John Ellis on guitar and Pat Steward on drums. Pat's played in a billion bands of varying critical and commercial successes, but I feel the need to note that he's laying down the beat on "Summer of '69."
The main set pulled entirely from Leeroy's latest,
Depression River
, which was played more or less in order (if I recall correctly). While things sounded great, and it was great to see the new songs live for the first time after getting familiar with the record, I would've welcomed some more tunes from his earlier two releases. That aside, it was a pretty solid evening of music.
Saturday ushered in the
CiTR
fundraising show at the Lamplighter. If this were Stereogum or something, I'd have a dark, paparazzi-style photo of Aleks Kapranos up, as the Franz Ferdinand front man was taking in the show. I only mention that because the Lamplighter is an odd place for a Scottish rockstar to show up when he's not on tour. People mostly left him alone, which was nice to see.
Celebrity sightings aside, I managed to make it down after work in time to catch
They Shoot Horses, Don't They?
(who took the stage second last for some reason). As per usual, they were pretty fantastic, even overcoming the Lamp's pretty terrible acoustics.
Notes from Underground
closed things out. I was pretty into them for the first couple of songs, but started to lose interest as things went on, although that may have been more due to fatigue. Another band that I'd like to see again before making up my mind on them.
now playing: Wilco - Ashes of American Flags
4 Comments:
What the bloody hell is Alex Ferdinand doing in Vancouver??? Are they recording there?
What's even stranger is that Kapranos now spells his name like me.... I guess I must be quite the trendsetter here in Vancouver ;)

p.s. - thanks for the misspell, Quinn - it made my day!
By

Aleksandra, at 1:40 p.m.
freudian slip?

i have no idea what he was doing in Vancouver. he was just chilling out at a table with Kathryn Calder, Nardwuar, and John Collins.
Whoa, maybe that's why there has been endless Franz on my Pod lately...
By

minx, at 11:18 a.m.