Friday, December 01, 2006

baby i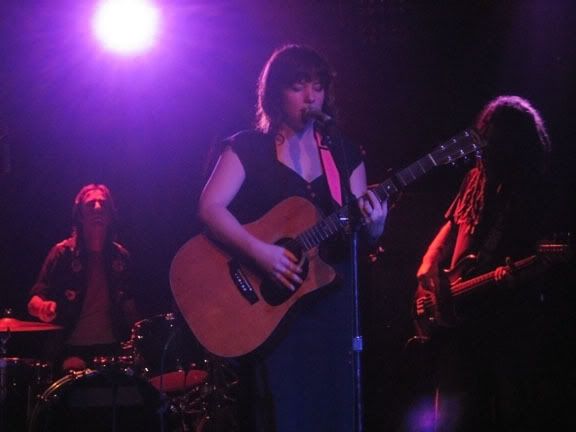 Quick and dirty Transmission showcase recap:
DJ Champion
was joined on-stage by "the G-Strings" and a singer that I didn't catch the name of. The former were no fewer than four guitarists and a bass player. The performance was really good, but the accompaniment left Champion to just do what looked like some knob twiddling. That didn't detract from my overall enjoyment, but it seemed that the main man ended up being less of the show than his collaborators.
I couldn't figure out why I'd heard of
Jets Overhead
until about half way through their set, when I remembered them being "the Zone's Band of the Month" (I sometimes listen to the Zone at work, in between long runs of CBC Radio 1). They were pretty bland.
K'naan
recalls that article that Chris Rock did for Rolling Stone about his favourite rap records, where he proclaimed that "you can rap all the smart shit you want, just give me some ignorant beats."
Fleet Foxes
were also a bit bland.
Luke Doucet
claimed to be the only "sensitive singer-songwriter on the bill" (later proved wrong by Amy Millan), and also noted that "all these songs are about my ex-girlfriend." Despite those two comments, which in my mind aren't good signs, he was quite good, and reminiscent of both Danny Michel and Andrew Bird (albeit without the violin) at times.
I probably wouldn't have bothered with
Hell on Wheels
had I heard their music before. It's pretty standard upbeat pop. That being said, charisma and stage presence go a long way, and they were really entertaining.
Amy Millan
opened her set with the quip, "I guess we're all here to save our jobs, right?" before launching into a set that was half covers and new tunes. The new ones sounded great, and the cover of "I Will Follow You Into The Dark" actually made a Death Cab tune sound good; quite the feat.
I bailed about half way through
My Latest Novel's
set, but don't take my early exit as a knock against the band (I was just really tired). They reminded me quite a bit of the Frames (but Scottish instead of Irish), and if it were a different night or perhaps a different venue, I could see myself raving about their performance.
now playing: Animal Collective - the Purple Bottle
3 Comments:
I dont' like Joanna Newsom

So if anyone wants my CD of her, u can have it.

Uhm
contact me at gina dot eom at gmail dot com

Yes
By

Anonymous, at 11:20 p.m.
I know you don't like Hawksley much, but did he perform?
hawksley performed on the 12.01.06 showcase.
By

Anonymous, at 10:25 a.m.