Wednesday, May 02, 2007

disney time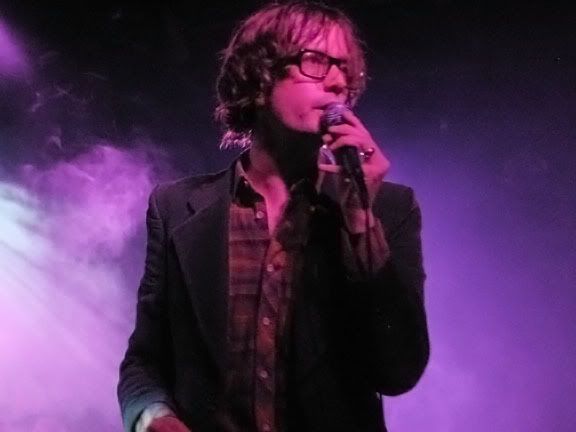 Jarvis Cocker
was almost good enough for me to forget how terrible it is to give up a 2-0 third period lead and blow game four in overtime. For those of you out there who aren't hockey fans, I assure you that that means he was fabulous.
The former Pulp frontman also succeeded in making people forget about his former band, as the crowd seemed quite enraptured by his solo material. And, at least from my vantage point, you couldn't hear any cries of "Common People" or "Disco 2000." He ran through most of his eponymous record (minus the "Loss Adjuster" excerpts and "Quantum Theory") and threw in a few b-sides and a cover to round out the evening. Speaking of, I didn't recognize the cover. I know he's been doing "Purple Haze" and also "Heaven" by the Talking Heads and "Paranoid" by Sabbath, but it definitely wasn't any of those. In fact, I would've loved to hear the latter, but that's not really a complaint.
If there's one thing that struck me, it was just how much of a show man Jarvis is. I'm sure he's used to playing to slightly bigger crowds at home, and that level of performance shone through tonight, without coming off as forced or disingenuous in front of the cozier Commodore crowd.
now playing: Yeah Yeah Yeahs - Shot Down
Labels: show recaps
8 Comments:
yeah, he was FABULOUS here in march.

he ended here with Springsteen's State Trooper....though I'm sure you would have recognized that.
I'm pretty sure the last song was a cover of Gary Numan's "Are 'Friends' Electric?" I hadn't heard it before. Not bad, but certainly no "Paranoid."

I thought the show was amazing, too. He had some of the funniest stage banter I've heard in a long time (the acoustic guitar strap-on thing...gold). He was incredible to watch, and I like the album quite a bit more now that I've heard it live.
By

Duncan, at 10:16 a.m.
I'm looking for one ticket to LCD tomorrow if any of you fine people have one to spare...

db
By

minx, at 10:47 a.m.
caught half his set at Coachella and he had the crowd in the palm of his hand the whole time.
By

g, at 11:21 a.m.
The Hot Chip shows in June are cancelled
By

Shea, at 12:02 p.m.
G: I know, that's exactly why I really want to go! Need to dance some more and I'd like to be able to see the stage for a change, too LOL.
By

minx, at 12:11 p.m.
yep, the final song was a cover of Gary Numan's "Are Friends Electric."
I thought you'd at least have recognized "Are Friends Electric" - it's the other half to mashup masterpiece "Freak Like Me" by the Sugababes!

So I 'spose it goes over better in Jolly Ol'...

~aleks
By

Anonymous, at 6:08 p.m.