Monday, August 27, 2007

mutiny, i promise you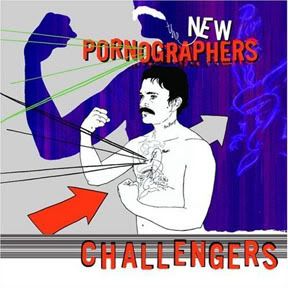 Promo Pile: Vol. 5
The New Pornographers
-
Challengers
I was going to start this by saying that
Challengers
has been getting a bit of a bum rap from some of the online publications out there. But now that I've thought about it, I'm not so sure.
The thing about this record is that from one perspective the songwriting is stronger. If you were to give these tunes an acoustic guitar and vocals treatment, they'd all stand up as well crafted, well written numbers that aren't relying on any fancy bells and whistles or cheap tricks to keep things above water (ok, except for "Unguided," which is sort of universally bad). On the other hand, I miss those cheap tricks, bells, and whistles. It seems like Carl Newman is using his steadily improving chops to grab at your brain instead of your balls. I just don't understand why he couldn't do both.
I've always maintained - and I'm sure Neko fans will disagree - that Dan Bejar's songs were the best parts of any New Pornographers record. With all due respect to Carl, Bejar's the best songwriter in the group. But, he has this tendency to bury his melodies in off-time cadences and off-kilter instrumentation. I enjoy that, but Newman's magic touch when it comes to arranging was always the perfect foil to Dan's hyper-literate, dense songwriting. The tracks ended up being grounded in songwriting that was incredibly sharp and intelligent, but they were backed by these monsterous, hooky, perfect power pop arrangements. In the past, it sometimes seemed like Carl's songs were just getting by on the latter (or getting by on giving Neko a huge chorus to wail on). Conversely, now that he's grown as a songwriter, he's abandoned the former.
Challengers
is still pretty good, and at the very least, it shows off a new side of the New Pornographers. I just wish they had revealed it without ditching what made them so great before.
now playing: Timbaland - Way I Are (Cousin Cole's Unwound Mix)
Labels: promo pile, the new pornographers
2 Comments:
SWAK & LIVE NATION PRES.
BROKEN SOCIAL SCENE
PRESENTS KEVIN DREW
COMMODORE BALLROOM
NO MINORS/GOV'T ID REQ'D
THU OCT 25 2007 DRS 8PM


SO EXCITED!!!!!
By

Anonymous, at 2:02 p.m.
the long blondes are at richard's on 2 november with the 1990s ... bat for lashes are playing the plaza club on 13 october - yay!
By

giselle, at 8:57 a.m.