Monday, October 29, 2007

ghouls night out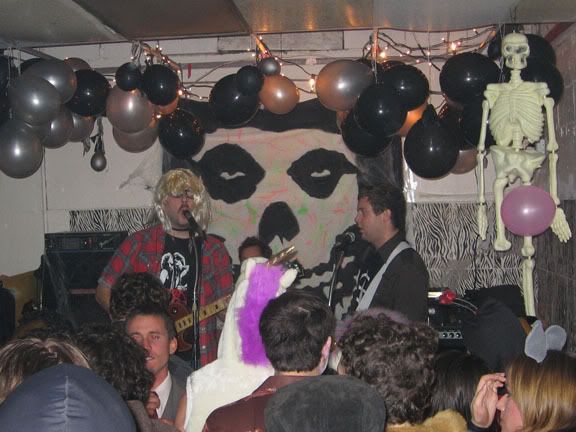 On Saturday, I attempted to catch both
Paradise Island
and
Tara Jane O'Neil
at the Secret Space, while bouncing next door to take in the Misfits cover night at the Emergency Room, but I managed to miss TJO when I got wrapped up in Nu Sensae/N213's joint set at the ER.
Paradise Island features Erase Errata's Jenny Hoyston, whose set was a mix of experimental, almost ambient noises and pretty standard guitar songs. It was sort of hit or miss, but it wasn't as if one of the aforementioned styles was entirely well executed and one wasn't. The highlight for me was when a bunch of sleigh bells and tambourines got distributed around the room and everything was bathed in a wash of jingling.
It was the first time I've been to the Secret Space as well. It's a fun little room. They also had a wicked pumpkin on display, that I clearly should have taken a picture of.
After Pardise Island's set, I made my way next door to the Emergency Room. The Nu Sensae/N213 set that distracted me from getting back to the Secret Space in time for Tara Jane O'Neil was pretty great. Actually, everything was pretty great, but the Mutators' set was awesome (shocking that I'd think that, I know). If you can't sing like Danzig (and how can?), you may as well sound like you're shredding your vocal chords.
There were plenty of great outfits on display, which of course included Misfits make-up and a more than a few Joey Only hairstyles (I know there's an actual name for that, but I don't know it).
I once again neglected to grab a Mutators 7" before they ran out/stopped selling them. The good news for me (and you) is that they're at Audiopile now and at Scratch later this week... or you can get one by mail from
the Broadway to Boundary
.
Lots of great local stuff going on this week, as you can see over in the sidebar.
Unfortunately, Taxes won't be playing Shindig this week, but A Relative Distance, who were supposed to play the week that Treacherous Machete won, are filling in. Somewhat Taxes related, Sean is doing
Morning Brew
again. Don't call it a comeback.
I got my hands on the new Clips record,
Matterhorn
. Full review will be up on
Streethawk
tonight/tomorrow morning (plus an interview), but in the meantime, I will say that my expectations have been satisfied (and they were pretty high). Grab your own copy on Thursday at the ANZA.
Labels: mutators, nu sensae, paradise island, show recaps, the clips
3 Comments:
The hairstyle is called a "devil lock" haha. I picked up the Mutators 7" and it's amazing! I could listen to it forever. I'm not sure if it was intentional or not, but the b-side ends with a locked groove which leaves the record playing forever, making it that much more awesome.
By

Matt, at 12:32 p.m.
i don't see it on yr show listings,but according to her website,Scout Niblett is playing at the media club on november 9th.do you know any details about this one?
By

bjorkedoff, at 11:48 p.m.
oh.. i thought i had mentioned that show already, but apparently not. thanks for the reminder.

the show is early (6pm doors) at the media club, and advance tix are $13+s/c at ticketmaster and zulu. i don't know if anyone is opening.
By

Quinn, at 11:53 p.m.