Monday, February 25, 2008

damaged enough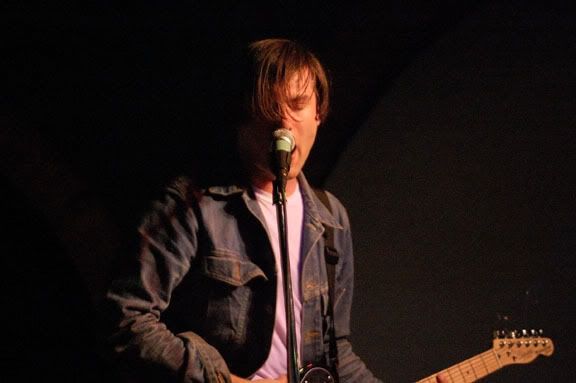 I was going to take it sort of easy this weekend, but there was a ton of stuff going on, so that resolution became one those "who am I kidding?" statements.
On Friday, I headed down to the Astoria to catch
Twin Crystals
. They weren't as intense and loud as last time I've seen them, but that wasn't worse per se, just different. Jesse only rocked a guitar on the first song, with the rest of the set being characterized by he and Jeremiah's dueling synths. Oh, and just because it was less loud, doesn't mean it wasn't loud enough.
They've got a super-limited (50 copies) lathe cut 10" up for sale at
Summer Lovers Unlimited
that I should order soon.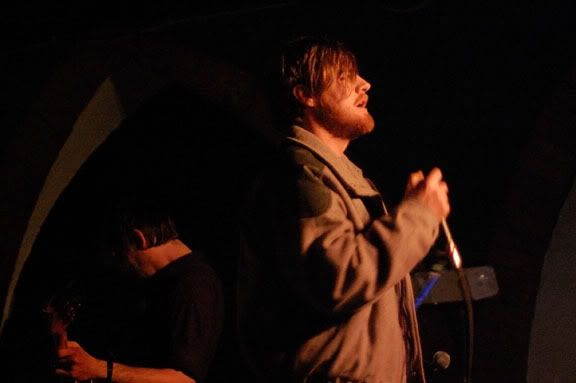 I'm pretty into
Taxes
at the worst of times, but they were on fire on Friday. Best performance of their's that I've seen for sure. When Twin Crystals took the stage, Jesse quipped that he "(didn't) know how (they) could follow Taxes." Usually such statements - even when the opening band really delivers - are a polite way to give a nod to whomever went on before you, but as good as Twin Crystals consistently are, he may have had a legitimate point that night. That's not taking anything away from Twin Crystals, Taxes were just really on point.
I bailed during Owl Drugs first song. That's not a reflection on them, since I wasn't even there long enough to form a proper opinion, but I was still under the false impression that I was going to have a relaxed (and sleep filled) Friday/Saturday.
On Saturday, I started things off at Hoko's, getting there in time for
Nihilist Party
. I was down with the beats, but less down with the rhymes (well, vocals, not necessarily "rhymes"). But there are worse side dishes for your sushi, I suppose.
Terrorbird
were up next, and were playing as a two-piece. Good stuff as usual, though when they had the extra keys, they definitely added something to the overall product.
Nu Sensae
were their usual wonderful selves: loud and fast. So fast, in fact, that I stepped out for a moment and missed most of their set. My loss.
gr8-2000
finished things off with his frenetic brand of electro. Tom, as always, was full of boundless energy, and was also having fun throwing thinly veiled barbs at the people chatting in the back.
And also worth a mention (and some praise): Ben from
Crystal Beard
was there with the lovely ladies who do videos at
BtL
to provide some added visual flavour to the evening.
I was going to head to the Biltmore after that, but apparently they've been rezoned and can only stay open until 1am now, so it was off to the Emergency Room.
I got there in time for
Mutators
, whom I have nothing new to say about... favourite live act in Vancouver... slayed... etc. etc. etc.
Actually, on that note,
Shearing Pinx
were up next, and my sentiments are similar: quality as usual.
The main event of the evening was
Monotonix
, who were here all the way from Tel Aviv. To put it succinctly, they were mind blowing.
I was standing around wondering when they were going to start when my question was answered by a drum cymbal that was thrust in the air... on fire. From there it was about an hour of absolute madness. Throw their name into google, and you'll note that Vancouver isn't the only place that's been totally destroyed by these guys.
The recorded material just isn't the same, but if they ever come back, definitely go see them.
And if you were there, no, that wasn't Frank Zappa.
Speaking of Twin Crystals, they're kicking off their tour (which takes them down to SXSW and back) on Friday at the ER. Nu Sensae,
Basketball
, and
Adjective
are going to help give them a proper send off. Justin, Jesse, and Benjamin spin records after the bands.
Attack in Black
and
Smoosh
open up the Tokyo Police Club show on May 16th at the Plaza.
Atmosphere
is at the Commodore on May 14th with
Abstract Rude
Mutators and
Modern Creatures
are having a fundraiser for the epic (seriously, check the
dates
) tour that they're set to embark on this Spring/Summer on April 26th at the ER.
The SSRIs
are giving away their music. I haven't listened yet, but if you like it, make sure you toss them some money by paying to see them play... but that goes without saying.
Speaking of free music, if you haven't already checked out the
latest Radio Zero podcast
, you should get on that. All of them are quality, but #47 features one of my favourite tracks from the (sadly) now-defunct local unit, Fuck Me USA, "Infinite Slope."
now playing:
Radio Zero Podcast (December 9th, 2005)
Labels: gr8-2000, monotonix, mutators, nihilist party, nu sensae, shearing pinx, show announcements, show recaps, ssris, taxes, terrorbird, twin crystals
0 Comments: