Wednesday, March 25, 2009

picture bloodbaths in elevator shafts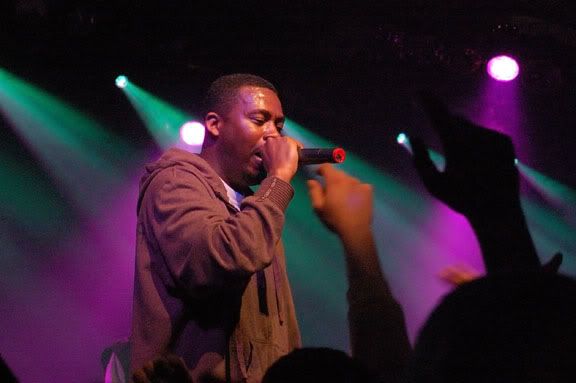 I made it down to the Commodore for the
GZA
last night. I'm reviewing it for
Discorder
, so I'll keep it brief here. The Genius was in fine form, although the setlist was a bit front-loaded with
Liquid Swords
stuff, and while I do like his new material, it's hard to top
Liquid Swords
, so the pacing was a bit awkward. As with all Wu-related shows, his own material was interspersed with verses from some Clan classics, including the crowd taking most of Inspectah Deck's verse on "Triumph" before GZA did his. The highlight, however, came when
Talib Kweli
was invited on stage (what he was doing in Vancouver, I have no idea) to freestyle for 10-minutes or so. He remarked that he was "too drunk for this," but an intoxicated Kweli can still get by.
I'm sorry for that terrible pun.
Creaking Planks
, Al Mader, the Minimalist Jug Band,
Eryn Holbrook
,
Ehren Salazar
, Paul Hendriks, John Barbour, and magician Travis Bernhardt all perform at
the April Ship of Foold Birthday Celebration
at Cafe Montmartre on April 4th.
Sebastien Grainger
plays Richard's on April 5th. Ahead of that, he'll do an instore at Zulu at 3:30pm.
Jon-Rae Fletcher
is having a belated CD release party for his latest, the very good,
Oh, Maria
on April 10th.
The Sleepy Sun
and Darcy from
Ladyhawk
support.
Laura Barrett
plays Blim on April 11th with
the Phonemes
and
Prairie Cat
.
On April 17th,
Apollo Ghosts
,
Collapsing Opposites
,
Search Parties
,
Zombie Pistolero
are playing at
Mel Lehan's
Provincial Election campaign headquarters (at Broadway & Trutch). Lehan's attempting the noble, yet rather daunting task of unseating Gordo in May.
Handsome Furs
are at Richard's on June 4th.
The next night,
Camera Obscura
is at the Commodore.
Death Cab
plays the Coliseum with
the New Pornographers
and
Ra Ra Riot
on July 16th.
Black Lips
play the Commodore with
Deerhunter
on July 23rd. This sounds pretty awesome.
The Church of Very Bright Lights
has been added to the Women bill on the 5th.
And, a correction on the May 30th Chain & the Gang/Hive Dwellers gig. It'll now be at Little Mountain.
Rose Melberg
is now playing as well.
now playing: Fine Mist -
Stop or Start
Labels: gza, show announcements, show recaps, talib kweli
4 Comments:
i thought black lips werent aloud in the country? guess they worked that out, rad double bill.
By

jordan, at 10:28 PM
I think I remember reading that too, but it's a LiveNation affair, so I imagine they've got all of that in order.
Holy effing shit. That bill knocks my socks off.
Talib played a show at Gossip (the old Plush, Rage, etc.) on Monday night.
By

Chris, at 10:02 AM