Tuesday, March 31, 2009

shape shifters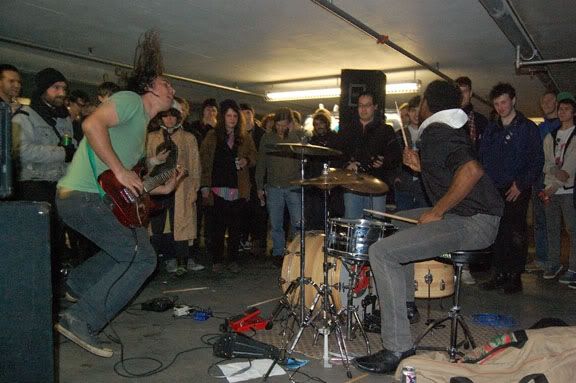 On Saturday, I made it out to the original ER for the Sex Negatives 7" release. Seeing as this show was originally booked at the now defunct Peanut Gallery, the "emergency" part of the makeshift venue's name was once again in full effect.
Boogie Monster
got the evening started. The first time I caught them, at the last Shindig, I wasn't super stoked, though that was mostly due to the fact that Ben's guitar was really hard to hear, especially over Tony's drumming, which made it difficult to form any sort of real opinion at all. This time around, that definitely wasn't a problem, and the guitar fittingly matched the ferocity of the drums. Good stuff.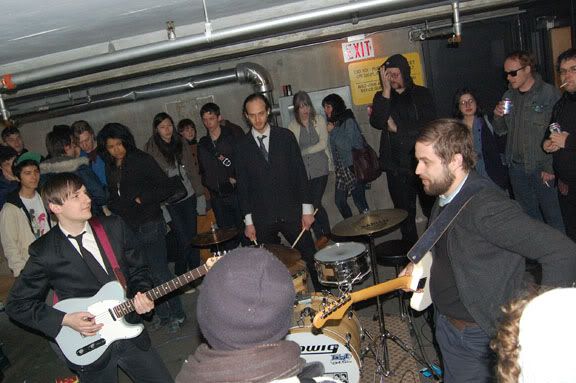 Robe and Allied played next, showing up in some nice looking attire and messily covering a single, 50s surf tune, before calling it a night. Not the most stunning thing musically that night, but considering the fact that all the bands who played come from a scene where, at times, the goal is to be as jarring as possible, I could get behind the concept.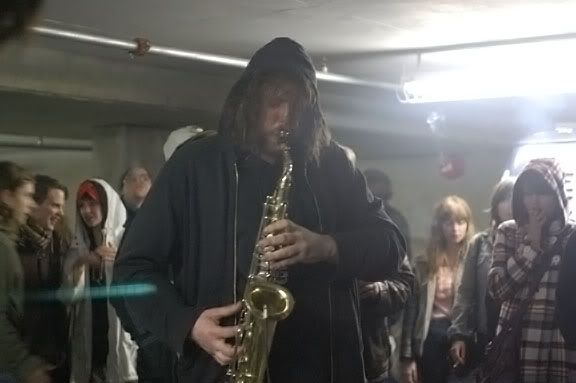 Sex Negatives
were up third and were enjoyable as usual. I picked up the 7" as well, which you'll love if you're into the band (or bands like them)/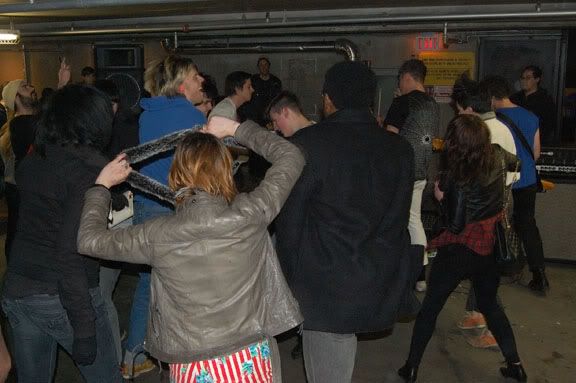 It was my first time seeing
Orlando Magic
. It was also their last show together, which is a shame, because they were awesome.
Hermetic
is playing Our Town Cafe on Sunday with Prof. Prawns and
Chris-a-riffic
. Show goes early (7:00pm) and ends early (9:30pm).
ISIS
is at the Commodore on June 19th.
White Whale Records
celebrates its 5th Anniversary on June 25th at the Biltmore.
Mohawk Lodge
,
Octoberman
,
Precious Fathers
, and
Eamon McGrath
all play.
And the Stones Throw Tour show originally scheduled for April 27th has been canceled.
now playing: Sleater-Kinney - Entertain (live in Portland)
Labels: boogie monster, orlando magic, robe and allied, sex negatives, show announcements, show recaps
2 Comments:
Orlando Magic may stay live on...stay tuned.

Man, couldn't stop laughing during the Robe and Allied set. If anyone has seen them live before (best band in Vancouver?) then they'd probably have realized that that set was meant to be comical more than anything. I didn't really see too many other people smiling or laughing during their set...the joke was mostly lost, me thinks.
By

Mark E. Rich, at 4:26 p.m.
I loved the R&A set, It was pretty awesome.

OM will be reborn under a new name and actually get our act together.
By

Robert Ondzik, at 5:04 p.m.