Wednesday, May 06, 2009

we got an amplifier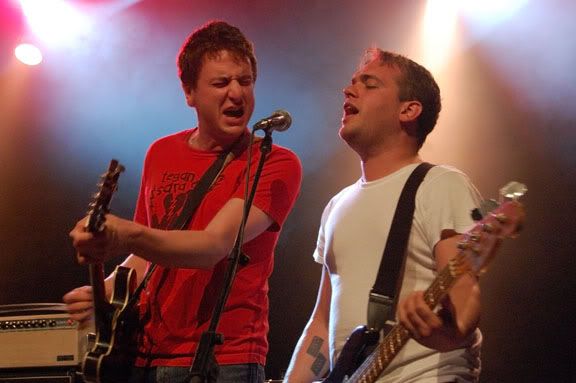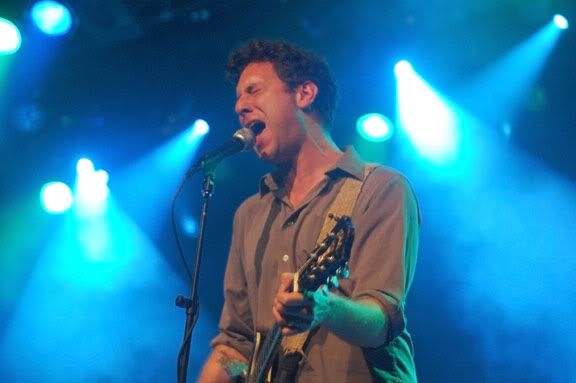 On Friday, I was down at the Commodore to cover the
Weakerthans
/
Constantines
co-headlining tour for
Discorder
The Cons are one of my favourite live acts and they certainly didn't disappoint during their latest visit (although, I was a little bummed that they didn't play "On to You"). I was at Sled Island when they last rolled through town, almost a year ago, so this was the first time I'd heard the
Kensington Heights
stuff live since that record came out. The new(ish) stuff stands up well to the back catalogue, but "Young Offenders" and "Young Lions" were still the highlights. John K. Samson taking vocals on "Little Instrument" was a nice treat too.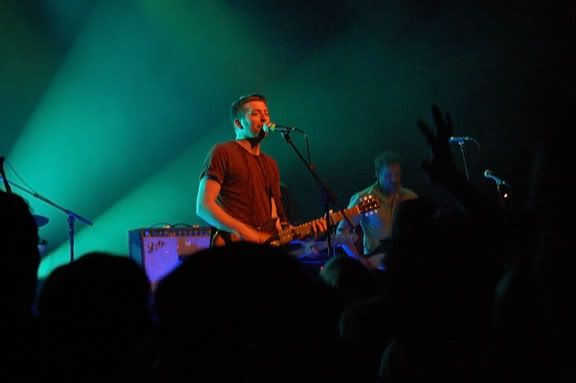 I haven't been terribly excited by the Weakerthans since
Left and Leaving
, but I do still enjoy their live show, and I was really into the first two records when they came out, so, if nothing else, it's a big nostalgia kick. That's probably selling them a little short, although I've always thought that they were infinitely more enjoyable if you were already familiar with their music, especially since the lyrics are such an important component.
Speaking of lyrics, someone told me the band stopped playing "One Great City," because they didn't like how non-Winnipeg crowds took the song's double sided refrain ("I hate Winnipeg") and turned it on it's head, shouting it back in a sincere way, that sort of misses the point of the song. Well, they played it, and the crowd gleefully shouted, which is ironic, considering it could just as easily be about Vancouver (or Toronto or wherever). But I digress...
Last Thursday,
Brasstronaut
played their homecoming show after a few months in Banff for an artist's residency. They were joined by a rotating cast of guests that helped fill out their sound, but the thing that really jumped out at me was how tight the band's become since they left. It's not that they were sloppy to begin with, but their playing is extra impressive now.
I got to the Biltmore just as
Fine Mist
. I know some people aren't into their limited instrumentation live (backing tracks and a synth), but I'm into seeing them whenever I can.
Seven Nines & Tens
play with
My Mom's a Werewolf
on May 14th at Pat's.
The Dreadnoughts
are at Pat's the next night with
Mexican Drug Patrol
.
Hercules & Love Affair
are doing a DJ set (do these guys ever actually perform their songs?) at Celebs on May 17th. Locals Jason Lev supports.
Deastro
is at the Media Club on June 21st.
The Rural Alberta Advantage
, who actually hail from TO, are at the Media Club on July 5th.
Eagles of Death Metal
play the Commodore on July 20th and 21st.
Flash Lightnin'
support.
Maximo Park
is at Richard's on September 7th.
now playing: Big Black - the Model
Labels: brasstronaut, constantines, fine mist, show announcements, show recaps, the weakerthans
2 Comments:
Hercules & Love Affair do play actual live shows but they have 8-10 members, so I think live appearances are mostly limited to the East Coast.
By

Anonymous, at 8:26 p.m.
Good to read your take on the Constantines/Weakerthans show - I went on the Saturday, not having seen either before, and was there mainly to see the Constantines. I was surprised how much heavier they were live, but thoroughly enjoyed them (tho was hoping they'd play Brother Run Them Down, no luck). I've never really listened to the Weakerthans much, and wasn't sure if I'd even stay for their set, but they were actually great live, so I've got a bit of a newfound appreciation for them.
By

Ariane, at 11:07 p.m.