Tuesday, April 07, 2009

the boys are leaving town
Here's a super fast recap of the last little while: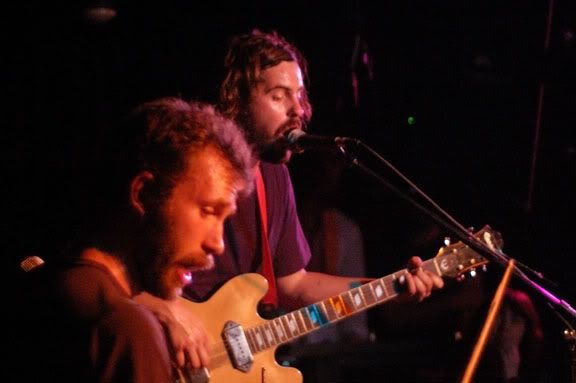 I made it out to the Media Club last night to catch
White Denim
. Their debut's a nice blend of soulful garage rock and parts of a bunch of other things, but it sounded a little flat, which is the exact opposite of what they sounded like live. Last night they were raw, energetic, and really loud.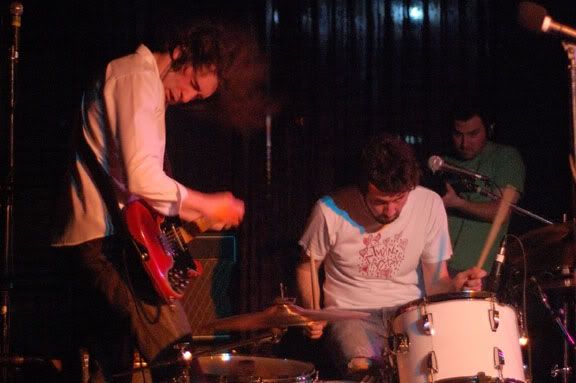 ]
Japandroids
played their last show in Vancouver until near the end of May. They're on tour on and off for the foreseeable future, so tell your out of town friends.
On Saturday, I was at the Biltmore early for
AIDS Wolf
show. The show was rather sparsely attended, which was a bummer, since they were their usually great selves.
Because of the lack of an audience, all the bands got pushed back a bit, so
Shearing Pinx
played on the floor to let AIDS Wolf set up on the stage behind them at the same time. Having the amps out on the floor made them even louder than usual, which sounded great at times, but also got close to uncomfortable at certain points. Teaches me not to pack around my ear plugs.
Twin Crystals
started off the evening. Because the start got pushed back, they had their set time shortened. It didn't hamper their performance though. The guys just ripped through 20-minutes without letting up. Great stuff as usual.
I stuck around after to check out
Modern Creatures
at Glory Days, which turned out to be a great move. I was pretty fond of the band to begin with, but they really killed it on Saturday with a set that might have been the highlight of a pretty great evening of music.
Discorder
's throwing a show at the Astoria on May 6th with
Nu Sensae
,
Petroleum By-Products
, and
gr8-2000
.
Clues
return to Vancouver on May 30th. They'll play the Biltmore.
Crystal Castles
are at the Commodore on June 4th.
Jens Lekman
is at Richard's on June 7th.
The Von Bondies
are at Richard's the next night.
The Racoons
open.
Telepathe
is at the Biltmore on June 9th.
now playing: Wilco - A Shot in the Arm
Labels: aids wolf, japandroids, modern creatures, shearing pinx, show announcements, show recaps, twin crystals, white denim
1 Comments:
quinn it's matt you may remember me as mordecai from stillepost.
Yeah?
New Japandroids: amazing, right?
Also, just got the Emergency Room LP and new(est) Twin Crystals, both are very good.
Hope you are doing well and stuff. Nice blog (still)!
By

Anonymous, at 5:51 p.m.