Tuesday, June 16, 2009

the life of dreams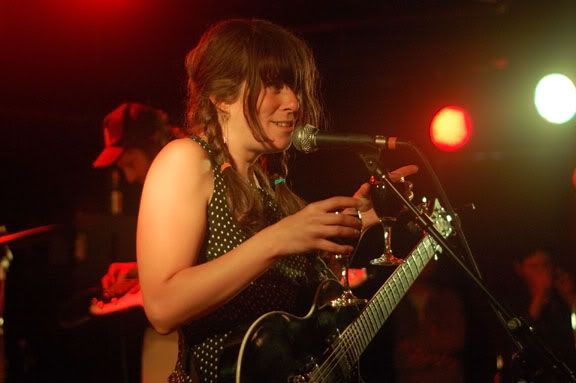 I was at the Biltmore last night covering
Julie Doiron
for
Discorder
.
I got there in time to catch the last half of
Dog Day
's set. They hail from Halifax, but they have that sort of big pop sound (see: BSS, etc) that usually brings Central Canada to mind. Pretty good stuff.
To tell the truth, if I hadn't committed to reviewing it a month ago, I probably would've passed on this show. It's not that I don't love Julie, but after five straight nights of Music Waste, I was overdue for a quiet night in. But, while it wasn't "in" it was pretty close to home, and it was the kind of quaint, intimate sort of show that was actually the perfect change after I chose to take in most of the loud, noisy bands at Music Waste. That's not to say that Doiron and her band her sedate though. In fact, compared to some of her records, they were downright raucous. The band was still finding their way through some of Julie's nine album catalogue, but even the rough renditions featured arrangements that really breathed new life into old favourites. It's hard to pick a stand out, but "The Wrong Guy" segueing into "No More" and back into "The Wrong Guy was definitely up there.
The Ladyhawk dudes must be big fans, because they were all scattered around the front of the crowd... I only mention that because I've got to run, grab some dinner, and head to their show. Word is the "very special guest" is someone you won't want to miss, so if you're deciding between that and Jay Reatard, you might want to go for the former (though Jay Reatard will undoubtedly rock).
Modern Creatures
,
Hard Feelings
, and
Vapid
play the Railway tomorrow.
Twin Crystals
,
Nu Sensae
,
Sex Negatives
,
Ahna
, and Mime Control play the Rickshaw Theatre on June 19th.
The Bloggers
play their last show ever on June 20th at Hoko's with
Shipyards
(and probably a few more to be announced).
The Fresh & Onlys
play an early show (11:30 curfew) at Pat's on June 21st with
Sex Church
and
Mode Moderne
Labels: dog day, julie doiron, show announcements, show recaps
0 Comments: