Thursday, June 11, 2009

processing plant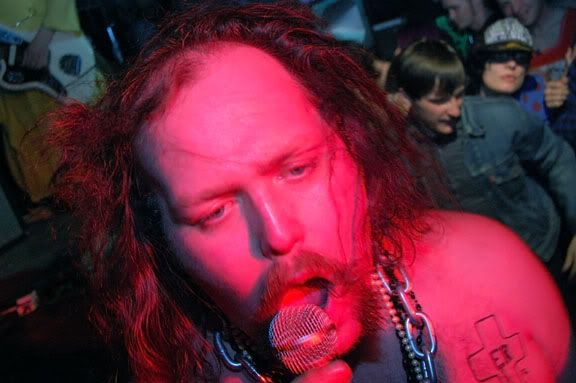 I spent the entire second night of
Music Waste
at the Cobalt as well. That wasn't my initial plan, but I got to Shudder Gallery just as
Prophecy Sun
was set to start and it was packed and I bailed on heading over to Honey to finish off the evening since
Sex Negatives
and
Boogie Monster
were on last at the Cobalt.
Speaking of the latter, they were definitely the highlights of a pretty good night all around. If you read this fairly regularly, you know that I'm not opposed to seeing the same bands over and over if I really like them, but one thing about seeing Sex Negatives is that it's always different, sometimes markedly so. Boogie Monster just get better every time I see them.
It was also my first time seeing
Ahna
(although I think I've seen Anju play solo once or twice), who were awesome.
Chip's Not Dead
is a charity run that benefits the
BC Children's Hospital
. You can find out more and register for the run
HERE
, but you should also know that there are some bands playing.
Daniel Wesley
,
Run GMC
,
Armchair Cynics
, and
Current Swell
all perform.
On June 26th,
Collapsing Opposites
,
Fanshaw
,
Julianna Barwick
, and Tally Ho! (
Rose Melberg
and
Larissa Lloyva
) play Funky Winkerbean's.
Discorder
presents a Canada Day party at the Astoria with
Gang Violence
,
MT-40
, and
Reflektionss
.
Grouper
,
Empty Love
, and Diadem are at St. Andrew's Wesley Church on July 18th.
Mika Miko
play the Biltmore on July 22nd with
Audacity
,
White Lung
, and
Nu Sensae
.
And, Bert Jansch is canceled. No word on why. (thanks Rachel)
now playing: the Rolling Stones - When the Whip Comes Down
Labels: ahna, boogie monster, music waste, sex negatives, show announcements, show recaps
0 Comments: