Friday, August 28, 2009

popcommon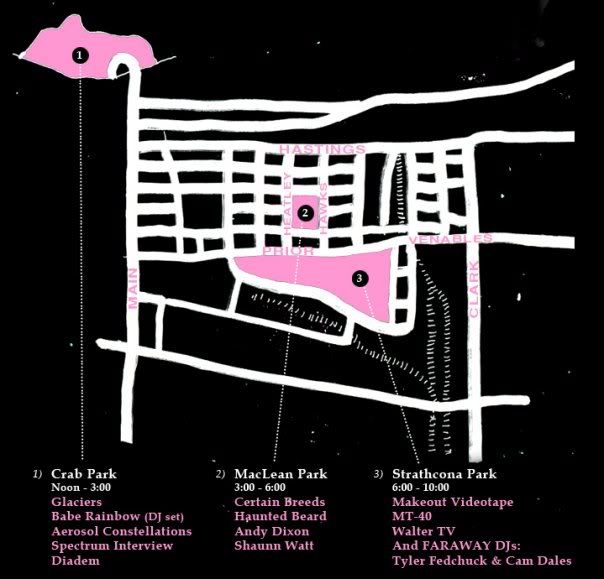 There's no Victory Square Block Party this year. And while I'd consider my favourite one-day event of the year irreplacable, Andy Dixon (Secret Mommy/Winning/a million other awesome things) and Mike Lapointe have gone ahead and organized a different amazing, local, live music event for your Labour Day long weekend. They've also conveniently set it for Sunday, which means I won't come into work the day after Labour Day for once. Times, locations, and bands are on the flier above. See you there.
Plus Perfect
and
Hard Feelings
are at the Astoria on September 3rd.
Makeout Videotape
,
Search Parties
, and
Half Chinese
play Hoko's on September 5th.
The Biltmores (feat. members of Nu Sensae, Gang Violence, Sex Negatives, Blue Violets, Random Cuts, and more) return for their third night of covers on September 11th at, of course, the Biltmore.
Rain Machine
(the dude with all the hair from TV on the Radio) is at the Biltmore on October 2nd.
The Dutchess & the Duke
and
Sian Alice Group
are at the Biltmore on October 3rd.
Passion Pit
is at Venue on October 10th.
...And You Will Know Us by the Trail of Dead
is at Venue on October 14th with
Future of the Left
.
Kid Sister
and
Flosstradamus
are at Venue on October 19th.
Islands
are at the Rickshaw the next night with ex-Be Your Own Pet frontwoman,
Jemina Pearl
.
Mum
is at Venue on November 2nd.
Labels: show announcements
1 Comments:
ANNNND... HUGENESS 2 (Safari afterparty) on Sept 6! Let the world know!!

"This is an after-party in a secret location, with GIRLFIGHT DJs:

Andy Dixon
(SECRET MOMMY / CAVING)

&

Michael LaPointe
(HOUSE PARTY)

And a very special performance by:

Basketball
(http://www.myspace.com/basketballanimal)
"

info here::::
http://www.facebook.com/event.php?eid=116024496314&ref=ts
By

Atilla, at 7:56 p.m.