Sunday, December 03, 2006

i know i won't be leaving here... with you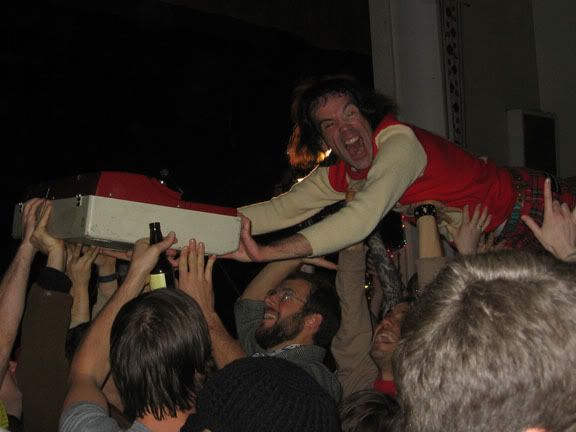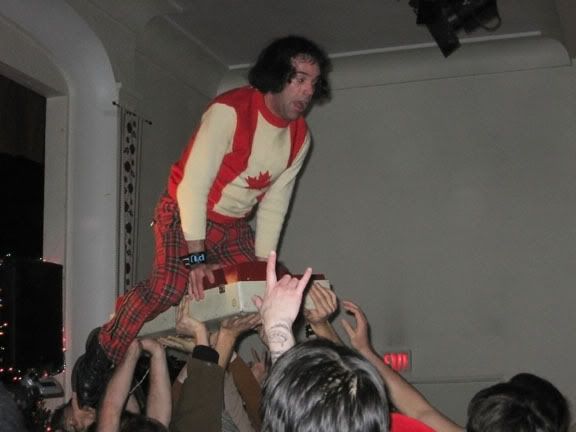 Mint Records
kept with their annual tradition of celebrating the season last night at their "ridiculously early xmas party" at the Ukrainian Hall on E. Pender. I got there in time to catch the last half of
Young and Sexy's
set, which was followed by a number by
the Choir Practice
, and Duotang's reunion set. The highlight, however, came via a set by
the Evaporators
.
If you've seen the
Nardwuar
fronted unit before, you already know that they're a ton of fun Last night, the band's line up boasted guest bassist, Stephen "Big Hamm" Hamm, who was filling in for John Collins (who's off in Spain with the New Pornographers). In addition to charging their way through such non-hits as "(I've Got A Disease) I'm Addicted to Cheese" and "I Don't Need My Friends, to Tell Me Who My Friends Are," they also covered "I Quit School," which was written by Terminal City's own punk rock legends, Pointed Sticks. And then things got a bit weird, even for an Evaporators set.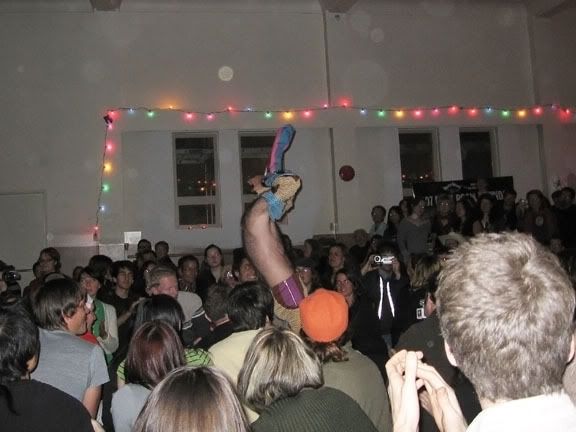 I can't remember what song they were doing, but after a mid-floor costume change, Nardwuar had almost everyone in the place crouching down and was getting people to dance in a scene that was almost exactly like the video for
"Half Empty Halls"
, when he moved to the back of the room to grab some "special guests." He billed them as something that sounded like "the Cramps" (which they were not), and escorted them on stage. One of the guys happened to be Alex Kapranos from
Franz Ferdinand
, who had a confused look on his face that seemed to scream, "ok, now what am I supposed to do?" at which point David Carswell started the opening riff to the most omnispresent single of 2004. And after cracking a rather amused smile, Kapranos lent his pipes to a very punk rock sounding cover of "Take Me Out," complete with Nardwuar on keytar.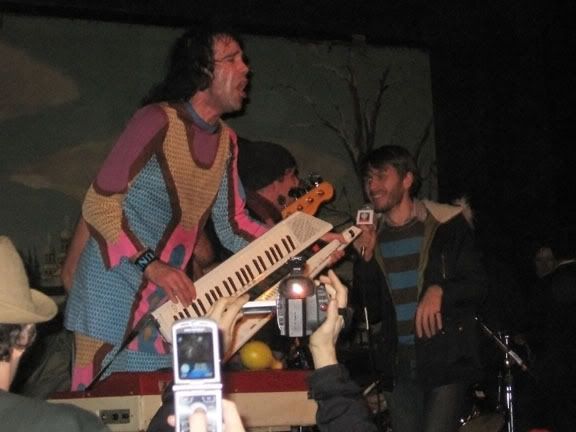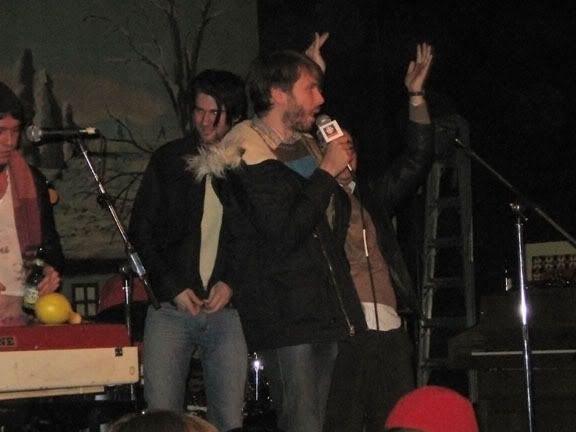 I'd also like to point out that Alex Ferdinand is rocking a CBC microphone. I think surreal is the correct description of the evening's events.
Carolyn Mark
had the unfortunate task of playing directly after, and the place was pretty noisy during her set as there was a bit of a buzz in the air.
On a side note, while I don't like to eat at McDonald's if I can avoid it, the fact that they have a "walk through" window (which is technically more of a "walk up") at the one on Main and 2nd blew my hungry mind last night.
now playing: the Velvet Underground - Oh! Sweet Nuthin'
7 Comments:
oh god. alex kapranos singing "take me out" with the evaporators in the ukraine hall with a cbc mic in his hand.

thats just pure gold
By

Anonymous, at 8:56 p.m.
Seriously, what is he doing in Vancouver????

This better be on YouTube.
By

Sean, at 10:39 p.m.
Quinn, I've told you this once and I'll say it again: you need to NME this shit.

Imagine... your freelancing gone transcontinental!
By

luisairene, at 4:16 a.m.
Was Eleanor there with him?! Just being nosey.
By

Anonymous, at 6:35 a.m.
franz vs evaporators = that's awesome!
By

vanmega, at 10:20 a.m.
That's Joey Motherfuckin' Cordless. Don't mince words here, he's the most important guy from the van isle scene since all those jerks from Dayglo Abortions.
By

Anonymous, at 9:58 p.m.
Rats, I knew I shoulda gone!