Monday, May 21, 2007

helena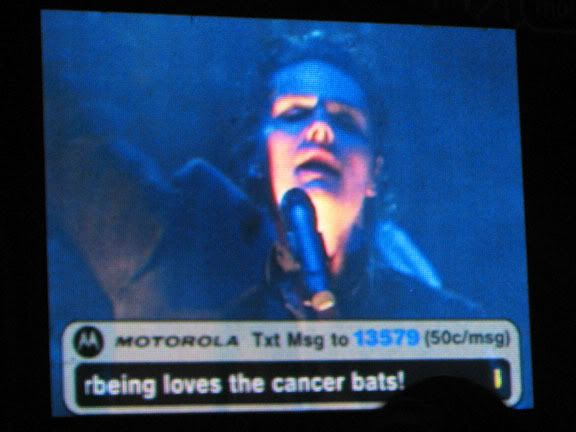 No, Billy Corgan hasn't regrown his hair. That is, in fact, Gerard Way from
My Chemical Romance
via the video screen at TBird Stadium. Thanks to my own curiosity and my friend Shea hooking us up with some free passes to VFest, I found myself braving the rain tonight to check out the emo juggernauts.
Despite major fawning by everyone from
Spin
to
Stylus
, my expectations were still quite low, based on my tendency to want to smash the radio whenever "Welcome to the Black Parade" comes on. That being said, I tried to go in with an open mind. And you know what? They weren't half bad.
I'm not going to run out for a copy of
Three Cheers for Sweet Revenge
. In fact, I'm pretty sure I'm still going to want to turn the radio dial as fast as possible when "Welcome to the Black Parade" comes on. That being said, while I'm not a fan of the music - credit where credit is due - they're great performers. And honestly, sometimes when I find myself watching some critically "respectable" band who stares at their shoes and looks like it would be criminal to look the least bit excited, I could settle for a drop in music quality in exchange for a little glitz. Speaking of glitz, I'm also happy to see that the grande rock n roll tradition of shooting fire three stories in the air and blowing stuff up hasn't yet been lost.
It was also sort of nice to be in a crowd where the majority of people were both a) having a good time and b) not just having a good time because they were blitzed (although, there were definitely some people who were).
For the record, I have no idea what a "cancer bat" is, but I feel bad for the person who repeatedly texted the screen about losing their wallet.
Round two of the fest runs tomorrow, with some bands whose music I actually quite enjoy.
If you are heading down tomorrow, and you were hoping for some more arena rock size glamour via the Killers, you might be disappointed. Word on the street is that
Brandon Flowers' throat injury
is iffy for tomorrow. I am hoping that they grab some last minute headliner a la BSS stepping in for Massive Attack in TO last year, but I'm sure anything of that sort is a longshot.
Adjective
,
Dead Film Stars
,
the Ludvico Treatment
, and
It's a Living Thing
are at the Lamp on June 13th.
now playing: Manic Street Preachers (feat. Nina Persson) - Your Love Alone is Not Enough
Labels: my chemical romance, show announcements, show recaps
1 Comments:
cancer bats are a band
By

Peter, at 11:41 p.m.