Tuesday, May 22, 2007

he doesn't look a lot like jesus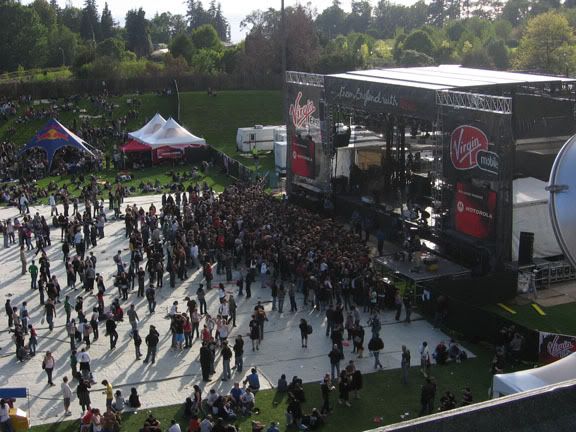 Since it decided not to pour rain, and because there were some bands that I'm a bit more fond of on the bill, I spent most of the day at VFest today.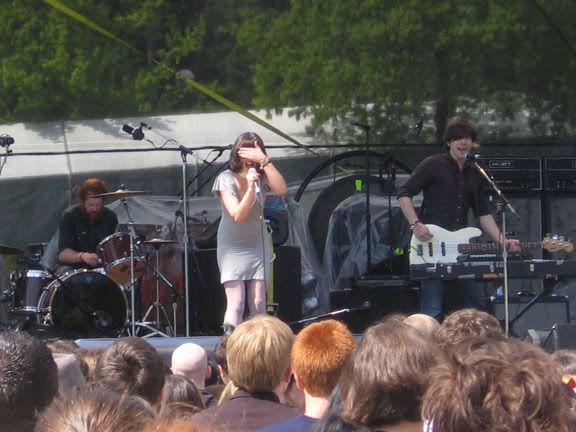 We got to the stadium just in time to catch
You Say Party! We Say Die!
. My jury's still out about their new one, but they seemed just as at home on the rather gigantic mainstage as they are in a tiny club. In fact, they might even be better when they have some room to rockstar it up.
Smoosh
followed YSP. While you always hear about how adorable the kids in the band are, I think this is the first time I've ever bothered to listen to them. Thankfully, they weren't half bad, because you'd think they could only ride the "cute kid" thing for so long. The girls' set was punctuated by a rather stellar cover of Bloc Party's "This Modern Love" as well. Check the
blog
Asya wrote for Much, where she proves that she has better taste in music than most of the people in attendance today.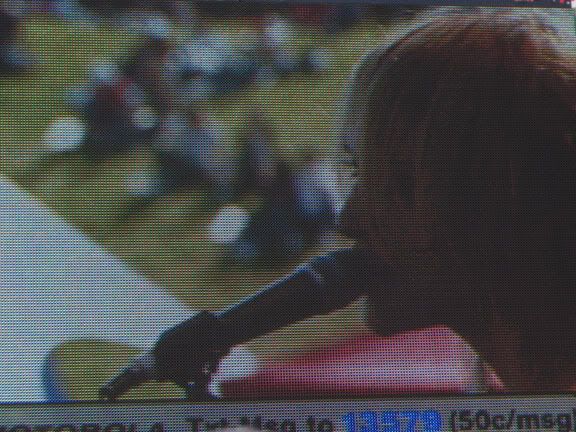 Despite the fact that I found
Live it Out
a bit disappointing,
Metric
were probably my favourite band on the bill. That being said, I wasn't really feeling their set all that much. They seemed a bit more subdued than usual, and while the pair of new songs ("Up in Flames" and "Stadium Love(?)") in the set were a nice change, neither of them are all that mindblowing in their current form. Since Last Gang is re-releasing
Grow Up and Blow Away
, the band also dusted off "Rock Me Now." My opinion of the "lost" record is that, aside from "On the Sly," the record is probably better off forgotten, and the live performance didn't really change that. "Combat Baby" still rocked though.
I was milling about after Metric, so Hot Hot Heat wasn't really on my radar, but even though I wasn't really paying much attention, it was hard to escape just how bad AFI were. If yesterday's thumbs up for MCR is any indication, I'm not above admitting when bands I dislike put on decent shows, but christ AFI were painful. If you strip Fall Out Boy or MCR of their sense of melody, and made them look utterly joyless, you'd have an idea of what they were like. They also did a "punk" cover of "Just Like Heaven," that was really unnecessary. I know it seems stupid to go somewhere like VFest and complain about the bands, but unlike the majority of the rest of the mainstage bill, I can't even fathom why this band is popular.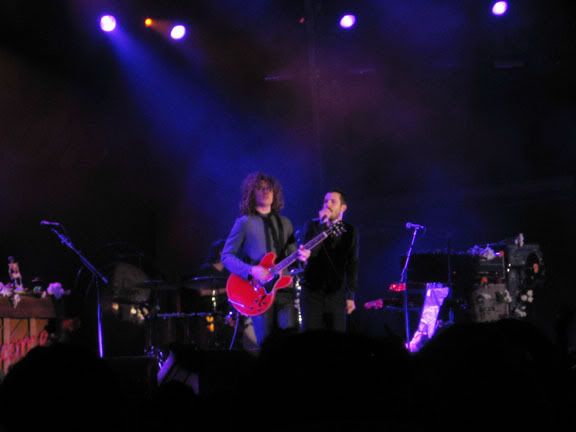 To Brandon Flowers' credit, even though he blew out his voice three nights ago and his
Killers
had to cancel a couple of dates, he toughed it out (or got a cortizone shot or both) and the show went on as planned. Despite being quite fond of "All These Things That I've Done," I'm lukewarm to generally disdainful about the rest of the band's catalogue. In fact, I out and out despise "Somebody Told Me." But as with MCR, you can't really say that the Killers don't know how to entertain. And other than my loathing of their breakout single putting a damper on things for all of three minutes, they were a decent time for a non-fan, which means they were probably amazing, if you're into them.
On a side note, I find it odd/interesting that the Killers have this glammed up, effeminate swagger to them and Brandon plays all of that up to a tee, but if the crowd was any indication, their hardcore fans are mostly macho 20-something dudes. I understand that they're massively popular, so they're going to have some fans in every demographic, but if you took the biggest cross section of, say, Duran Duran's fan base, I doubt the same thing would hold true. By contrast, last night's closing set was predictably populated by teenagers. Anyhow, enough of the amateur sociology.
If you were unhappy with the two days that this blog became a poor emulation of
the Modern Age
with 2% of the readership, I assure you that we will return to regularly scheduled programming next post.
now playing: Smoosh -
This Modern Love (Bloc Party Cover)
Labels: show recaps
6 Comments:
Haha I liked the last two posts...nice trip report!
Keep up the good work!
90s Music Videos
By

Anonymous, at 3:17 p.m.
curious as to how many people went to the V Fest. What would you guess?
By

g, at 4:45 p.m.
I heard a bunch of numbers, but "8,500 paid" came up a couple of times.

There were a ton of people walking around with guestlist wristbands on as well.
The key difference being that I would much rather party with Duran Duran fans than with Killers fan. You know Duran Duran fans are gonna get crazy, play the uncut version of Girls On Film on loop, and party like it's the 80s again. Brandon Flowers is a Mormon. Nuff said.
By

Matt, at 10:22 p.m.
19,100 is the number straight from the Ticketmaster guys at 2am.

There were an assload of comps, though, so I'm not sure what the divide is.

gerald
By

Gerald, at 12:01 a.m.
that's over both days though right? because i heard 8,500 avg per day paid.