Friday, November 09, 2007

if i skip town in the middle of the night, it'll be after a drink or two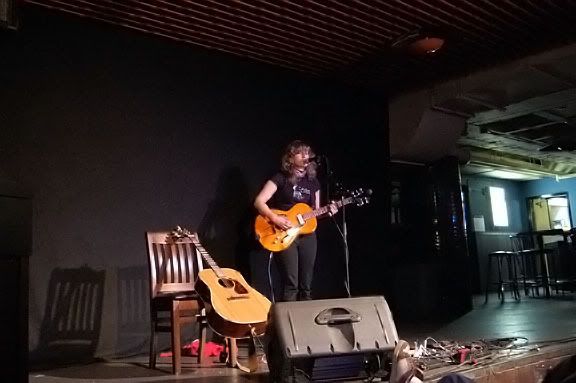 I forgot to mention that
Leah Abramson
was playing out at UBC last night, although she was sandwiched between some irritating female singer-songwriter and Craig Cardiff, so maybe that was just as well.
The aforementioned opening act was a bit of a ham, and my friend Shea - who works booking shows for the Student Union - mentioned that before she went on, Leah quipped that she would be "more of a downer than that." I guess that was true, but she was also a lot better, and that's what counts. The crowd was a bit inattentive, but her performance was, as per usual, understated and beautiful.
I took off before Craig Cardiff started, but did get to see him stall until they turned all the bar lights off. He also had one of the staff go around - before he started playing - to ask the crowd to quiet down. Last time he played in the Pit, he actually stopped mid-set and refused to continue until they killed the lights. He wasn't the headliner that night, and someone yelling "you're not the opener. Finish your set," got him going again. Dude thinks he's Bob Dylan or something.
Glass Candy
does 1/2 Alive on December 14th.
Good News
: not playing with the Clips at Blastramp on the 29th, are playing themselves on the 22nd. (thanks Andrew)
Great Lake Swimmers
open the Jose Gonzalez show... bring a pillow.
The Carpenter (et al) show originally scheduled for the now defunct Sweatshop (RIP), is at the Waldorf. (thanks Dustin)
Apostle of Hustle
are at the Plaza on December 8th. (thanks Scott)
I don't usually talk about visual art, because that's not really my thing (to blog about, not in a general sense), but my very good friend Jen is part of a show at the old Sam the Record Man location. Check the details on
guess where
. If you're heading to Gaff for the
Only show
, this starts at 7pm, so you can hit up both.
Speaking Only,
this is awesome
.
Labels: leah abramson, show announcements, show recaps
3 Comments:
i've seen Craig at the Railway and at UBC at least once, and he does that every time. The guy's actually really nice in person, but he sure comes off as a pretentious jackass on stage.
Dan Deacon

01-21 Vancouver, British Columbia - Richard's on Richards

should be a fun show.
By

Anonymous, at 2:38 p.m.
that great lake swimmers opening slot seems to be in conflict with the tour dates on his myspace.
By

firmdragon, at 6:14 p.m.