Sunday, November 04, 2007

the kids twist and shout...
You know, I would usually lead with a little something on Black Mountain last night (short version if you don't want to read after the following pics: they were good), but my friend Laura just sent me these photos from
Fun Fun Fun Fest
in Austin.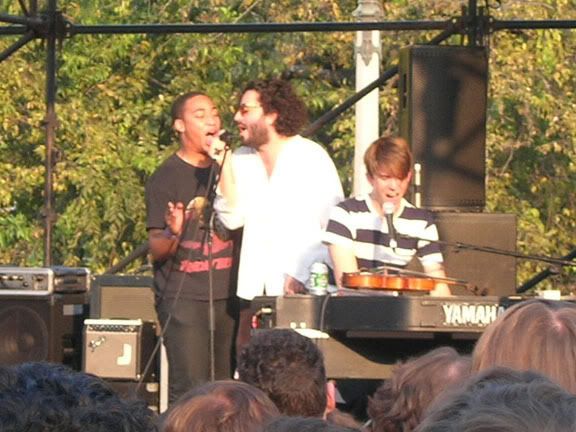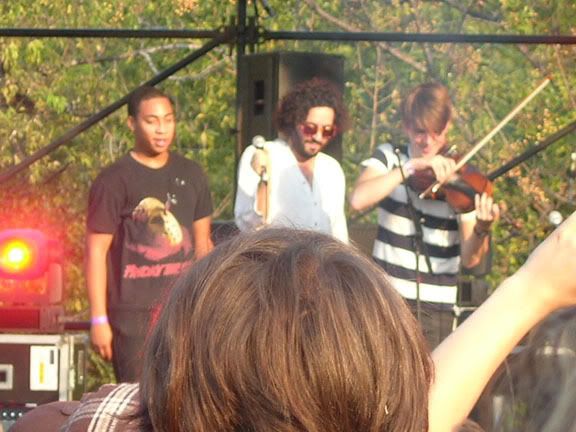 Owen, Rollie, and Dan, bka
Final Fantasy
,
Cadence Weapon
, and
Destroyer
doing Dan's "An Actor's Revenge," which you may remember Final Fantasy doing by his lonesome here a couple weeks ago. Dammmmmmmmn.
According to Laura, Owen had already played "An Actor's Revenge" when, a little later in the set, someone yelled something to him from the side of the stage, to which he replied, "he's here? He's going to come on-stage? And Rollie too?"... and they played it again together.
Nothing like that happened at
Black Mountain
last night, but it was still pretty good.
They were a little too jammy for my tastes at times, although I've seen them before, so I knew what I was getting into. It was nice to hear a bunch of new stuff (and also pick up a couple new tracks - that won't be on the next album - on the tour 12"), and the old stuff sounded pretty stellar as well. "Don't Run Our Hearts Around" was particularly impressive, as was "No Hits."
On a side note, Richard's has only been giving out plastic cups the last couple times I've been there. I presume this is to avoid having to pick up large amounts of broken glass, not so dudes who are assholes can throw their plastic cups indiscriminately at people.
now playing: Yeah Yeah Yeahs - Y Control
Labels: black mountain, cadence weapon, destroyer, final fantasy, lazy show recaps
3 Comments:
richard's employees were saying the band requested plastic cups, and that they'll be charged more as a result as it slows their sales down. unless black mtn was concerned about the high likelihood of people throwing bottles/glasses at the (terrible) opening act, that sounds like a cover story. they probably want to keep their new floors looking new, or prevent potential liability in this huck-happy town.
thats funny... my girlfriend asked one of the bar staff and his answer was that they do it for all sold-out (or full) shows as it allows them to not rely so heavily on picking up the empty glasses which takes longer when its packed.

i do know that it certainly feels like you get less beer for your money with the plastic cup.
I'm pretty sure plastic cups hold the same amount of beer, but it's true that it feels like less.

Personally, I was stupefied by Black Mountain's performance. I got an advance copy of In the Future a few weeks ago and it's been slowly blowing my mind (after twenty-odd listens, I still like it more every time) and it was even better live. I don't think I could have asked for a better show from anybody. It was all-time-fave material.
By

Saelan, at 10:44 p.m.