Wednesday, June 25, 2008

black rice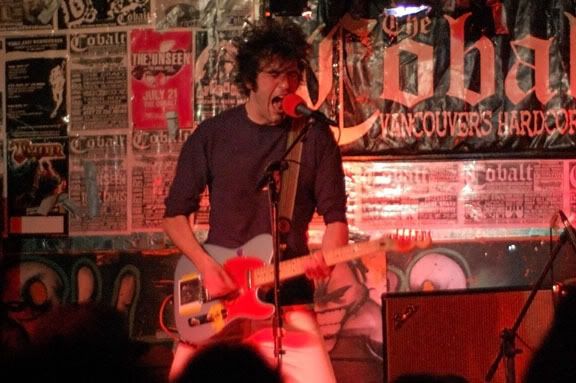 Since it's already the middle of the week, here's a ultra quick recap of the last few little while...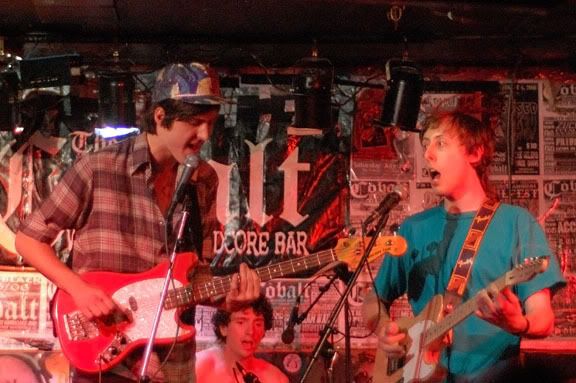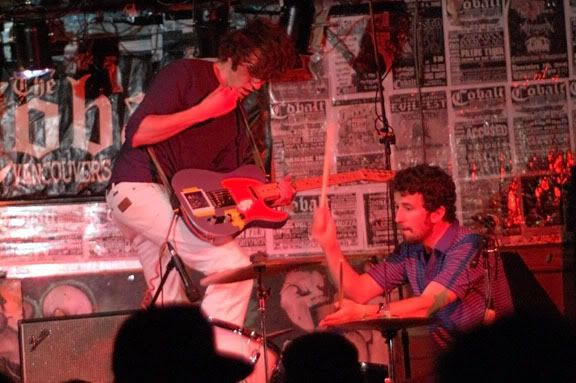 On Saturday, I caught
No Gold
and
Japandroids
at the Cobalt. The crusty punks weren't feeling No Gold, and let it be known. Tip to hecklers: at least be funny. The band weren't phased by it, and were their usually great selves.
Japandroids were a little loose sounding. I think Brian was pretty drunk. The songs still sounded great though, and the libations produced a great response to the more hostile elements in the crowd: "Oh, you wanna hear a punk rock song? Well, too bad, this is a metal song asshole."
I bailed before DD/MM/YYYY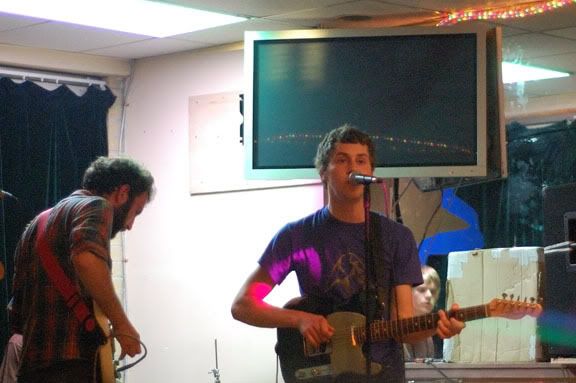 Earlier in on Saturday, I caught
Women
, who I'd been looking forward to seeing since I got their album about a month ago. Hopefully, you managed to check them out at one of the two shows they played, because, despite rather short set times, they were awesome. At time they were poppy and melodic and at other times they were noisy and experimental, but they were tight as hell throughout. They used to be a metal band called Veritas. And while the music is more than a few steps removed now, the guys still have serious chops.
On Monday, I caught the songwriter's showcase that
Leah Abramson
organized at the Rail. The crowd was a bit sparse, but they were also ultra attentive, and for this type of thing, having a smaller crowd that's paying attention is loads better than a packed room full of side chatter and clinking glasses anyhow.
The whole thing was pretty great, but there were some highlights. Leah is one of my favourite songwriters, so she was up there on that list. But, it was - and I'm not sure how it could possibly be - my first time seeing Marc from
Octoberman
playing (solo or otherwise). Better late than never, but I definitely should have gone out of my way to see him before this week.
The big surprise for me was
Jesse Matheson
, who was hilarious (on purpose). The songs on his MySpace really don't come close to how entertaining he was live.
I'll be in Calgary this weekend for Sled Island, but there's a ton of stuff going on:
On Friday...
White Lung
is at Pub 340 on for 1/2 Alive.
Crookers
are at the Plaza with
Paul Devro
and
Expendable Youth
.
And
the SSRIs
are at Hoko's with ABCDEFG,
Boogie Monster
, and
gr8-2000
.
Looking ahead,
Lil Wayne
is at Plush on July 6th.
Nicole Atkins
is at the Plaza on July 27th.
Black Francis
is at the Media Club on August 6th.
Mirah
is at the Biltmore for an early show on August 23rd.
Sondre Lerche
is at St. James Hall on August 30th for an all-ager.
Cold War Kids
are at Richard's on September 28th.
Silver Jews
are at Richard's on October 1st with
Monotonix
.
Hayden
is now at the Vogue on October 11th.
And
Mehdi
is at the Bourbon on October 2nd.
Labels: japandroids, jesse matheson, leah abramson, no gold, octoberman, show announcements, show recaps, women
5 Comments:
Lil Wayne? Really? Cool. And are you not reporting the Mary Chain because you don't have tickets yet and you don't want them to sell out?
No mention of the Silver Jews show yet on their tour page or on Ticketmaster. Has it just not been announced yet?
By

Rich, at 11:45 p.m.
Make sure you see RZA at Sled Island, he will rock your shit!
Are No Gold named after No Age?
By

Anonymous, at 2:53 a.m.
btw, silver jews tickets are now on sale at zulu and scratch