Monday, June 16, 2008

don't panic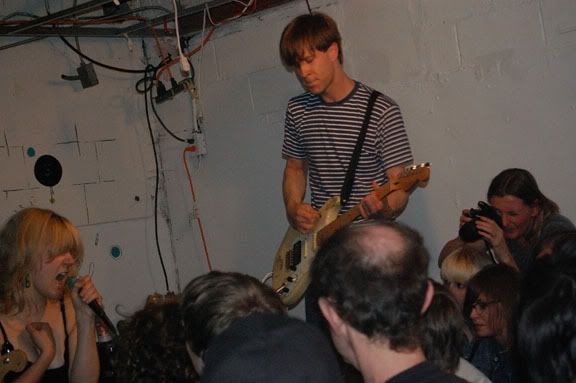 I was going to start off by saying that
the Emergency Room Compilation, Vol. 1
is the most important collection of local underground music since "X"... but I can't really think of another truly notable document of Vancouver music other than
this one
that sort of slipped under the radar a few years ago (and that one included some acts that had very deservedly become relatively well known already).
While it's certainly not exhaustive, the LP is a snapshot of some of the most exciting things going on musically in this city that, largely, have yet to be noticed outside of the Lower Mainland. Plus, it shines a light on the locale that doesn't just serve as your primary place to see these bands play, but also as a practice space/recording studio/and hangout for many of the artists involved.
It's also one of my favourite places to see a show.
On Saturday, the eight bands on the comp all played the DIY space to celebrate the record's release.
I actually thought I was going to be late, but in typical ER fashion, despite the lengthy bill,
Nu Sensae
was just getting ready to go on when I arrived at midnight. The place was packed, so I didn't snap any pics of them (or that many in general), but my "photography" leaves much to be desired anyhow.
Daniel and Andrea were awesome, as per usual.
Petroleum By-Products
were up next, but I actually missed them, when I stepped out for a bit (everyone played pretty short sets, due to the number of bands).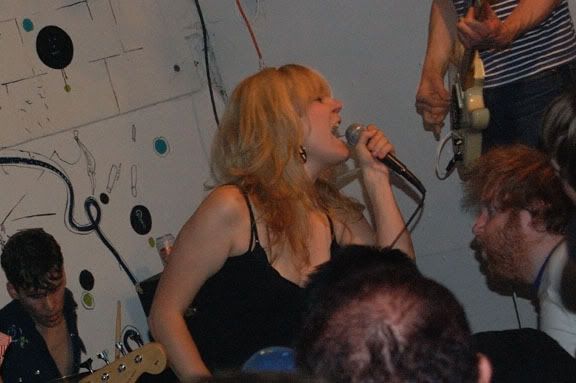 This was second time that I've seen
Vapid
, and while I thought they were pretty good the first time, I wasn't dying to see them again. They were great on Saturday though, and I'm looking forward to checking them out again soon now.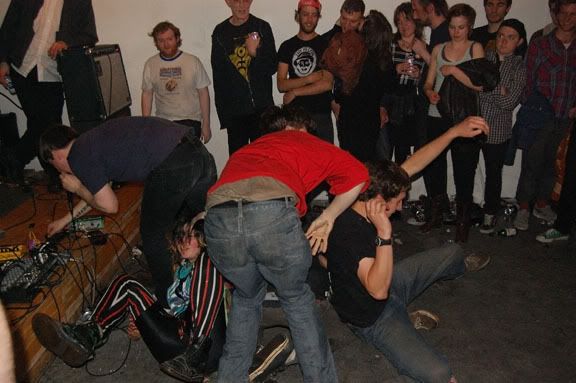 Sick Buildings
were amazing. I'm bummed that I missed them at Wolf Eyes, as their "set" was completely different at Pat's (
it involved eight people amongst the crowd blowing on rape whistles while Josh Rose fired sampled whistles back at them
).
I knew Josh ran
Run Down Sun
, but beyond that, I only recognized him as the very polite, soft spoken guy at Zulu, so it was a bit of a surprise to see him looking rather surly on stage and then spitting out, "I call myself Sick Buildlings... this is the last harsh noise set I'm going to do, so consider yourselves lucky."
And then he did what was, quite frankly, the most "punk rock" thing that you could do at a noisy, avant garde, punk rock show, and jumped into a monologue about a plane ride, keeping things going long enough to illicit a fair amount of groans, calls of "you suck," and "play some fucking music," before leaving the story hanging with "and then she said..." and launching into the sickest, nastiest sounding "music" I've heard in ages. The contrast made the latter half of the performance sound even more powerful.
I sincerely hope that the "last harsh noise set" admission was just stage banter, and if not, I hope he reconsiders. If you're a fan of this type of thing, and you see "Sick Buildings" on a show poster, do yourself a favour and get your ass to wherever Josh is playing.
White Lung
were nothing out of the ordinary for them, meaning they were great. Hopefully, we get some more recorded output out of them soon, because the songs seem to be coming at a fairly rapid clip.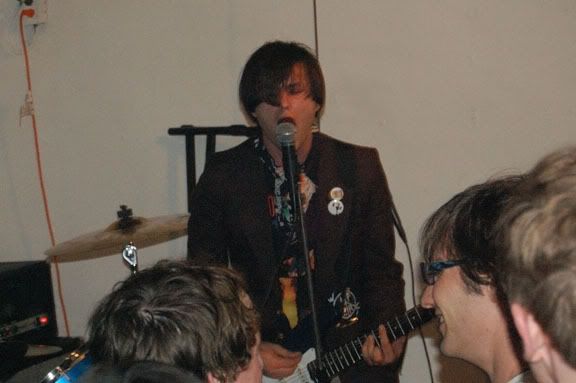 Twin Crystals
continue to get better every time I see them, and considering that they started out pretty goddamn good, that's saying quite a bit. They sounded amazing and Jesse was full of energy to the point where I thought he might knock out a ceiling panel or two with his guitar.
You probably know what I'm going ot say about
Mutators
, so I'll leave it at that (it was 4am already, so I bailed before Defektors).
But here's a Mutators update. Their was a mastering problem with their full-length, so the 28th won't be an LP release party. It will be a tour fundraiser though. So go down and check out one of Vancouver's best bands before they head out on tour for the rest of the Summer.
Oh, and if you didn't pick up a copy on Saturday, you can get your hands on the ER comp at Scratch (and I presume also Zulu and RedCat) now.
This Friday,
Octoberman
,
Katie Stelmanis
, and
Chris-a-riffic
are at Grace Gallery. This show was originally scheduled for Astoria, as you may or may not recall. And it's worth noting, since galleries usually don't have such restrictions, that this one is licensed and therefore 19+. Sorry kids.
This Saturday,
DD/MM/YYYY
are at the Cobalt with
JPNDRDS
,
No Gold
, and
the SSRIs
.
Also this Saturday, Basketball plays a Saturday edition of
Friendship
at the Astoria.
Forest City Lovers
are at Little Mountain Studios with
Aaron Beckum
on June 26th.
And last, but definitely not least (not even close),
Spiritualized
are at the Commodore on September 13th. Tix are on sale Friday at 10am. Shit yes! (thanks Brian)
now playing: My Bloody Valentine - live in London, 06-18-2008
Labels: mutators, nu sensae, petroleum by-products, show announcements, show recaps, sick buildings, the emergency room, twin crystals, vapid, white lung
15 Comments:
Fuck yeah Spiritualized!
what about http://en.wikipedia.org/wiki/Vancouver_Complication
By

Anonymous, at 9:01 p.m.
You know what else would be sweet? If the live My Bloody Valentine tracks that Quinn is listening to became more widely available. I think a lot of people would like that.
By

Matt, at 12:19 a.m.
that comp was before my time, but it certainly would qualify... best local underground music comp in almost 30 years still ain't bad.

MBV via PFork: http://www.pitchforkmedia.com/page/news/51307-audience-report-my-bloody-valentine-live-return
By

Quinn, at 12:22 a.m.
Thanks for the show re-cap and photos! I was bummed to have to leave early. Now I just need to get my record player fixed so I can actually listen to the compilation.

I was glad to see someone mention Vancouver Complication. That popped into my head as soon as I read the post. It also made me think of another terrific (but not really local) compilation - All Your Ears Can Hear, which comes with an accompanying book, covers stuff in the Victoria area in the late seventies/early eighties.

I love compilations.
By

Dex, at 12:55 p.m.
As far as definitive Vancouver music compilation go:

Last Call put out by Zulu is the benchmark
By

g, at 2:43 p.m.
First 100 Spiritualized tix are June 18 10am presale for $20:
http://tinyurl.com/66rfsq
We'll be posting a review for the Compliation EP very soon on Ronatron Music Reviews. Check back often for updates!
The Jesus and Mary Chain are in Seattle next month but not here for some cruel reason. Roadtrip!
Wow... too much good stuff. Cheers for the Spiritualized head ups.

Anybody know if those comps are still available at scratch/zulu? Missed the boat...
By

winjer, at 12:12 p.m.
password for Spiritualized cheap tix is straight. Just got mine.

Jesus and Mary Chain is all ages at SoDo by the way.
By

g, at 9:50 a.m.
FYI:
Twin Crystals are opening for Girl Talk July 24 at the Commodore!
Also, No Gold are opening for The Dodos June 26 at the Bourbon
By

Anonymous, at 2:52 p.m.
Can I get a little credit for the Sick Buildings summary that you used for the Wolf Eyes show (ie. the one that you missed out on and seemingly sniped from my blog). Don't worry, the show at the ER was much better.

A quick link would've been nice.

http://planobsolete.blogspot.com/
By

Mark E. Rich, at 6:43 p.m.
you sure can, with my apologies
Hey, thanks for the link! By the way, Josh Rose's new project is called Blouse, and is a power electronics duo that he has been working on with a friend. The debut will be at the ER show that you have listed on the left. Josh has been pretty secretive about the project for some time, so I expect an exciting show.
By

Mark E. Rich, at 3:52 p.m.