Friday, December 08, 2006

24-hour store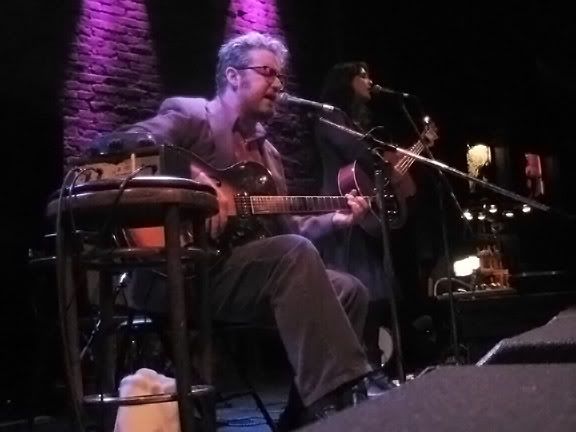 It was a pretty great show, but I'm twice as glad that I caught
the Handsome Family
, because if the chances of a return visit hinge on tonight's attendance, it'll be a long time coming. I didn't do a very scientific count, but it looked like there were only a hundred or so people in attendance (Richard's holds about 450). Despite the sparse crowd, the band (the husband and wife Sparks duo and some guy named Steve) was in good spirits, and the very loose and interactive aspect of the performance really helped make the show.
Backed by a rather vintage looking drum machine with Brett on guitar, Renee alternating between banjo, melodica, and bass, and Steve playing ukelele or slide guitar, they ran through an hour and a half worth of songs that spanned most of their catalogue (I'm not incredibly familiar with the first couple of records, but I don't think they did anything off of
Odessa
).
My fondness for the band is largely based around the way very traditional folk and bluegrass sounds butt up against lyrics that are very modern, marrying urban tales of parking lots and convenience stores with rural fables about getting lost in the woods. It's sort of the way I picture stereotypical middle America, except the Handsome Family are way to the left of the centre of the American political spectrum, and the characters in my head are all centrist Republicans. But I digress.
The size of the crowd was a touch disappointing, but they were enthusiastic, and it didn't seem to affect the quality of the performance anyhow. Oh, and Brett played my request ("Passenger Pigeons") to close the show.
In completely unrelated news, the RIAA prove that their evil truly knows no bounds, as
they want to pay artists and songwriters a lower royalty rate
. Y'know, because the people who actually write the songs contribute the least to the music business. We can only hope that one fine day all these clowns will be out of jobs. (via
Brooklyn Vegan
)
now playing: the Handsome Family - All the Time in Airports
0 Comments: