Friday, May 11, 2007

do whatever you want, don't do whatever you want!!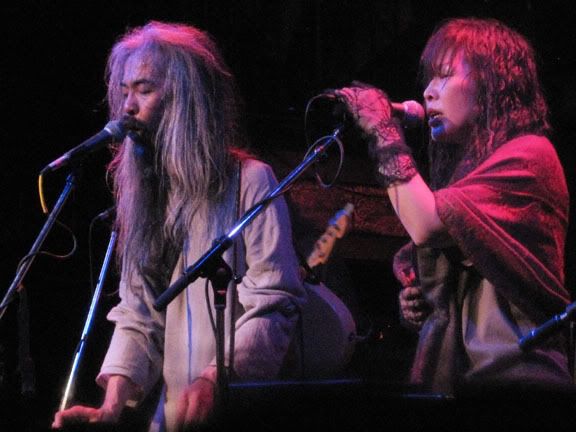 I'm not really big on psych rock, but on the recommendation of my friend Luke, I made it out to see
Acid Mothers Temple
. Ironically, my girlfriend also attended, but had told me "don't come, you'll hate it" before hand.
My mind wasn't blown, but I didn't hate it either. And if you're going to attempt to expand your musical horizons, you should do it by enjoying the best a genre has to offer. By all accounts, that's just what I did on Wednesday night at Richard's. Some of it got a bit too noodley for my tastes, but on the whole the combination of guitar freak outs and surprisingly traditional sounding Japanese vocals (a bit like a cross between my grandmother's singing and a Buddhist funeral) were pretty damn pleasing to my unfamiliar ears.
If you're of a similar mind to me, you should know that the performance was completely free of any of the stereotypical downsides that come with the words "psychedelic" or "progressive." The openers on the other hand (their name escapes me), were like every bad prog cliche come true. I'm not a fan of heckling, but I was might tempted to yell "PLAY STONEHENGE NEXT!"
Julie Doiron
is at Video In with
Calvin Johnson
on June 21st.
Tegan and Sara
are at the VECC on July 16th in support of their forthcoming newie,
the Con
.
And last, but certainly not least, congrats to Clint, who won the
Circlesquare Contest
. There's a ridiculous amount of great things going on, but seeing as Peter Bjorn & John and BRMC are sold out, I suggest heading down to Open Studios tomorrow. Thanks again to Erin and the folks at
Boompa
for hooking up the prize.
now playing: the Supremes - You Can't Hurry Love
Labels: acid mothers temple, contest winners, show announcements, show recaps
6 Comments:
any chance you can put up more photos from the Acid Mothers Temple show?
By

Anonymous, at 7:09 p.m.
you forgot this upcoming show, not too sure if you posted it already but.

* EARLY SHOW 6:30PM *
PATRICK WOLF
WITH GUESTS
THE MEDIA CLUB
NO MINORS/GOV'T ID REQ'D
FRI MAY 25 2007 DRS 6PM
By

Anonymous, at 1:16 a.m.
Just another note: Tegan and Sara have added another date to Vancouver @ the VECC for the tuesday July 17 at 8:00.

I want to go to both shows... but i felt bad since they are very small shows and i would be taking a seat of someone who wants to go and has no chance to see them.

Anyways, the seating is like around 300 so hurry and buy the tickets. Although, i don't think they will sell out in the next day or two or week... lol.
acid mothers temple ended up staying at my house (roommate met them at merch stand and invited them over). one of them woke up in the night and couldn't find the bathroom, so he peed on the floor. All was well as he found a towel and soaked it all up!
By

Anonymous, at 4:25 p.m.
animals! heh.

seeing as 80% of my favourite music could be classified as "psychedelic" in some sense, I'd hesitate to say that Acid Mothers are among the cream of psychedelic rock (I think their recording methods -- constantly putting out discs of stuff that sounds like it was taped in a shoebox -- mean that most of their albums are unlistenable), but the show was undoubtedly rad. My wig was flipped. I think Mammatus would have laughed if you yelled for "Stonehenge". Or maybe not. They seemed a little naive. I've heard their disc and thought it was comptetent stoner rock from the Sabbath-worshipping school of Dead Meadow and Sleep (plus, they're from Santa Cruz, home of Comets on Fire, Residual Echoes, and god knows how many other longhairs with wah pedals) but yeah, the show was a little hard to swallow. Stoner rock/metal is pretty much always a male power fantasy, but the logistics of enacting a phallic power ritual (with giant wooden staffs no less!) while dressed in extremely fruity makeshift robes fashioned from flowery dresses and curtains -- this escapes me. Anyway, I liked their riffage, but they had no songs.

See you at PB+J tonight?
anonymous #1: I can post a couple more up on flickr tomorrow. But most of my photos didn't really turn out, or look exactly like the one I posted.

anonymous #2: thanks for the heads up

jessica: ditto. also, you should totally go to both shows if you're that big a fan. early birds and worms and whatnot.

anonymous #3: gross... but hilarious.

Saelan: I was down Mammatus' riffage as well... but yeah, I just couldn't take them seriously. Also, I saw you at PB&J, but I was sort of huddled at the corner of the stage hopped up on Tylenol Colds, so I didn't try to make my way over.