Wednesday, May 09, 2007

the poor orphan child
A big thanks to Chad, who emailed me tonight to let me know that someone had posted Duffy from
Ladyhawk's
solo record on IndieTorrents. I knew that he did a record on
Deer and Bird
, but this one came as a complete surprise. The nine tracks include a cover of America's "Horse with No Name" and also three tracks that I've never heard before. But perhaps more interestingly, it captures stripped down versions of four tracks from Ladyhawk's self-titled debut, as well as live favourite, "Faces of Death."
There's a really nice solo take on "Sad Eyes/Blue Eyes," but my favourite (after one listen) is the version of "Long 'til the Morning." The druggy jam out clocks in at over 7 minutes on Ladyhawk's record, but here it's just over half the length and is decorated with some alt-countryish banjo leads.
It's a nice treat for any Ladyhawk fans out there, but also a pretty damn good little release in its own right.
Normally, I don't post full albums, but as far as I can tell this is long since deleted. If you're on #IT, please grab the torrent from there and show the uploader some love. Otherwise, enjoy.
download: Duffy Driediger (of Ladyhawk) -
Under the Cities Lies a Heart Made of Ground
Due to overwhelming demand,
Music Waste
- which runs June 7th to 10th this year, is opening up the fest with "Go Your Own Waste" in addition to the
Only
curated shows. The details from their
Facebook group
:
GYOW works like this:
1. Set up a gig in Vancouver somewhere, on June 7, 8, or 9
2. The cover at the door can be no more than $5.
3. You have to accept the Music Waste pass.
4. Email us the details and your contact info to " goyourownwaste@musicwaste.ca" by Sunday, May 20th.

In return, you are in. Your show will appear in the Music Waste guide, the website, and in the listings in the papers.
Chromeo
is at the Red Room on July 19th with
Flosstradamus
. Break out your vintage Air Jordan's, skinny jeans, and ironic plastic sunglasses.
And finally, while I don't usually talk about movies here, I have to mention something about
Spiderman 3
.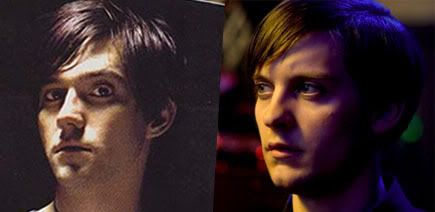 And that is, that it should have been a hint and a half to Sam Raimi that there was trouble when evil, symbiote infested Peter Parker ended up looking like Conor Oberst.
Approximately 35 hours left to snag
Circlesquare
tickets.
now playing: Duffy Driediger - My Old Jacknife
Labels: ladyhawk, music waste, show announcements
4 Comments:
yesssss! CHROMEO!!! they are so much fun live. so much fun.
By

Anne, at 11:25 a.m.
TM's website lists Pipettes tickets as going on sale this Friday, but I just bought my ticket online.
By

Neil B., at 11:29 a.m.
fratellis and horrors have cancelled their opening slots for BRMC....so all those ipod-commerical loving fools can start selling their tickets on craigslist anytime.
By

Anonymous, at 9:18 p.m.
Any members from indie torrents mind sending an invite to me? Mquezada33@hotmail.com

Cheers, MIguel
By

Anonymous, at 11:52 a.m.