Sunday, May 13, 2007

roll the credits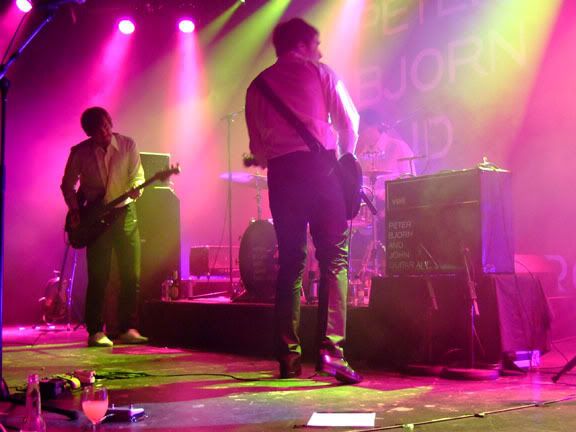 photo by Yuki Hamade
Feel free to tell me that my opinion must have been coloured by the fact that a) I was sick and b) I was hopped up on cold medication, but I didn't leave the Commodore all that moved by
Peter Bjorn and John
last night.
I'm a pretty big fan of
Writer's Block
, but it seemed like a lot of the songs dragged on a bit live, despite the band's enthusiasm. There were, of course, exceptions. "Up Against the Wall" and "Objects of My Affection" were massive sounding, and morphing "Teen Love" into a cover of "Teenage Kicks" was a pretty perfect way to close out the show. "Young Folks" was predictably met with excitement, but the estrogen free version was a bit disappointing. On that note, while I wasn't particularly enraptured, if I were actually playing with the band, I'd make an effort to at least look somewhat amused.
If you recall, earlier this week Peter mentioned in
the Straight
that the band wanted "local bongo kids" to fill in on percussion on their big hit. When I read the article I sort of thought he was joking, but Dan from
Panurge
took Peter seriously enough to email the band, offering up his talents, and he was invited on stage to beef up the rhythm section last night. Technically speaking his performance was fine - great even - I just can't understand why he looked so pissed off to be there. Maybe it's because Bjorn called his band "Purnage" by accident.
edit:
Dan emailed me to say that he was, in fact, enjoying himself immensely. And also noted that PB&J are all great guys. This reflection on my ability to read people's facial expressions probably explains why I spend my free time blogging and not raking in money playing poker.
Fujiya & Miyagi
opened to the show. Their slinky dance-funk thing is pretty ace when it pops up on mixtapes or periodically on iTunes shuffle, but 45-minutes of the same thing got a bit tiresome. I also couldn't help but wonder if the guys get tired of whispering all the time.
Patrick Wolf
will demonstrate his magic positions on May 25th at the Media Club.
Tegan and Sara
's VECC appearance has been expanded to a two-night stand. The sisters play a second show on July 17th. (thanks to Jessica for the info)
Someone posted an Acid Mothers Temple story in the comments of my last post. Take the anonymous anecdote on the internet for what you will, but I don't see why anyone would make it up:
acid mothers temple ended up staying at my house (roommate met them at merch stand and invited them over). one of them woke up in the night and couldn't find the bathroom, so he peed on the floor. All was well as he found a towel and soaked it all up!
On that note, happy Mother's Day.
download: Final Fantasy -
Good Mother (Jann Arden Cover - live in TO)
now playing: Jenny Lewis with the Watson Twins - Melt Your Heart
Labels: peter bjorn and john, show announcements, show recaps
7 Comments:
I'm glad to hear the show wasn't amazing. This show and LCD Soundsystem sold out before I had a chance to blink in the direction of the ticket booth. I was devastated. The Hot Chip was canceled. I have bad show Karma.
Patrick Wolf - YES!!!!

And the Final Fantasy link doesn't work. =(
By

Anonymous, at 7:09 p.m.
FF is back up.
By

Quinn, at 12:37 a.m.
T&S are sold out for Monday July 16. Better get your tickets for the next night now!
The sound at the beginning was awful. I was actually bored at times...they're not terribly exciting performers. I noticed a number of people duck out early, too.

After seeing brilliance from LCD, !!!, and Tapes 'n Tapes last weekend, I figure my opinion would be pretty skewed as well. But, overwhelmingly, I've been hearing the same response: "It was okay."
Glad I wasn't the only one. Some of the people up front seemed to be having the time of their lives, so I was worried that I was just at curmudgeon or something. That being said, most of those people also looked pretty drunk, so maybe that helped.
I saw PB&J on Friday in Calgary during a visit this weekend. My perception was also that "it was okay" - although I would give the band very large kudos for maintaining a positive and fun attitude in front of the sold-out yet COMPLETELY unresponsive Calgary crowd. The music is relatively mellow but you'd think people might at least bob their heads a bit? If anyone feels that Vancouver is a tough crowd, just be glad you don't live in Calgary. Granted, the Calgary show was all-ages so perhaps the reduced drunkeness played a factor.

The following night I randomly ended up seeing Apostle of Hustle at a licensed venue and the crowd was better, but still quite reserved.