Friday, May 04, 2007

north american scum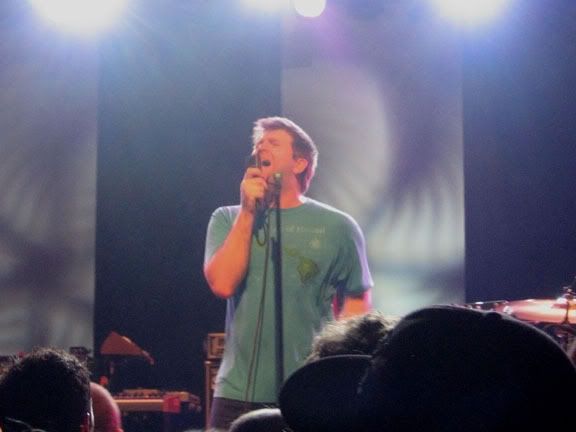 A point by point summation of last night's
LCD Soundsystem
show at the Commodore:
1. Ironically, during "Daft Punk is Playing at My House" a full on fight broke out about three rows back from the stage. Now, I will agree with anyone who says that they could do without the disruptions, but since it appeared that no bystanders got punched, I'm actually cheering for more of these dudes to injure each other. Contrary to James Murphy's yelling, the jocks could, indeed, get in the door. With all due respect to the lovely Commodore staff, perhaps Sarah's girlfriend should handle the entry screening process next time they're in town.
2. Since James is so into mixed martial arts, I was sort of hoping he would jump into the crowd and whip an arm bar on someone. No dice.
3. Why is it that the dudes who flaunt their heterosexuality the most are also the same guys who will rudely push their way past 3-4 really cute girls to embrace their "bro."
4. Bro, it isn't funny to yell "NO!" during "Yeah."
5. The end of "Yeah" pretty much melted my brain though.
6. To the four people in front of me who partnered off and then tastefully slow(ishly) danced to "Someone Great": you renewed my waning faith in humanity last night.
7. To the inordinate amount of couples who were full on sucking face during "NYC I Love You": classy!
8. Nancy Whang is ready, willing, and able to "get loud with you."
9. The drums on "Get Innocuous" are somehow even better live.
10. Best show of the year so far? Close, anyhow.
download: Franz Ferdinand -
All My Friends (LCD Soundsystem Cover)
Oh, and was my post-hockey bitterness to blame, or was YACHT like some terrible electronic version of the Moldy Peaches?
Lucinda Williams
is at Malkin Bowl on June 12th.
Hot Chip is canceled. You'll have to get your summer Al Doyle fix at Celebs tonight. (thanks to Shea... for the bad news)
Tiesto
is playing at GM Place on August 25th. I admit to being woefully ignorant of this type of dance music, but does that seem like a cavernously huge venue to anyone else? I emailed to ask, he is headlining.
now playing: LCD Soundsystem - Someone Great
Labels: show announcements, show recaps
11 Comments:
best show I've seen so far in 2007.

the band was insane.

the crowd was bonkers.
i haven't seen any shows this year and have been only interested in 2 so far: Electrelane and Hot Chip. both cancelled! wtf.

God is teasing me, just like how he teased Moses in the desert.
Is it wankerish of me to say that while it was good to see them up close (or at all, really, given I was outside the tent), the sound at Coachella was a billion times better? Nonetheless, too bad about the hockey game, it was almost a perfect day.
Fuck Tiesto.

These guys are bringing new underground dance sounds to Vancouver:
http://myspace.com/lightasound
Kode 9 @ Open Studios on May 26
http://myspace.com/wantedthursdays
Thursdays at Lotus +
Mobilee Records Showcase @ Open Studios on Sunday May 20
http://www.thekonspiracygroup.com/tkgevents.html
Past events: Kode 9, DJ Rupture

And of course local label Wagon Repair.
By

Anonymous, at 8:44 PM
WHOA kode9. thats one i'll be at.

far be it for me to say "where were you a couple summers ago?", but the LCD/MIA show was a fury too. people were REALLY hyped for her, then there was a nervous energy of people who wanted LCD to kick just as much ass AND THEY DID.
By

warfordium, at 9:23 PM
I'll add to Minx's wankerishness and say that Tiesto closing the main stage at Coachella was odd and a lot who were there lingered out of curiosity and then headed to the parking lot to beat the rush.

There's going to have to be some serious marketing to make a Tiesto show at GM Place viable.
By

g, at 10:08 PM
Any word why hotchip was canceled? I'm so bummed! My ticket is still on the fridge.
i think they just canceled some of the dates on their tour without much of a (public) explanation.

warfordium: i was there
!!! destroyed while LCD got serious. Back to back, you can't compare the two. !!! has way more fun, and that means the crowd has more fun too - better sound, way more energy, lots more dancing. That said, a perfect double-header...
By

Anonymous, at 2:04 PM
I saw !!! on Friday and Tapes n Tapes/Ladyhawk last night.

It was my third time seeing !!! they seem to get better every time, which is crazy because every show they do is absolutely insane, people went apeshit.

Tapes n Tapes/Ladyhawk was one of my favourites this year, both band s played new shit wich was totally awesome. Good weekend for shows.

-Neil
By

Anonymous, at 8:51 AM
I agree the !!! show was bananas. Amazing energy on stage and the crowd was a writhing sea of positive madness. Overall I slightly prefer LCD's material but whoa mamma those were both amazing shows - totally best weekend of the year for sure.

Actually I was so wrecked from dancing my face off at those 2 shows that I bailed on the James Murphy dj set at Celebrities - anybody catch that?