Friday, August 03, 2007

another one bites the dust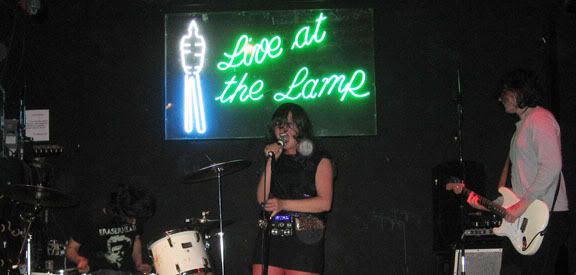 This morning I received some rather sad news. In another blow to the local music scene, the Dominion Hotel and
the Lamplighter
have been purchased, and as of August 15th both venues are under new management. Any shows booked for the period between August 16th - August 31st are in a gray area and may or may not happen, and everything from September 1st on is going to be canceled. After that, presumably the bar will be closed indefinitely for renovations. Here's hoping that it comes back as an overpriced, top 40, wannabe gangsta (nee "gangster") hangout... because there's clearly not enough of those in Vancouver.
Art Brut
are at Richard's on September 3rd.
The Figurines
are at the Media Club on October 12th with
Dappled Cities Fly
.
I was going to mention that
Bonobo
are at the Lamp on September 10th, but clearly that ain't the truth anymore.
That Pride Tiger show on September 9th is actually PT opening for
the Fucking Champs
. Someone get Lions in the Street on this bill and there'll be enough retro riffage to blow Keith Richards' mind.
Suspiria
plays Casbah! at Library Square on August 24th with
16mm
and
Adjective
.
People for Audio
are at the Royal Unicorn on August 31st with
Buffaloswans
and
E.S.L.
Matt & Kim is canceled again... they get the Juan MacLean award for most booked shows that never happen in Vancouver for this year. (thanks Chris)
Finally, congratulations goes out to
Propagandhi's
Chris Hannah for being voted
the second worst Canadian
, proving once and for all that anarchist punk rockers are worse than serial killers and proving once again that open internet polls are incredibly stupid. Congrats to the Beaver for actually getting people to pay attention to their shitty magazine though.
now playing: Michael Jackson - P.Y.T.
Labels: show announcements, the lamplighter
5 Comments:
the blood bros apparently cancelled, brah.
By

firmdragon, at 5:16 p.m.
yeah, i just read that. not cool.
lols to the "Juan MacLean award"
bummer about the lamp, eh? where am i gonna do shows nowww? really though. none of the other bars in vancouver gave me a chance until the lamp. i was even gonna get you to check out a rad show i had there in september. i'm bummed.
By

Lauren, at 12:19 a.m.
GO SEE DAPPLED CITIES FLY