Thursday, August 02, 2007

disco drive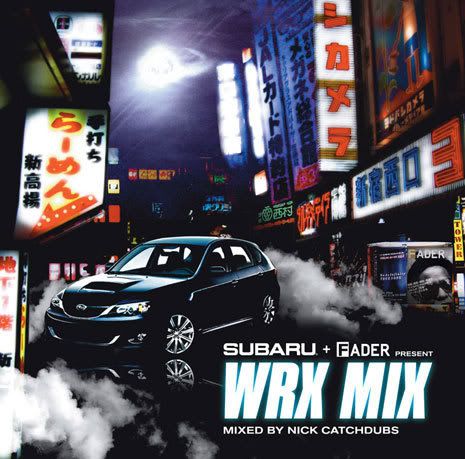 Contest: Fader/Subaru WRX Mixtape Giveaway
I just finished writing a piece on
Fool's Gold Records
(which I really wasn't happy with, but that's another story) where I interviewed
Nick Catchdubs
on his role with the label. So, it's sort of timely that this contest would come up.
The Fader Magazine
and
Subaru
are teaming up to give somebody out there a shiny new copy of the super limited WRX Mixtape that Mr. Catchdubs both mixed and curated. This thing is chock full of massive tunes and features a bunch of artists that I'm really keen on right now (Wale, the Cool Kids, Kid Sister, etc). Peep the tracklist:
Tabi Bonney, "The Pocket"
Cool Kids, "I Rock"
Daytona f. Jim Jones, "Homeboy What You Lookin At"
Wale, "Breakdown"
Burro Banton, "Badder Dan Dem"
Bunji Garlin, "Brrt"
Tony Matterhorn, "March Out"
Turf Talk, "I Got Chips"
Dyme Def, "Clap Clap"
Mic Terror, "Pump Ya Fist"
Kid Sister, "Control"
The Pack, "Vans [DJ Eli Remix]"
DJ Blaqstarr, "Shake It To The Ground"
Sinden, "Beeper"
DJ Mehdi f. Chromeo, "I Am Somebody [Switch Remix]"
Editors, "Camera [Rubber Bullets Remix]"
Bonde Do Role, "Gasolina [Scottie B & King Tutt Remix]"
Magic Juan, "Sudor [Sweat]"
Mavado, "Mr Informer"
Vybz Kartel, "Mofraudo"
As far as I know the only way to get one of these is to win one or test drive an Impreza WRX... in Arcadia, California. If you're neither in Cali or in the market for a new vehicle, why don't you do the former right now.
To win a copy just send me an e-mail at quinn.omori AT gmail (turn that "AT" into a "@" and add a ".com" to the end) before 11:59pm on August 9th, and in the spirit of track 2, give me one reason why you rock.
Enter to win at the Fader as well:
here
.
Check the always good Fader podcast:
here
And check out the Catchdubs mixed Wale mixtape:
here
now playing: Wale - Breakdown
Labels: catchdubs, contests, fader
1 Comments:
The Mat & Kim show has been cancelled (again), and Do Make Say Think will be at the Commodore (!) on October 29th.
By

Chris, at 10:09 p.m.