Saturday, August 04, 2007

the flames rose to her roman nose and her walkman started to melt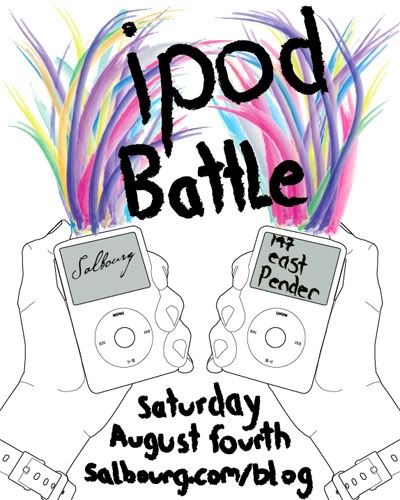 I'm in this thing tonight. Come by the Unicorn and cheer me on... please.
Last night I made it down to Casbah! and caught
Japandroids
and
Hepatidalwave
. The latter featured one of the guys from the Doers being very un-Doer-like. They were ultra noisy. I was left a bit lukewarm on the performance as a whole, but there were definitely some moments. After last night I'm still of the opinion that Japandroids are amazing. You should check them out next Friday... and show up early. There's a BBQ beforehand.
Library Square was a bit empty (which is probably better than it being filled with it's regular clientele), so despite the fact that John Cougar was spinning some pretty good tunes, we bounced to 1/2 Alive. Sadly, I wasn't there in time to catch the Clips.
Blood Brothers
is canceled. I am going to spend the money from the ticket on extra beers so I'm less shy in front of people tonight.
In happier news, the Vic Square Block Party line-up is out, and it's so good that I almost regret the fact that I'll be down at Bumbershoot watching Wu-Tang... almost. Frog Eyes headlines and the Choir Practice, Secret Mommy Quintet, Chet, No Gold, Modern Creatures, and White Lung round out the bill (so far). If you're feeling flush, you can help make sure the event actually happens with a donation:
here
.
now playing: Gloria Gaynor - Tainted Love
Labels: self-aggrandizing, show recaps, victory square block party
0 Comments: