Wednesday, November 14, 2007

fly like paper, get high like planes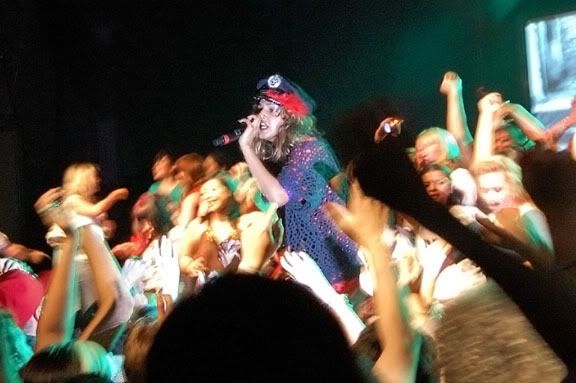 The performance was better the last couple times
MIA
played the Commodore (opening for LCD Soundsystem and then headlining), but last night was the bigger party. The first time she was backed by Diplo for a tightly organized set that featured Maya doing her thing over a constantly shifting musical backdrop. The second time around, Diplo wasn't behind the decks, but whoever was did a bang on aural impersonation. Things were a bit more laid back last night in the Ballroom.
Low Budget
was behind the tables, and while he's technically slick on the ones and twos, he kept the proceedings a bit more loose, following MIA's lead.
The show got a bit bogged down when anyone who could possibly clamour their way onto the stage was invited up to dance (although it was all girls, save for one guy sporting a Tamil Tigers [?] flag), but the crowd went off throughout. She played all the "hits," some non-single standouts from both albums, the Diplo remix of "URAQT," and it was all stellar. Also, I'm now further convinced that "Paper Planes" is the best song I'll hear all year.
Shouldn't MIA be massive by now? She's pop enough for the mainstream. She's weird enough for music snobs. She's a critical darling. She puts on a great live show. She has cross-genre appeal. She looks good. Isn't that the recipe for the perfect popstar?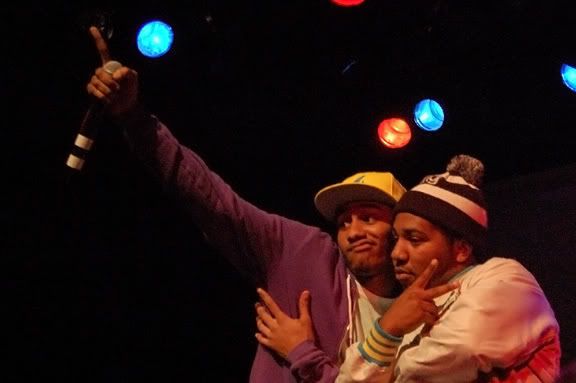 I was really jacked to see
Cool Kids
, but I was really disappointed in their live show. The songs are tight, but they were buried under the cliche "let's yell everything in unison instead of actually rapping" hip hop performance that they trotted out. It was terribly mediocre, which sucks for guys that have some decent tunes to show off.
Corb Lund
(and presumably also his Hurtin' Albertans) is at the Commodore on February 21st.
Sex Attack's warehouse party this Saturday is now a art studio party. It's at No Tofu Studios. You can still sign up to lip synch and win an iPod (or money for booze)
here
.
Labels: cool kids, m.i.a., show announcements, show recaps
2 Comments:
Great MIA pic!
agreed, great photos.
By

Michelle, at 12:17 a.m.