Thursday, November 15, 2007

our hearts don't change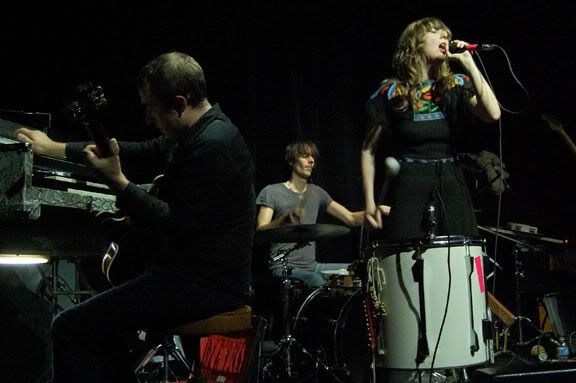 Last night I ended up seeing
Said the Whale
,
Land of Talk
,
Celebration
, and
Cuff the Duke
, across two different venues (Richard's and the Plaza) due to a combination of pretty wonderful timing and my friend Mark hooking me up with free tix to Celebration.
When Mark gave me the tickets he told me that the freebies were given away because the show was selling so poorly. I figured that with MIA, Ween, and Cuff the Duke all headlining shows that it would be a little undersold, but I was still a surprised to walk into the Plaza partway into the band's set to find about two dozen people watching. Ouch.
It had to have dampened the spirits of the band, but they certainly didn't let it show. In fact, of the four acts I saw last night, their performance was the best. It's shame that it'll probably be their last visit for awhile - headlining, anyhow.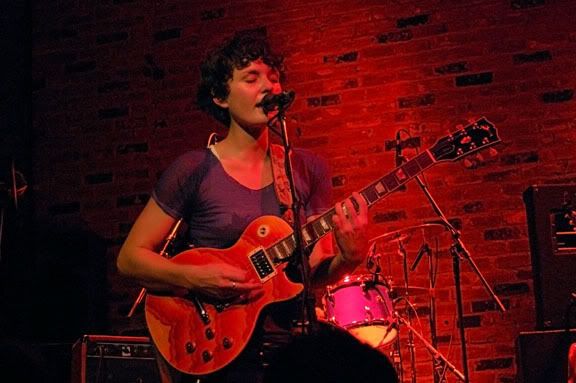 To compound the entire band's gear getting lifted about a month ago, Liz from Land of Talk's distortion pedal also decided to kick the bucket, so she was using a borrowed Blues Driver - affectionately referred to as the "Blues Traveler" during their set - and seemed a bit uneasy about the sound coming out of her amp. The breakdown of "All My Friends" sounded a bit weird, which seemed to amuse Liz and Chris, but other than that their set was pretty great, just as I've now come to expect. They played some new tunes that have me even more excited for their debut full-length, out sometime next year.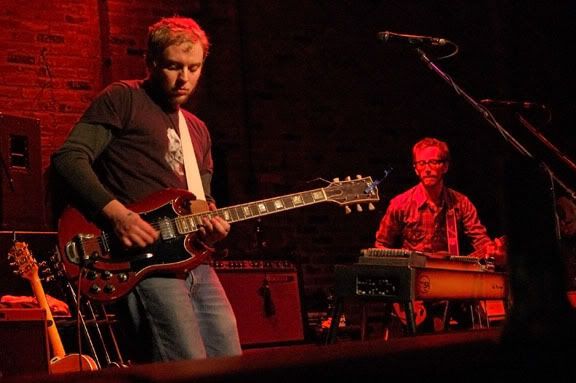 Cuff the Duke, and especially Wayne Petti, certainly have chops when it comes to playing live, but I wasn't really feeling their songs. That put me in the minority, of course, seeing as it was their show. The band had the crowd eating out of the palm of their hands for the duration, and you could see about 75% of the audience mouthing the words.
It was the first time that I've caught Said the Whale. I wasn't floored, but I wasn't bored either. I'd see them again before making up my mind, anyhow.
If you read this in the next hour or so,
Japandroids
are on
CiTR
for Thunderbird Radio Hell. If you don't read this in the next hour or so, you can find their in studio set, along with a bunch from the last year,
right here
(probably about a week or so from now). David told me they're doing a bunch of Wire covers. Maybe he was messing with me, but either way, it should be awesome. Edit: totally not messing with me. We clearly agree that Wire is not a thing to joke about. And they're going to do a show where they play Pink Flag in its entirety soon. Goddamn. "Reuters" is totally my favourite Wire track.
They're playing Shindig on Tuesday with Only faves Petroleum By-Products and Treacherous Machete. I think this is the first time in recent memory that I've known going in that I'm going to like all three bands on the bill. A shame that they had to meet up before the finals.
Hayden
is at the Norm Theatre on February 12th for a stop on his first tour in a long, long time.
Stereogum
has a new mp3.
Stars
play the first MySpace Canada Secret Show that Vancouver is playing host to. The all-ager at the Media Club opens up at 6:30pm on Sunday. Although, if you plan on getting in, you're going to have to show up way before that.
If you're not keen on hanging out in the rain on Cambie all Sunday afternoon,
the Buttless Chaps
,
Herald Nix
,
the Pack AD
, the Furies,
Swank
,
Great Aunt Ida
, the Fits,
the Bughouse 5
, and
Pawnshop Diamond
are packing into the Railway for a marathon show (1pm-8pm) for
Insite
.
Small Fame,
the Wind Whistles
,
Greenbelt Collective
, and
Language Arts
play a benefit for
DERA
at the Wise Hall on December 7th.
Canaries
are at Hoko's on Friday with
Dustin & Garret
,
Suspiria
, and
Hawaiian Bibles
.
now playing: Bon Iver - Skinny Love
Labels: celebration, cuff the duke, land of talk, said the whale, show announcements, show recaps
5 Comments:
whats with the apparent sudden local burst of fondness for wire (jpndrds, adjective, nu sensae)? not that i'm against it or anything... just random...

anyway, i'm all about "map ref. 41N 93W" and "the 15th"
By

jordan, at 12:00 a.m.
Reuters > Me
Thanks Quinn, I would have never known about the secret myspace show... i might have to run over to get in line after the afternoon show! They are going to be running back and forth!! Its going to be crazy [3 shows in one day] but soo worth it... for us lol!
By

Jess, at 1:40 a.m.
whoa.. sunday sunday.... secret show is tomorrow.
By

Quinn, at 10:48 a.m.
liz fiddled with her amp & pedal at the victoria show too. i noticed that they played their entire set a lot slower than the album which kinda bummed me out.

and i thought cuff the duke were great but then again, they're one of my favourite canadian acts. have you heard much of wayne's solo stuff?
By

Lauren, at 12:23 p.m.