Wednesday, June 17, 2009

stumbling through the city with the ordinary birds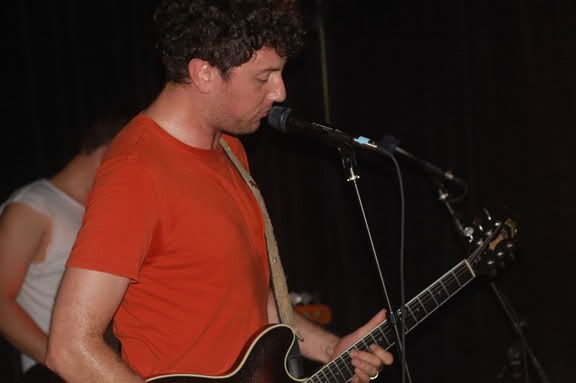 I probably should have been tipped off earlier by the airplane on the
show flier
, but yesterday someone let me in on the secret that was the "very special guest" at the Ladyhawk/Lightning Dust show down at the
Lifetime
space down on 5th Ave. And, as it turns out, it was
one of my favourite bands
. I was planning on taking it easy this week post-Music Waste, but I sure as hell wasn't going to miss the Cons.
Lightning Dust
opened the show. It was actually my first time checking them out live. Unsurprisingly, Amber Webber's vocals take centre stage, but unlike in Black Mountain, she's a little less Grace Slick, though that may be a product off the backing tracks. Everyone's used to hearing her wail over big, psychedelic riffs, but Lightning Dust sees her crooning (still) 70's style over folkier arrangements.
Ladyhawk
are still one of my favourite live acts and they didn't disappoint. They did, however, play a set that featured almost entirely new material. Would I have liked to hear "the Dugout" and "Faces of Death?" Yeah. But I'm even more psyched on the next record now.
The Cons
played a set pretty similar to what they turned out last time I saw them (
when they opened for the Weakerthans
), but they were playing in a place the fraction of the size. It was probably 7 or 8 years ago the first time I saw them and I don't think I've ever seen them somewhere this small before, so, as you can imagine, it was a pretty big deal for me.
If you're looking for something to do tonight,
Modern Creatures
,
Hard Feelings
, and
Vapid
are at the Railway tonight.
Violet Flame Meditation
,
Fancie
,
Fanshaw
, and
Prophecy Sun
are at Hoko's on July 18th.
now playing: No Age - Teen Creeps
Labels: constantines, show announcements, show recaps
0 Comments: