Monday, December 11, 2006

will you smile again for me?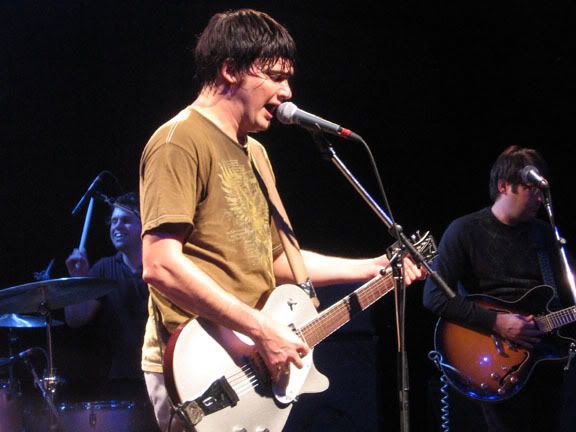 I've yet to understand why most "adults" tend to turn their noses up at the prospect of attending an all-ages show. We were all kids once. And I for one was heartbroken on numerous occasions, when I missed out on seeing one of my favourite bands roll through down due to age or lack of a passable fake ID. Not only that, but I'd rather stand amongst (perhaps) overexcited youngsters, than aged folk who stand with their hands in their pockets, have blown money on tickets and proceeded to talk through half the show, or are obnoxiously drunk. If you ask me, it's unfortunate that there aren't enough all-ages venues to accommodate
all
the bands that would be willing to play them. About the only thing I can think of that's unfortunate about an all-ager is the early curfews (which could easily be dealt with). On that note, I had quite a good time at the Croation Cultural Centre this evening.
I haven't been to hot on either of the last two
...And You Will Know Us by the Trail of Dead
records, but they're one of my absolute favourite live acts. I read a review of one of their recent shows that seemed to imply that they weren't so stellar out of the studio now either, but tonight was definitely evidence to the contrary. Perhaps they didn't have a chance to let a lull set in (the set was short - the only disappointment - due to the curfew), but they didn't show any signs of "uneveness" or "lack of indentity" (two of the criticisms in the live review I read).
The band, who are touring with the standard one drum kit again, eased into their set with "It Was There That I Saw You," before ramping up the energy level with a pretty raucous version of "Relative Ways." They jumped into a pair from
So Divided
after that. And while it was probably the low point for me, the songs sounded way better than on record. They also brought up two members of
Brothers and Sisters
for those numbers as well, which kept things entertaining. "Totally Natural" came after that, and it was pretty goddamn great from then until the show closing, "Will You Smile Again for Me." I was a touch disappointed that they didn't play "A Perfect Teenhood" and as mentioned that curfew forced them off the stage after about an hour, but other than that, it was business as usual. And business is still good.
Conrad may be
totally bummed out
these days, but feeling blue doesn't seem to be affecting the quality of his performance at all.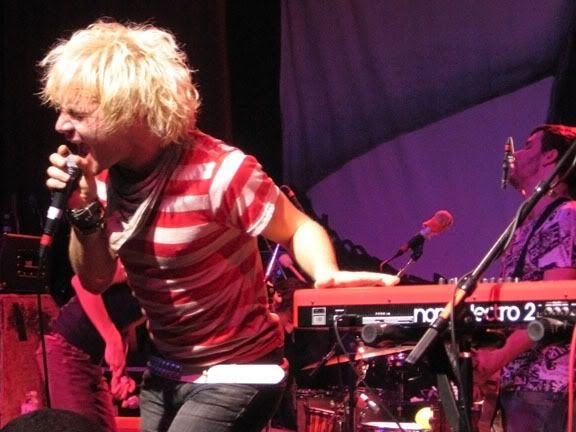 Trail of Dead may have headlined, but it seemed like most of the crowd was there for
the Blood Brothers
. I was anxious to hear both bands, but the latter were good enough to outshine Austin's finest tonight. I was a bit uncertain about the much larger venue and the barricade, but they were every bit as thrilling live (if not more so) as they've been the three times I've caught them at Mesa Luna. Old songs and new songs were equally well received, and it's hard to pick out highlights, honestly. It was one of the better sets I've seen all year, in fact.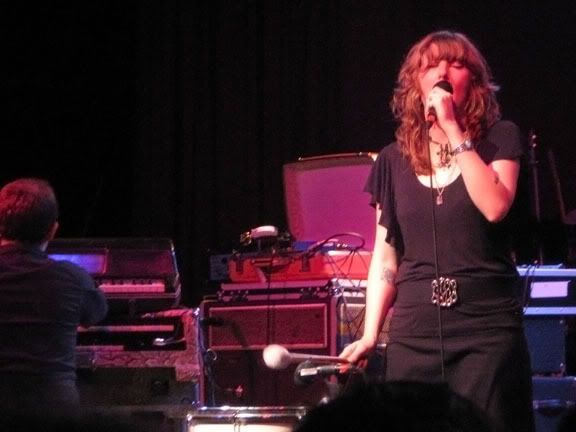 I arrived at the CCC an hour after doors, but still managed to miss Brothers and Sisters. Thankfully, I made it in just as
Celebration
were ready to go. After seeing them open for TV on the Radio earlier this year, I was pretty excited to check them out again. Maybe it was because I knew what to expect and was paying closer attention from the start, but they were even better than in May. If they come back (either opening for someone decent or headlining), I highly suggest checking them out.
now playing: Celebration - China
5 Comments:
i stopped going to all-ages shows because the sweaty kid in the wife beater who's drunk and moshing and so excited to be there and would slime into you. he's at every all-ages show.
kids get so into the music. most bands I know love playing all-ages shows for that reason. I love going to them for that reason also.
By

erin, at 12:39 a.m.
brothers and sisters were awesome when i saw the in austin. their album is definitely a good alt-country spin, though i'm a bit surprised they ended up on this tour. i mean, i know their connection with ...trail of dead and all, but i'd never thought i'd see them on a bill with blood brothers...
There's also a higher percentage of shorter people at all ages shows. This benefits shorter adults.
By

Scott, at 7:29 a.m.
There's also a higher percentage of shorter people at all ages shows. This benefits shorter adults.
Too true, that. Last all-ages show I went to I was much more self-conscious about being 6'2" than about being over 40.
By

Spike, at 1:26 p.m.